We're at the half-way line on The Great British Sewing Bee now, and this week it's the Three R's: reduce, reuse, recycle. Research suggests that you're much more likely to wear something for longer if you make it yourself. Maybe that's because of the effort, or the fact it fits, or that it's a fabric you love. In any event, as garment makers many of us reduce our ready-to-wear clothes consumption and an important aspect of sewing for me is to step away from the disposable fashion culture.
Reusing: upcycling
As for reusing, this is something close to my heart. One of my earliest sewing endeavours was to make trousers from old stripy bedsheets my friend and I bought in Oxfam. Very Andy Pandy but it was the 1980s and we thought we looked glorious. And here I am, 30 years on and still making garments from upcycled cloth.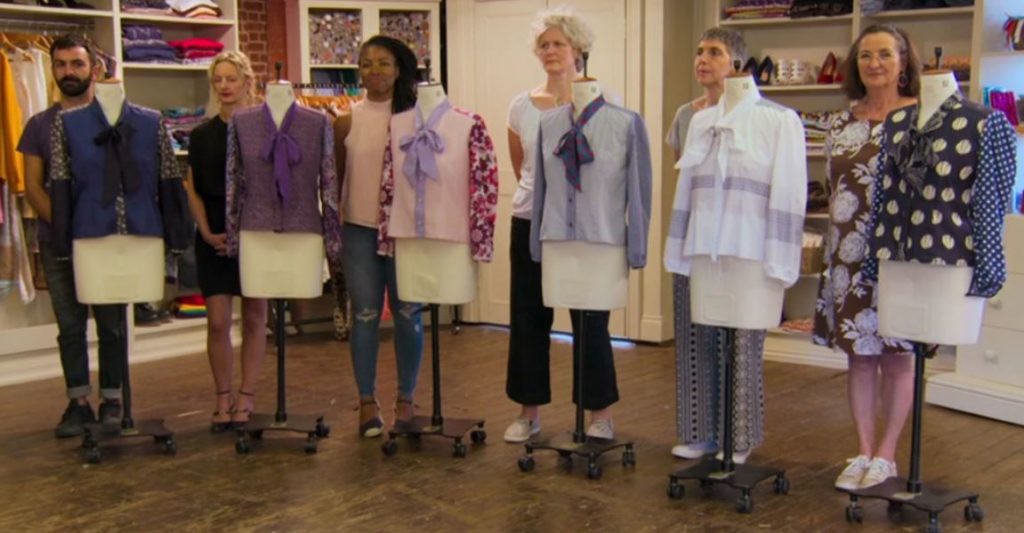 Last year on The Great British Sewing Bee we made a pussy bow blouse from three garments, including at least one man's shirt. I chose to use different fabrics, in similar tones, for each sleeve, to allow my upcycling to tell its own story. We had a good debate about this during filming – should you aim to make something which looks like it could be brand new, or is it better to own the fact that you've used recycled cloth? Both views are equally valid, but for me it's about aiming to make a beautiful garment while celebrating the recycling.
This top came about after we filmed that RRR episode, sewn from three of my husband's shirts taken from the charity shop bag. The collar is three double cuffs, and I copied the GBSB technique of turning the button placket upside down so the shirt fastens the "usual" way (totally unnecessary except that for me, buttons on the right is like trying to fold your arms the opposite way from normal). Everything I added was sewn in red thread. It's one of my favourite garments and I enjoyed wearing it, with all its asymmetry, when we filmed the final.
Another favourite is this linen top made from an old tablecloth. The pattern had to be cut out to avoid the odd gravy stain, and I realised I could put the pattern pieces underneath the fabric, on a dark carpet, to work out the best placement. I love the sleeves with the original hems, and the openwork on the back. As always there was a large degree of luck with this upcycling project but when it works, it works. My good friend and fellow Bee, Mercedes inherited a fabulous collection of vintage table linens and recently has been turning some into garments as well, you can see them on her Instagram.
It's not waste until you waste it
My recent full-length coat was also an upcycling project. A local cashmere mill asked me if I could use some blankets which were slightly flawed. What a gift! The fabric is 10% cashmere and 90% wool. I block interfaced it all to increase stability, and opted for a simple design to show off the geometric pattern. I always find coat buttonholes quite nerve-wracking, after all it's about the last part of the process and it's usually front and centre of one of the most involved garments I make. This is where the buttonhole clamp on the Juki NX7 comes into its own. I also used the text function on the Juki to add a message inside my coat: you can see the details on the link above.
The same mill produces gorgeous cashmere surplus, both as pieces and "slitter tape" – the thin strips of fabric left when they slice scarves off the loom. This woven jacket is made from slitter tape panels I wove to shape. Each square of the weave has to be stitched down, and for the jacket I decided to stitch all four sides of each square: time consuming but very good fun. I'm definitely not finished developing this concept.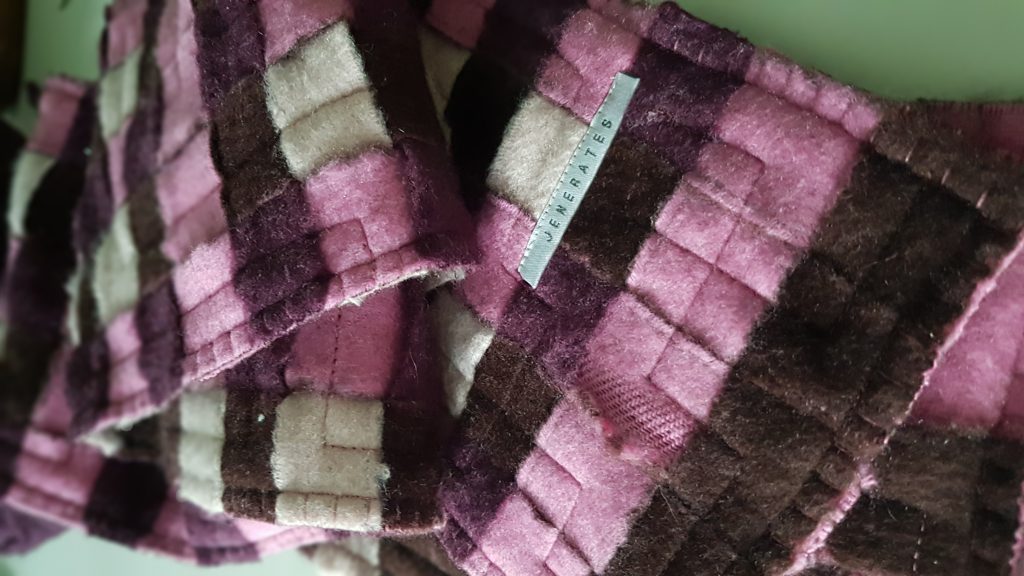 I also make scarves this way, often trying to stitch them in one line, with no overlaps. It's like playing a game on the Juki. The effect is that the scarf is stitched in a random geometric pattern. In the video you'll see that I ended up at the edge only once in this scarf, that's not bad!
This jacket is made from small cashmere pieces. The front can be worn either way, and the collar is in two layers. The grey pieces had scarf fringing attached so I caught them into the seam with the contrasting red underneath to create a boxed-stripe effect. The sleeves are darted to create a lantern shape and there is one side vent to emphasise the overall asymmetry. I'm preparing a blog about this which will include details of the pattern.
I also upcycle the smallest cashmere pieces into bags, cushion covers, hot water bottle covers, spec cases, needle books and even pin cushions stuffed with – guess what – cashmere scraps!
I could go on and on about sewing with surplus, but I'll share just one more garment. This one is made from two rectangles of a silk / cashmere blend, as light as the breath of a new born kitten. It's the simplest pattern, joined with French seams, with side vents and a straight neck opening, but the drape transforms the top into a garment which is beautiful to wear.
I love the design challenge of using old or surplus cloth. You can see all of these garments and more on Instagram @jenerates. It's good fun to work within the parameters of the amount of cloth and its shape, any features which can be used or repurposed, and hopefully come up with a garment which is not just wearable but desirable. Having seen the trailer for this year's RRR episode I have high hopes!
Recycling
Very briefly, the third R is recycle. Like a lot of garment sewers I take all of my fabric scraps to my local charity shop including the threads. They ask that donations are clearly marked as "rags" and they get sold on to get shredded and used in manufacturing.
We're hoping to be run another sewing retreat at the glorious Stubton Hall, Newark, in November 2020. Jen will be holding a coat workshop, to help you with all of the techniques required to make a bespoke wool coat. You can bring any coat pattern, although good patterns for beginners are the Sapporo Coat by Papercut Patterns, and the Silvia Coat (with or without a hood) from Schittchen Patterns. More details will be posted shortly. We're also planning to have a scarf weaving workshop during the retreat. Jen will bring a wide selection of slitter tape and the equipment to set up temporary looms.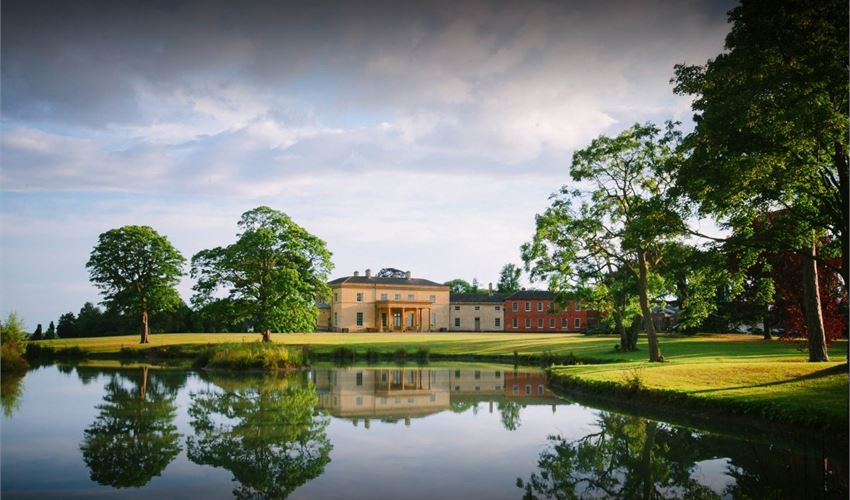 Jen Hogg lives in Glasgow with her husband and has two children at university. A former solicitor, she reached the semi-final of The Great British Sewing Bee Series 5 (2019). She also enjoys knitting and many other textile crafts, as well as silversmithing and photography, woodwork, wrought iron, stained glass, pottery and generally making things. You can follow her on Instagram and Facebook @jenerates, and at www.jenhogg.co.uk, and you can read our Juki Club introduction here.