I have a pet project. It's fabricating postcards. I'll show you a simple way to make fabric postcards with favourite fabrics on your sewing machine.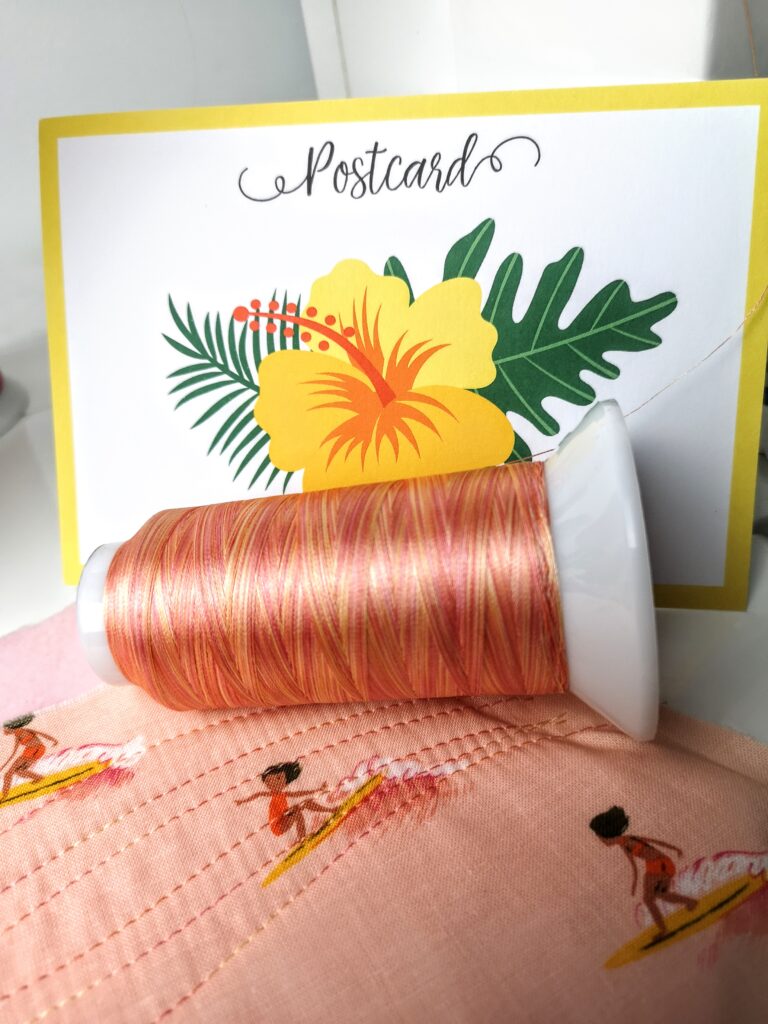 Small is Beautiful
One of my favourite things about fabricating postcards is that they're a small fast, easy-to-finish project; a perfect opportunity to try out something new on a small scale. Fabric postcards are like a tiny quilts that get to go on adventures through the post. They're fun to make and just as lovely to receive.
This summer I've been moving house, so I didn't want to begin a large project. But I did want to keep sewing for sanity's sake. So I chose to make a bunch of postcards. You can do the postcards one at a time, but I tend to do them in batches.
What you need
Fun fabrics
fleece or wadding & backing
pretty thread and a 100/16 Topstitch needle
printed postcards
a sewing machine that does a straight stitch and a zig zag
Finding fabrics
This series of summer postcards are all fabric driven. I wanted fabrics that reminded me of holiday travel as well as homemade comfort. The beauty of this kind of project is that you can choose any of your favourite fabrics.
Next choose some fleece or wadding and backing to give the postcard some texture. I like fleece because it doesn't unravel and I like the pop of colour around the edges.
Getting the postcard template
Start with the postcard backing made from card stock. You could simply make your own from card. Alternatively, the Machine Quilter website has FREE downloadable postcards that you can print on your home computer. Follow the link to the Free Stuff section on the homepage and choose from a wide variety of postcards for every season. Next print them out on your home computer. Be sure to print them actual size.
You can order the card from Amazon or get it from the stationary department in Tesco or WH Smith. I prefer a mid-weight matt card around 250 gsm. Avoid the shiny photo paper because it is hard to write on. Finally cut them out. I like to use a cutting mat, ruler and rotary cutter, with an old blade. This gives me nice neat straight edges.
Once I have this printed and cut out, I use it as a template for the fabric front of the postcard.
Stitching the fabric side
Super simple
Sometimes, it's great to keep it super simple and let the fabric do the talking. This is probably my favourite way. Think of it like a tiny whole cloth quilt. Choose some favourite fabrics and some pretty thread. Think about how many postcards you want to make at one time. Use the paper postcard template and cut them out accordingly.
Create a fabric sandwich with wadding and backing or just use some coloured fleece. Choose some thread that goes nicely and have a play. Lots of times I do straight line quilting for postcards. But this fabric was asking for wavy.
Wavy line quilting
I did some overlapping wavy lines on this fabric with pretty Fantastico thread called Creamsicle from Superior Threads .
These wavy lines worked will with the Little Surfer Girls too. The Juki TL QVP Mini straight stitch is ideal for straight line quilting. but it's wonderful for curvy line too!
The latest Rifle Paper Company Bon Voyage range seems like it was designed just for postcards! The stamps, maps, famous landmarks and city names were just postcard perfect.
Use special stitches
Another way to quilt the postcards is to use the special stitches in your sewing machine. On this jungle fabric I used a leaf stitch from my Juki NX7.
The leaf pattern blended with the fabric so beautifully and held the layers together. Another special stitch was the wavy pattern that I stitched in gold thread on the postage stamp fabric.
Raw edge applique
A whole quilt or wall hanging can be a daunting project, but a little postcard won't waste much time or fabric. It's a super opportunity to try something new, like raw edge applique. Years ago I made a raw edge applique jam jar quilt, and I thought that the same technique would translate well into postcards.
I thought of different kinds of jam, plum, strawberry, raspberry and marmalade. Then I thought about the fabrics from my stash that would work well.
First I backed the jam fabric with iron on Vilene interfacing to give it some stability and to help keep it from fraying. Then I zig zagged the cut out jam jar shapes to the background fabric with a shiny white thread to suggest a glass jar. The lid came next. Stripy fabric worked well for the lids. Once the jar was appliqued, I straight line quilted the background fabric to make the jar puff out a bit. It worked a treat.
I had fun choosing a variety of jar shapes and lids as well as jam too.
The final stage is to zig zag the pre-cut paper postcard to the stitched fabric. Cutting off the fabric overlapping the paper postcard to finish. I've been enjoying stitching Kylie and the Machine labels to my recent projects.
All these jam jar postcards were stitched on my Juki sewing machines. The Juki TL QVP Mini for perfect for quilting. It does a fantastic job straight stitching through any number of layers. The zig zag raw edge applique and the zig zag stitching of the postcard backing to the fabric front was stitched with the Juki NX7. The machine that does all things well. Use a titanium coated topstitch needle to easily punch through the layers of card and fabric.
Lightening bugs in jars
In America, when I was little, we used to catch lightening bugs and put them in jam jars with holes nailed into the lid for air. When we went to bed, the jam jar full of lightening bugs would be our night light. After we were asleep our parents would come in and set the lightening bugs free outside.
I sent this one back across the pond to my sister. Memories are such a treasure. Fabricating postcards is a lovely way to connect with family and friends. These postcards have a summer holiday and harvest theme but postcards are fun to make any time of the year. You can read a post all about making Christmas postcards here. Whatever the season, fabricating postcards is a great way to surprise your family and friends.