We made some PJ's using knit fabric for our latest video clip and learned lots about working with knits in the process. For comfort, ease and wearability, knits are hard to beat. But the very stretch that makes knits so comfortable to wear, can make them challenging to sew. We found that sewing with knits is all about respecting the stretch! If working with knits is something you'd like to try, we've put together 5 tips to take the some of the mystery out of working with knits.
1. Know your knits
Tip number one is to know your knits. Knit fabrics are made very differently from woven fabrics. This single jersey uses a single strand of cotton woven into loops. There are LOTS of different kinds of knits!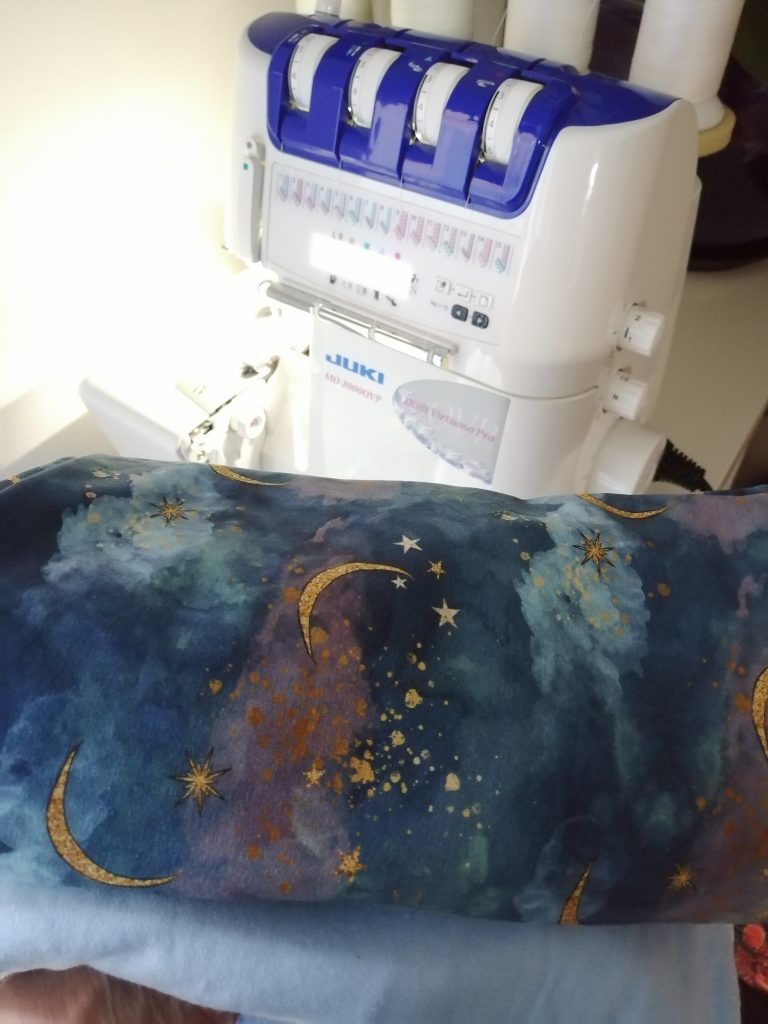 We chose a printed cotton jersey from Flamingo Fabrics for our PJ's project. Single cotton jersey is the fabric that most T-shirts are made from. The added lycra in this particular fabric gives it a bit more structure and stretch. Good online shops will usually include pertinent information in the fabric description alongside recommendations for how to use it. For example:
"single cotton jersey with lycra for a good stretch…recommended for leggings, dresses, tops and more."
Sounds perfect for PJ's too. Often patterns will also recommend suitable fabrics. When in doubt ask. And remember to ring or visit your local fabric shop, they often have a wealth of experience they are happy to share.
Needles & Pins
Of all the tips about working with knits, using the right needle ranks first. Woven fabrics like cotton work great with universal needles and ordinary pins. But sharp points can damage the loopy fibres in knits, leaving holes, snags and runs in the fabric.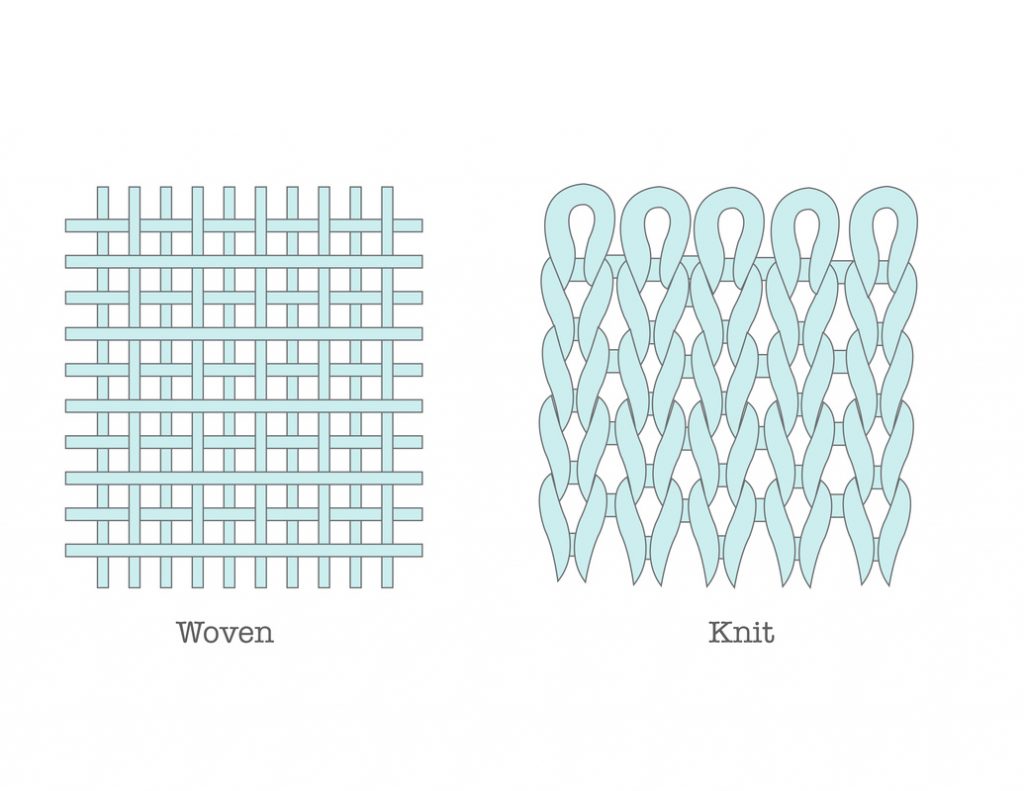 2. Use the right needle
There are many different types of needles designed to accomplish different tasks and work with different fabrics. Using the right needle is the best tip for any sewing project. The right needle is super important in sewing knits. Here we'll share which needles work best with knits and why.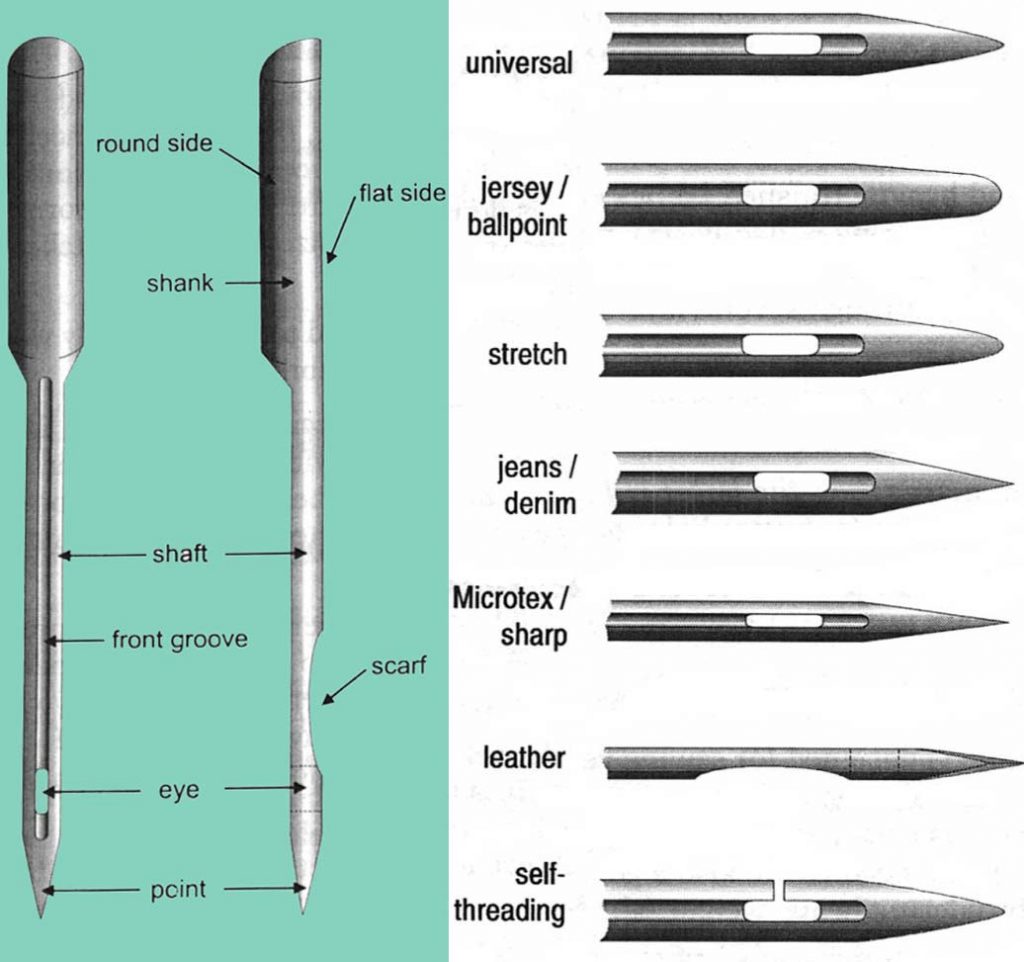 The Ballpoint needle has a rounder tip that pushes between the loopy fibres in knit fabrics. The rounder tip won't break or snag the fibers. Like every other needle, the ballpoint needle comes in a variety of sizes. Use the thinner needle with thinner more lightweight fabrics and thicker needles with heavier weight fabrics.
The Stretch needle is similar to the ballpoint needle. As you can see in the diagram above, both have rounded points to protect the knit fibres. The stretch needle has a deeper scarf, allowing extra room for the hook to pass close by. This prevents skipped stitches, making it ideal for use with fabrics such as Lycra, power net, two way stretch knits, silk jersey, spandex and any highly elasticated synthetic fabric.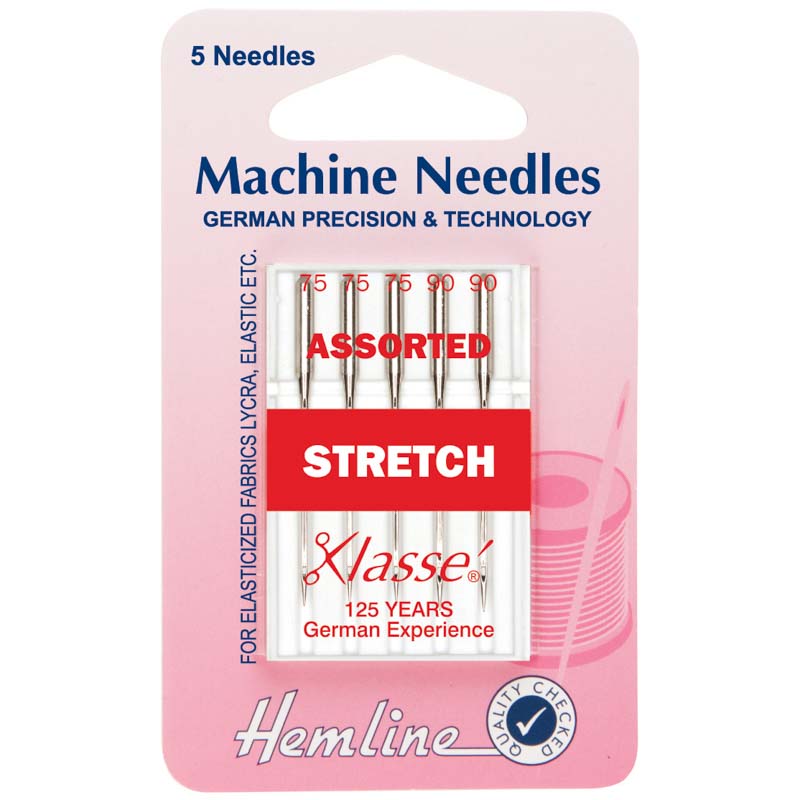 There is also a stretch version of a Twin needle handy for hemming as it creates a double line of stitching on top connected by a zig zag stitch underneath that allows for the stretch. The twin needle enables your regular sewing machine to achieve a hem that looks similar to a professional coverstitch machine hem.
3. Use fabric clips or ballpoint pins
Sharp pins can damage the fibres in knit materials just like sharp needles. Fortunately, there are ballpoint/stretch pins available. Empress Mills sell a Prym version of ballpoint pins on their website.
Emily used fabric clips to hold the PJ pattern pieces together for overlocking. Fabric clips work great for the edges and ballpoint pins would be ideal for pinning anything in the middle of the fabric.
4. Use polyester thread
Did you know that polyester thread has a bit of give in it? This extra bit of stretch makes polyester thread ideal to use with knit fabrics. Cotton thread will often snap or break when the knit stretches because cotton doesn't stretch. Always use polyester thread when sewing knits.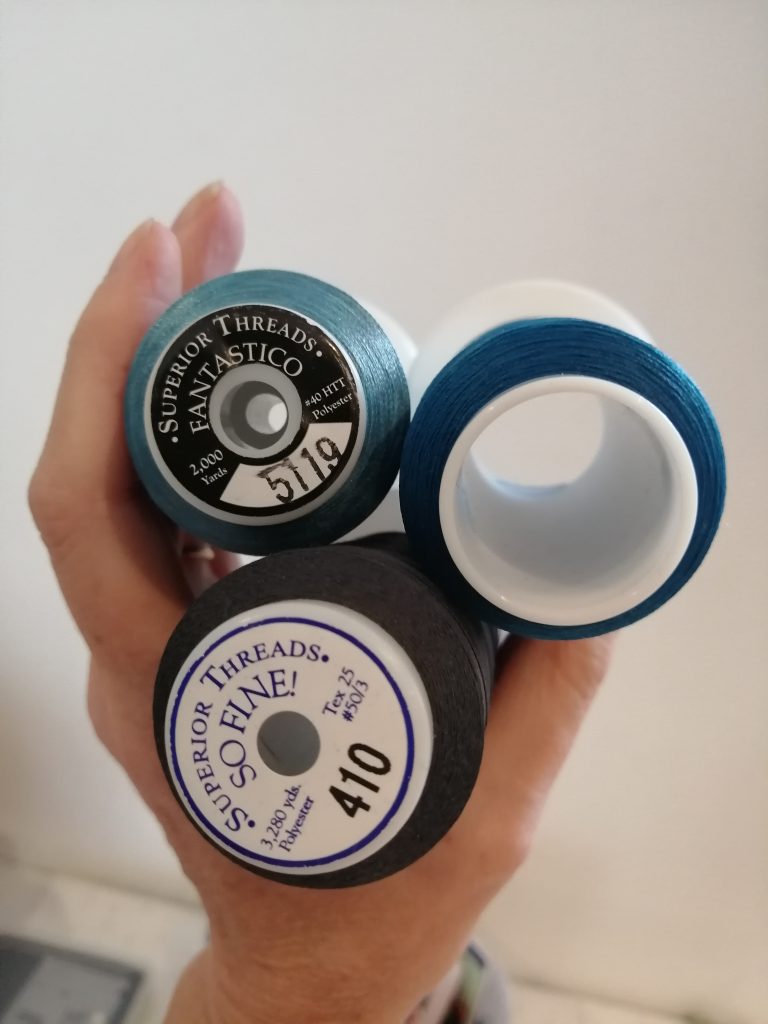 Thread also comes in different weights. The larger the thread weight number, the thinner the thread. In the photo above, on the right, there's a thread called Bottom Line, it's a very fine 60 weight thread designed for the bobbin. The So Fine is a 50 weight thread perfect for piecing and the Fantastico is a thicker 40 weight thread used for quilting and decorative stitching. It helps to match the thread weight to the fabric weight as well as the needle size you use. Thinner thread, smaller needle.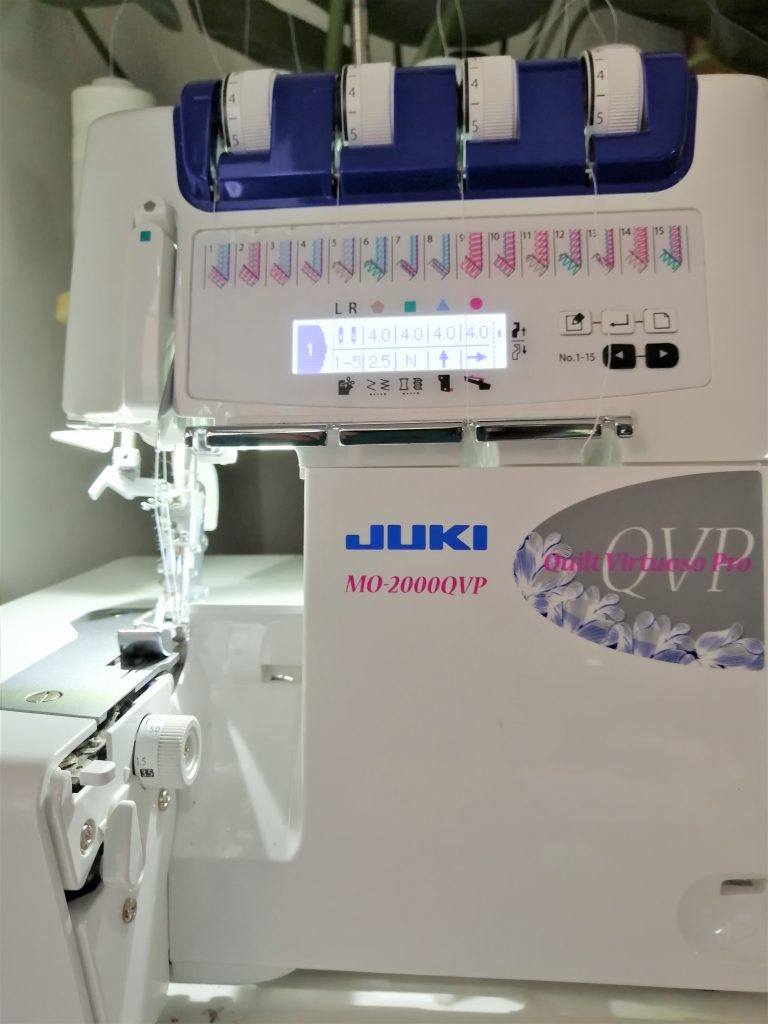 5. Use the right stitch
Emily used a Juki MO2000 overlocker to stitch the PJ's together. Overlockers or sergers are ideal for working with knits because all the Juki overlocker stitches stretch. She used the first option;  the 4-thread safety stitch. It's perfect for sports and leisure wear like PJ's, because the stitch stretches with the movement of the knit fabric. There are 2 needle threads so it's more secure where the seams will be under stress.  An overlocker is wonderful to work with because it will stitch the seam, trim excess seam allowance, and neaten the edges all at the same time. 
No overlocker, no problem. You can still stitch knits on your regular machine, but you need to use a stitch that will stretch with your knits. The Juki NX7 has a lightening bolt stitch 012 that is ideal for working with knits. A narrow zigzag or triple straight stitch 009 also works well with stretch fabrics. All these stitches will allow for stretch.
Hemming stitches
The perfect way to hem knits is to use a coverstitch machine. The coverstitch is essentially a hemming machine that gives a beautiful professional finish to any garment. Check out the hem on your store bought T shirt for an example. A coverstitch machine is a bit of a luxury! Most of us will need to resort to our regular sewing machines for the hemming process.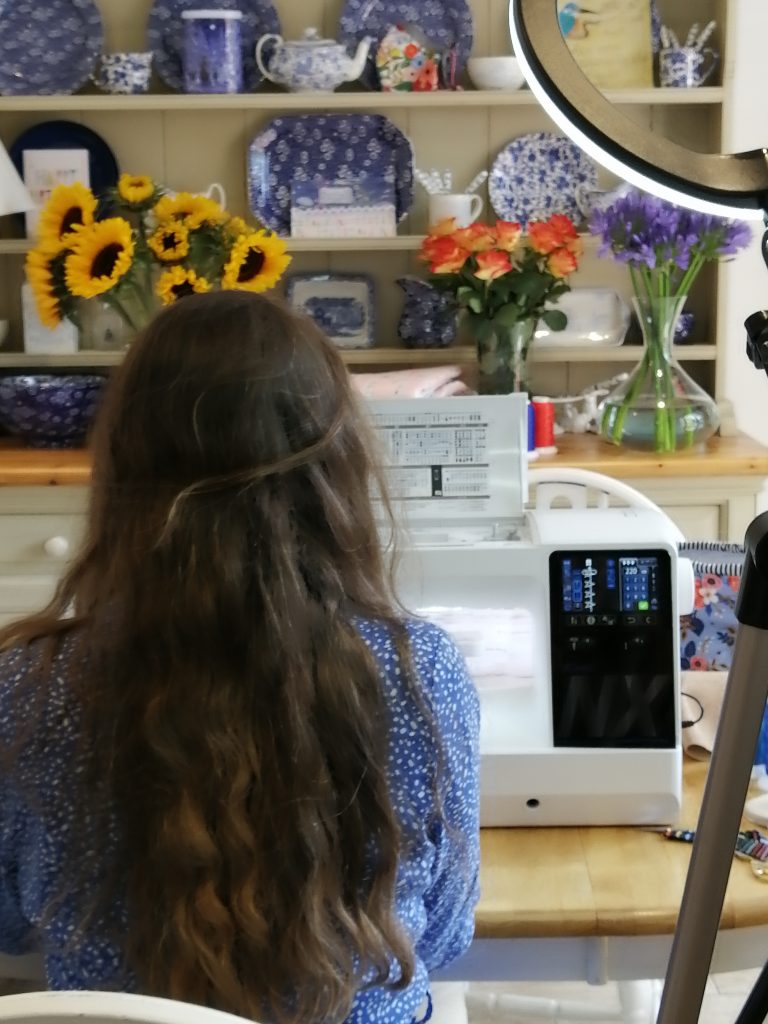 We can use a twin needle to get a similar look or we can get creative and explore the hundreds of special stitches on our sewing machines.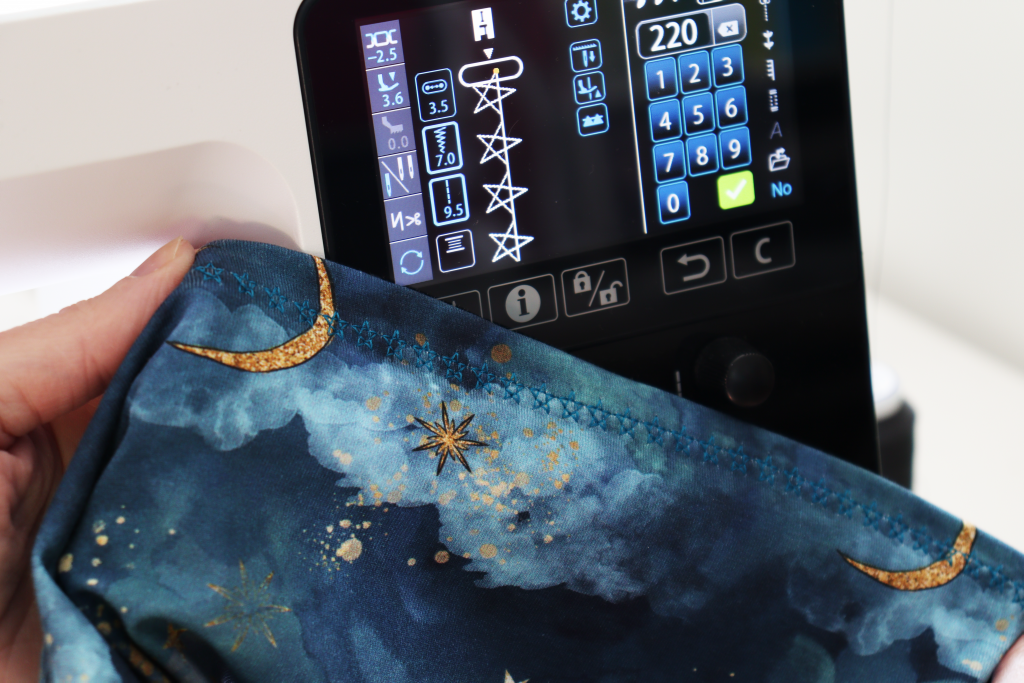 Many of the special stitches stretch beautifully. It's a good idea to test them out first on a bit of scrap fabric to make sure they do have the stretch and the bounce back that you're looking for. We used the star stitch on our PJ's because it went so nicely with our fabric.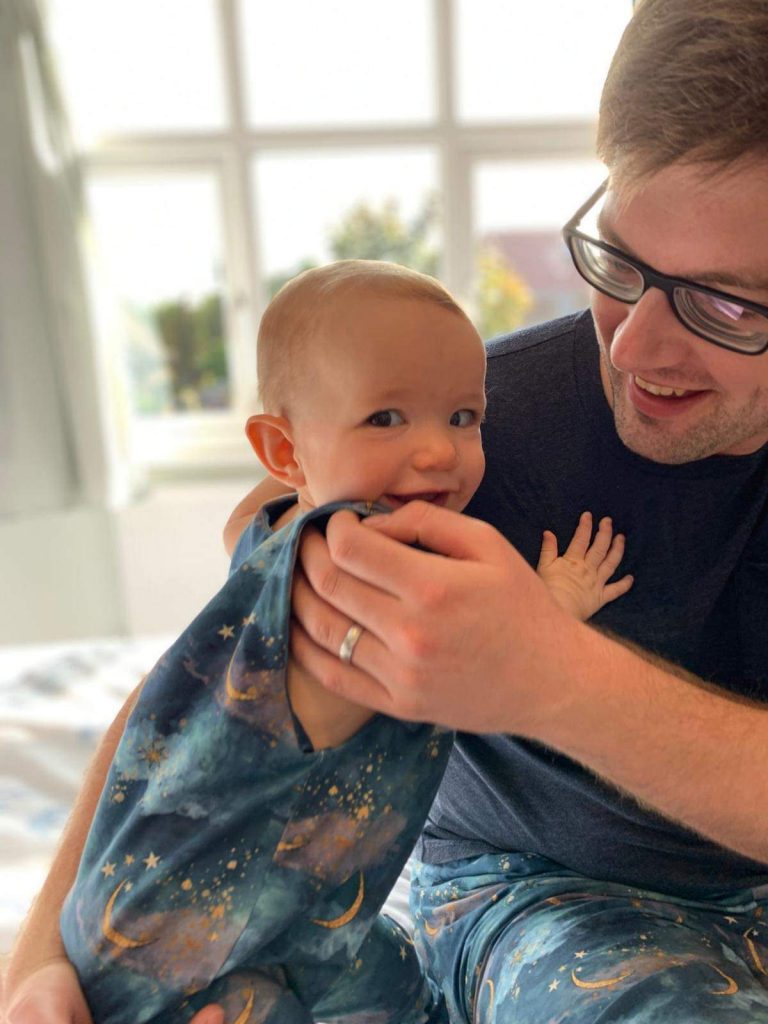 Our 5 tips for working with knits are all about respecting the stretch and the structure of knit fabric.
know your knits
use the right needle – ballpoint or stretch
use fabric clips and stretch/ballpoint pins
use polyester thread- it gives
use a stitch that will stretch
Working with knits can be a bit daunting for beginners. We hope our 5 tips for working with knits will help you to avoid some of the obstacles and enjoy working with this fabulous fabric.
Here's a little promo of our latest video making PJ's out of cotton jersey.