Recently, I watched the Disney movie Moana and decided to transform the primitive wave motif that appears in the movie title, into a free motion quilting line design. I like to call it making Moana waves.
Regrettably, I missed Moana the first time around. Our kids had passed their Disney princess stage when Moana came out. So my first introduction to Moana was from cosplayer Anne Marie @silkenstitches on Instagram. She made the most amazing costume! And later when I finally saw Disney's Moana with my little granddaughter, I still think of Anne Marie as a grown up Moana!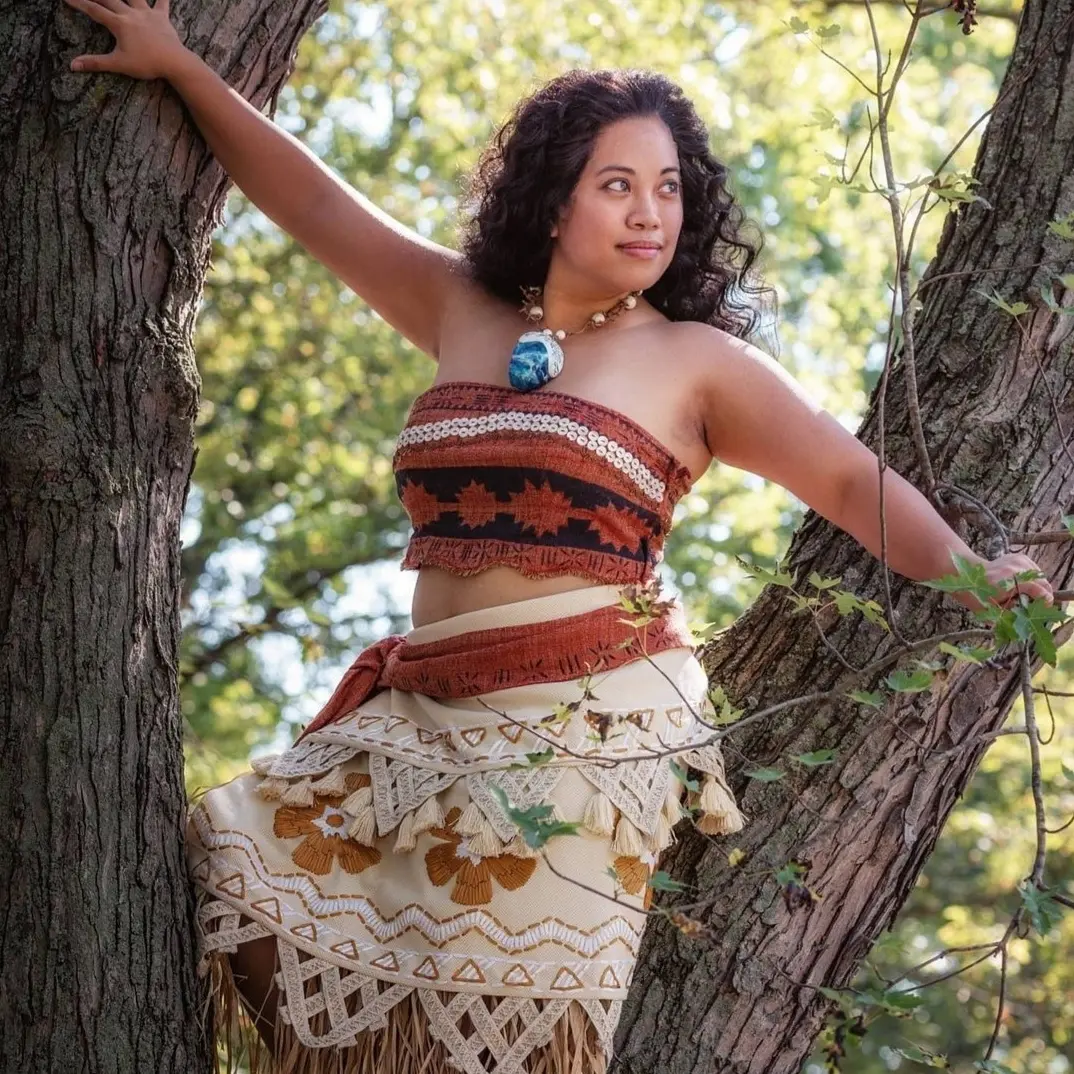 Making Waves
I like making waves! Especially hand guided free motion quilted waves. I like to begin with a simple scallop and work my way up to a shark fin wave. Then it's onto the rounded wave that is really just a joined up cursive letter C. Over the years I've enjoyed scalloping the shape, coming at it from different directions and playing with the best way to move the design around my quilt top.
I have a whimsical approach to free motion quilting. I like the human variations in a design that is hand guided. Little alterations in the pattern are something that I find endearing. The happy fact that no two waves are exactly alike in nature, gives me permission to play with a design. It helps me to accept my less than perfect efforts, as a necessary part of the process.
Doodling Moana Waves on paper
All the fluency I have in free motion quilting come from doodling the design. I use pen and paper. A roll of paper is ideal, but any paper will do. Repeating a design creates muscle memory. So before I ever get to needle and thread on fabric, I play with pen and ink on paper.
I noticed the Moana wave motif first in the title to the movie. It's the shape on her grandmother's pendant and the pattern on the pontoon boat's sail. Playing with the design with pen and paper, I realised that it's really a wave within a wave. I figured out that I could use a big rolling wave or hook to connect the design and move the waves across my page.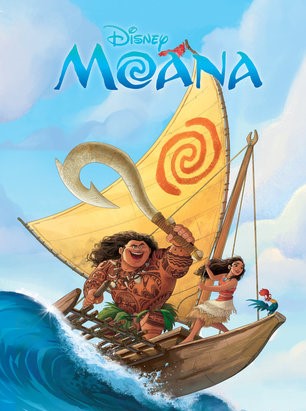 Pausing for the point
Continuous line designs are great for computers, but not so good for people. To avoid panic, I find that hand guided quilting needs places to pause, to take a breath, get your bearings and figure out where to go next. This is why I love any design with a point.
To get the point, in any line design, you need to stop. The pause can be just a second, a heartbeat or the time it takes to take a breath. Or the point in any design can be a place where you leave the needle down and stop completely. Then you can walk away, come back later and begin again seamlessly.
One of the best thing about all the wave designs is that they have points! Watch the video above. You can see how I'm pausing for the points and using the pause to decide where I'm going to go next.
Here's a short video of making the Moana wave with pen on paper. It's a very fluid symmetrical design, a wave within a wave. Joining the designs together with a big hook gives me two points where I can pause. Just what I needed.
Making Moana Waves on fabric
Once I've played with making Moana waves on paper. I'm ready to go to needle and thread on fabric. I will stitch together fun fabrics for a practice piece. So that I can practice a new design with needle and thread on fabric before attempting something more serious like a proper quilt.
For quilting I use the Juki TL 2200 QVP Mini straight stitch on a Machine Quilter frame. It was fun seeing how the design played out with different threads as well as how it looked on different fabrics. This Tiny Surfers fabric by Heather Ross for Wyndham Fabrics was perfect!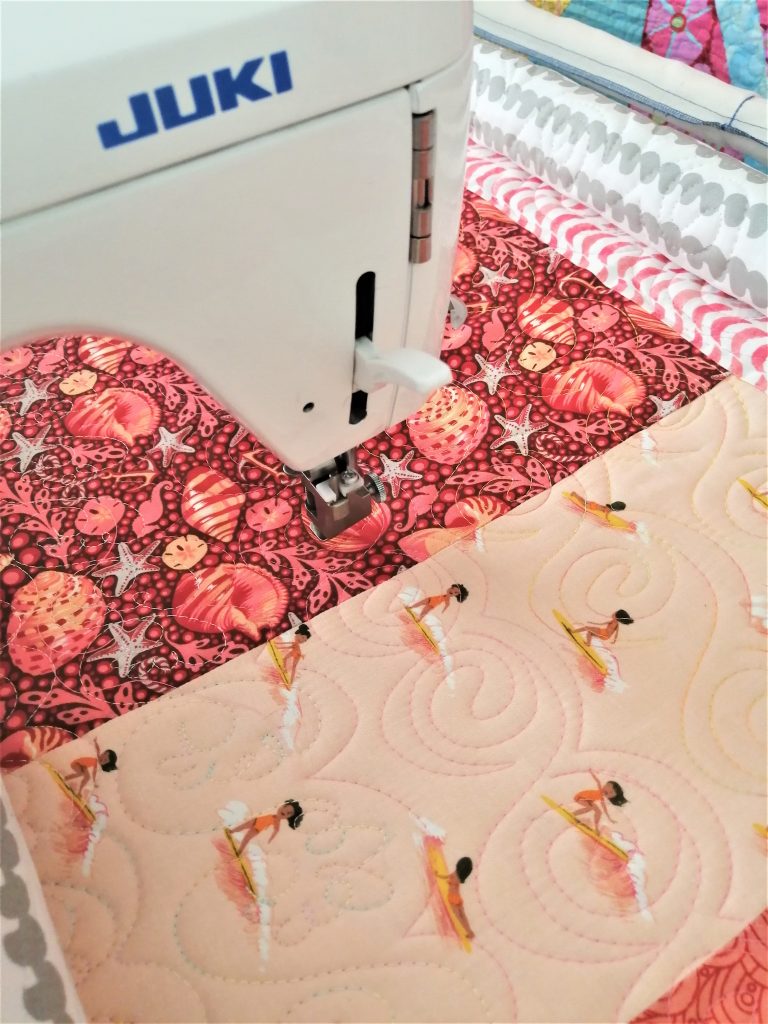 I can also play with how I move the Moana Waves design across the fabric, experimenting with scale, direction and scalloping.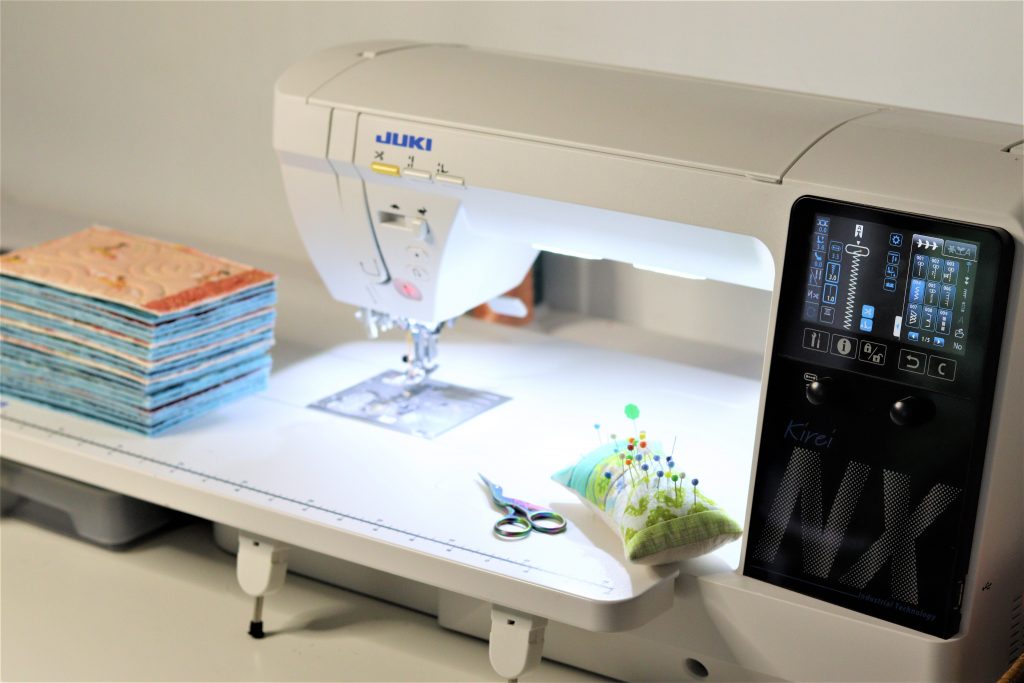 Ways to use the practice piece
A practice piece is just that, a PRACTICE piece. There will be lots of mistakes because that's how we learn. But there will also be lots of places where the new Making Moana Waves design plays out beautifully. I will pick out the good bits to use for various projects. Bags and book covers are fun. But making Fabric Postcards is one of my favourite ways to use a practice piece.
Fancy a try? Here are a series of free to use postcard templates that you can download and print on card. We have an Instagram Reel that shows how to stitch them up on your sewing machine. I used a simple zigzag stitch on my Juki NX7.
I use the not so good bits for doggie and cat blankets. And any fleece backed practice piece scraps are great for cleaning my machine.