From our archives, a post all about folk singer-songwriter Elanor Moss making the Ella Blouse from Sew Over It London. The Ella Wrap blouse is a well loved classic and an ideal transition garment into autumn.
Ellie's a 20 something English Literature graduate living in London. Our idea was to get someone new to sewing, like Ellie, to stitch up something gig worthy. We were looking for a top that would look fabulous but not be too complicated. There's nothing better than making something for the very first time and being so proud of it that you can't believe you made it.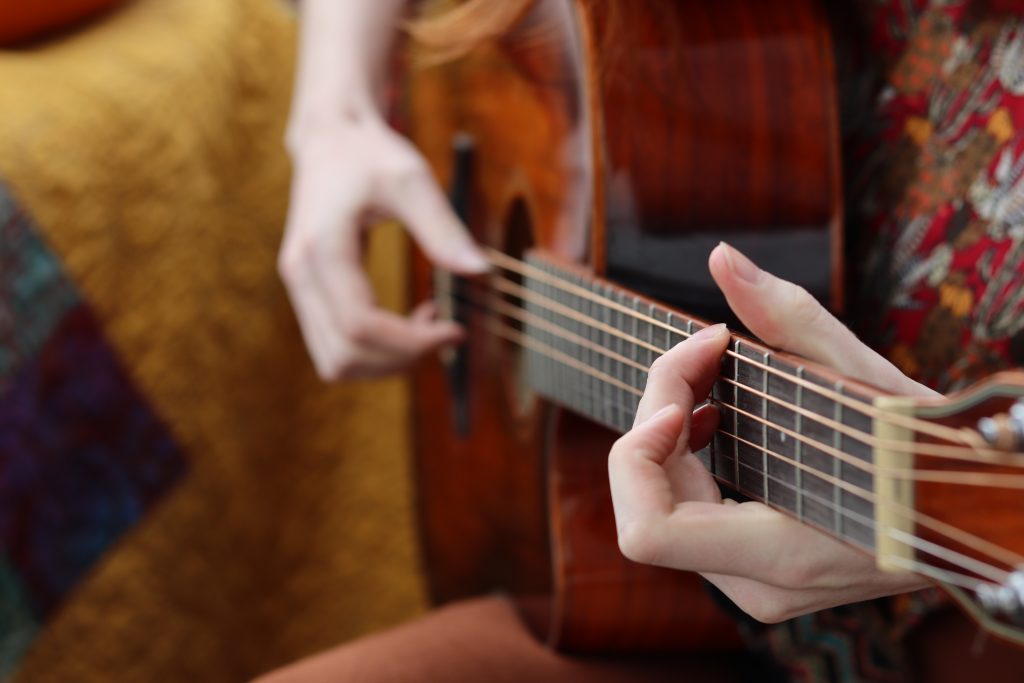 The Ella Blouse pattern
We think the Ella Blouse by Sew Over It is perfect for beginners and everyone else. The kimono style sleeves are easy to sew. There are no zips or button holes either. Yet the wrap style pattern has a simple sophistication that looks flattering on everybody.
Working with a PDF pattern
We were in a hurry, so we opted for the PDF pattern. It's so fun to be able to purchase, download and print a pattern, tape it together and start sewing it, all on the same day. If you've not used a PDF pattern before, the simple Ella Blouse pattern, with only 4 pattern pieces, is an ideal choice for a first time.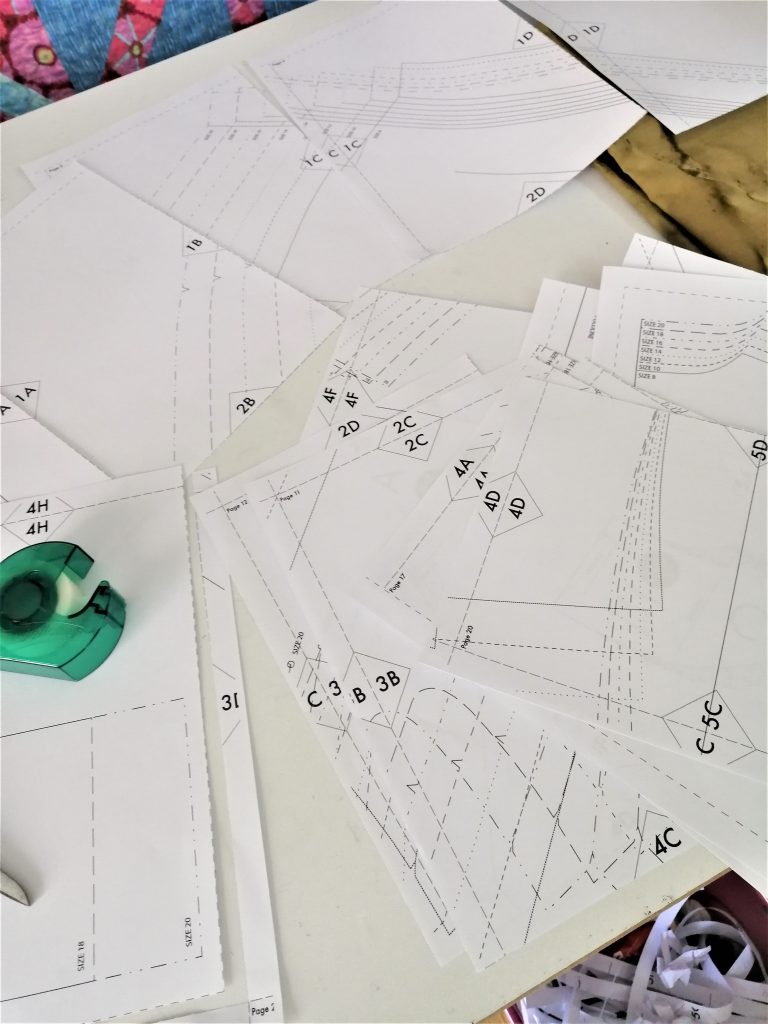 A PDF pattern is a downloadable pattern that you can print from your home computer printer. The Ella Blouse pattern comes with really clear easy to follow directions and a printable pattern. You have the option to send it to a copy shop, but we simply downloaded it and printed it on our own computer printer.
Checking the scale
Did you know that America has different sized paper? In the UK and Europe, (and most of the world) we use A4 sized paper. America uses US Letter sized paper. This is important to know when you go to print your pattern.
Make sure that you select the A4 option when you print your pattern. Initially, just print ONE page and then check the scale to be sure that you have the right size. Check the scale with a ruler. We used the NEW @jenerates ruler which is something that I just keep finding new uses for! It fit the 10 cm test square perfectly.
Assembling the PDF pattern
Once you've checked the pattern scale, go ahead and print the rest, cut them out and tape them together and then, you're ready to sew. One more tip, is to only cut off the right hand and bottom edges, as shown below. This helps to nestle the pattern pieces together nicely without too much overlapping.
If you'd like more information about PDF patterns, Lisa Comfort at So Over It London has put together a handy Guide to Assembling PDF patterns. We found it really helpful.
The Fabric
Lisa recommends a light drapey fabric for this blouse. Ellie is a red head and we were looking for something autumnal to suit Ellie and the season. We found a beautiful cotton lawn with cacti on a wine red background from B&M fabrics in Leeds, (they ship via their facebook account.) Parts of the cactus even looked like pumpkins. It was perfect.
Cutting out the Ella Blouse
The simplicity of the pattern makes it easy to cut out. There's just the back, 2 front pieces, interfacing for the neck and the ties. Easy peasy.
Stitching the Ella Blouse
Assembling the Ella Blouse was easy too. Ellie followed the directions and overlocked the seams. It came together quickly.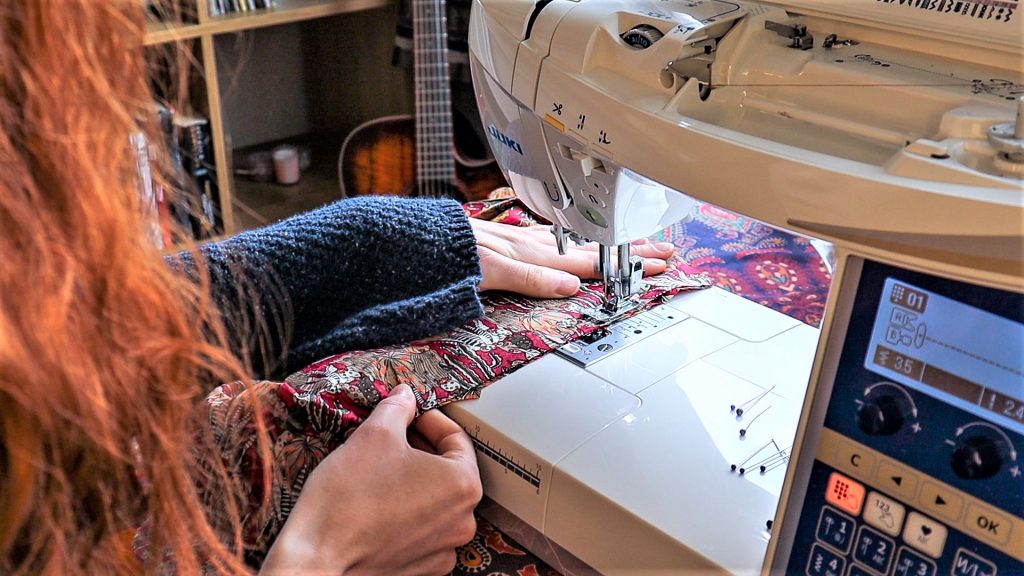 Ellie used the Juki DX7 to stitch the Ella Blouse together. The DX7 is a beautifully thought out machine. It has all the features to satisfy the sewing expert but it is intuitive enough for a beginning stitcher like Ellie to have a little practice and then get sewing. And that's just what she did.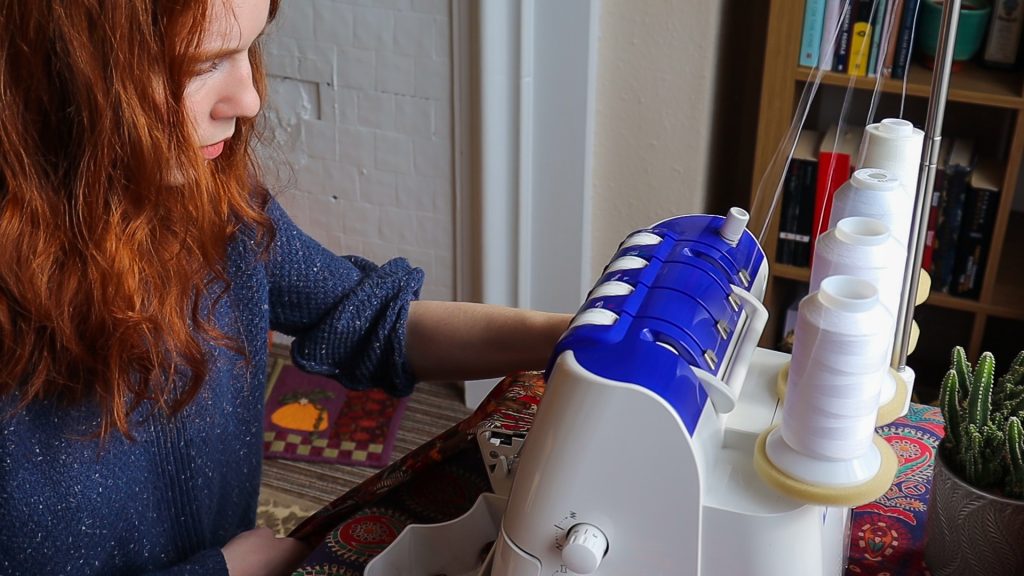 Ellie had never used an overlocker before. She loved it. Running fabric through the Juki MO-2000 is just magic and the overlocked edges gave the garment a professional finish! Quite the WOW factor.
It's a wrap
The finished blouse turned out great. Ellie was thrilled with her first me made garment! We had wanted to film her performing at a venue, but Leeds went into lockdown so she performed her sewing song on the balcony. It was beautiful and somehow quite fitting.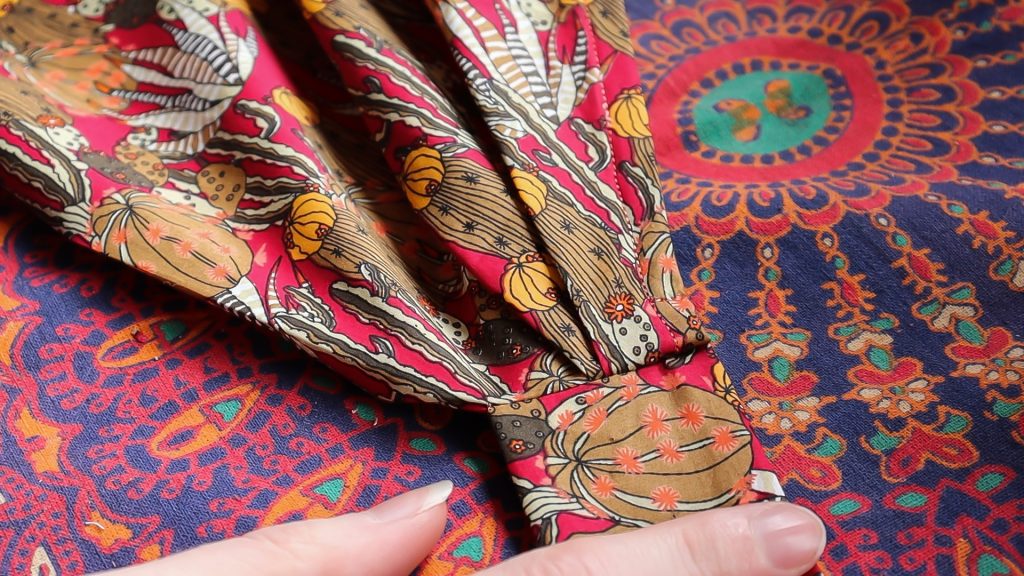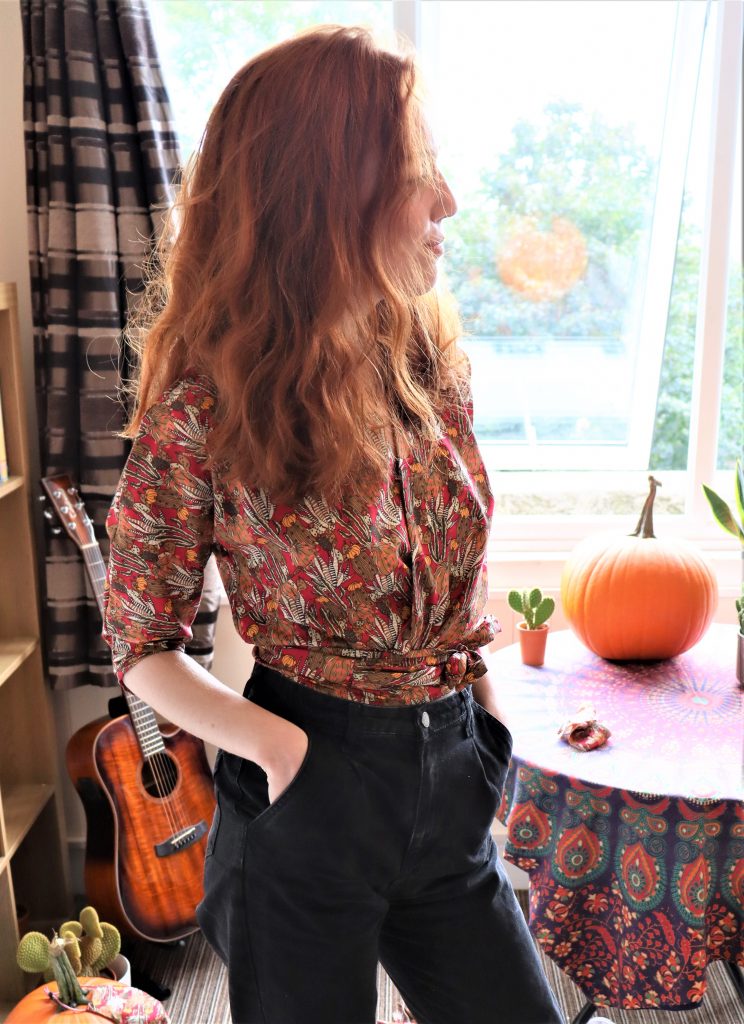 Making the Ella Blouse was a great experience for Ellie. She loves how it turned out and how it fit. She can't wait to wear it again and again.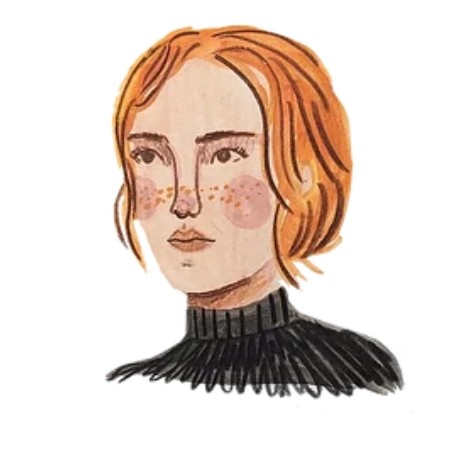 Ellie's a folk singer-songwriter currently living in London. Her favourite artists are Joni Mitchell, Big Thief, and Rosie Carney. Ellie stars in our IGTV video: Sewing Song. You can find out more about Elanor and her music online @elanor.moss on Instagram and Facebook.