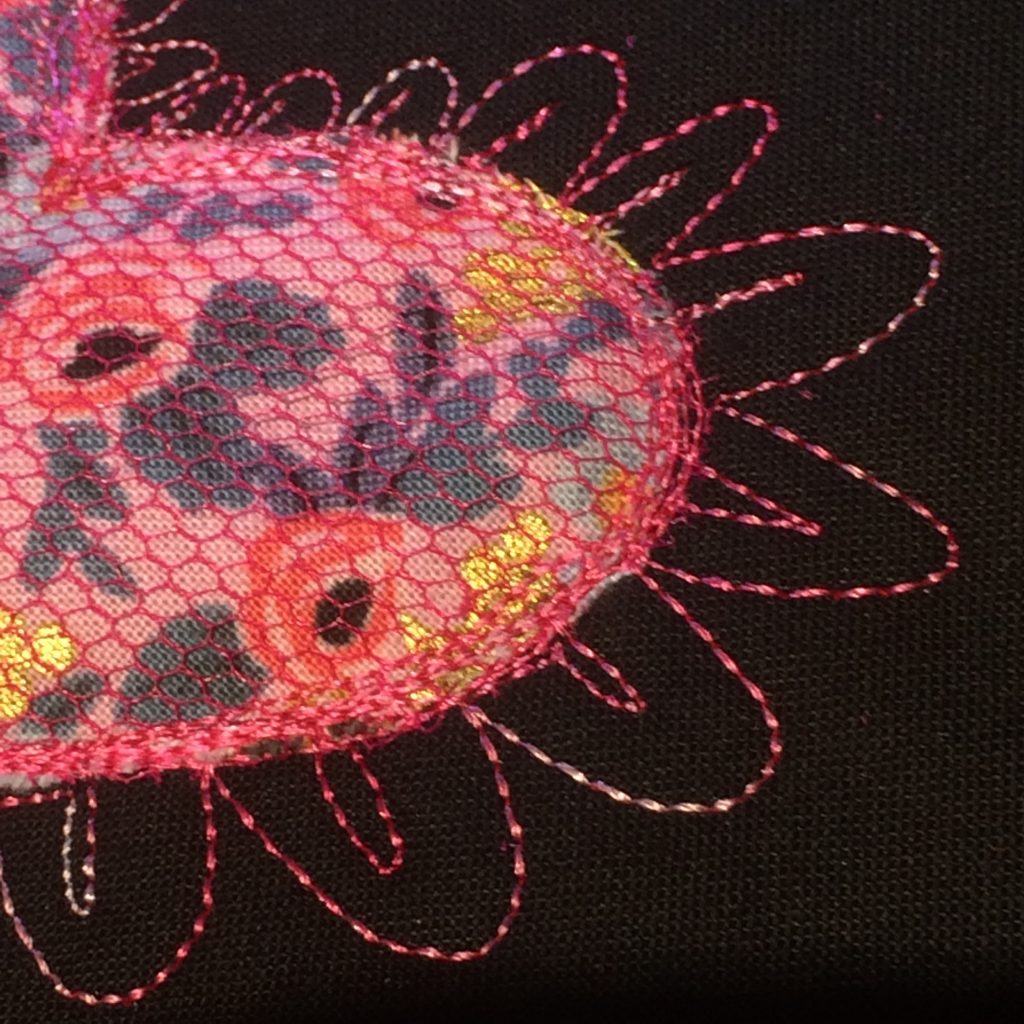 Did you know that you can use tulle netting to raw edge applique? I've been loving Raw Edge Applique for the past few years. I enjoy how fast and easy it is to make a pop of colour! Usually, raw edge applique is done sitting down at the sewing machine. But this tutorial is different. We'll show how to raw edge applique hearts using a free motion quilting technique that can be done directly on a long arm or a quilting frame.
What you'll need:
a long arm or quilting frame
backing fabric – I use fleece
wadding or batting – you can skip this layer if you are using fleece
top fabric – I'm using plain black – it makes all the fabrics pop
cut-out heart shapes in pretty fabric
tulle netting fabric in reds and pinks
pretty threads
Like an easel
Long arm quilting frames are becoming so popular. This technique shows how to use your long arm or quilting frame just like an easel. It's a fun little whimsical kind of project. I planned to cut it up afterwards for Valentine postcards. So I wasn't worried about being perfect. I'd simply use the applique hearts that turned out nicely and chalk up the mistakes as a learning opportunity.
Getting ready – laying the ground work
First load some fabric, wadding and backing on your longarm or frame. I'm using a small quilting frame that clamps to a table. But the same method will work for any long arm or quilting frame. For these fun kind of projects I often use fleece as wadding and backing. I used black background fabric and some red fleece. Go ahead and tension your frame so it is ready to stitch.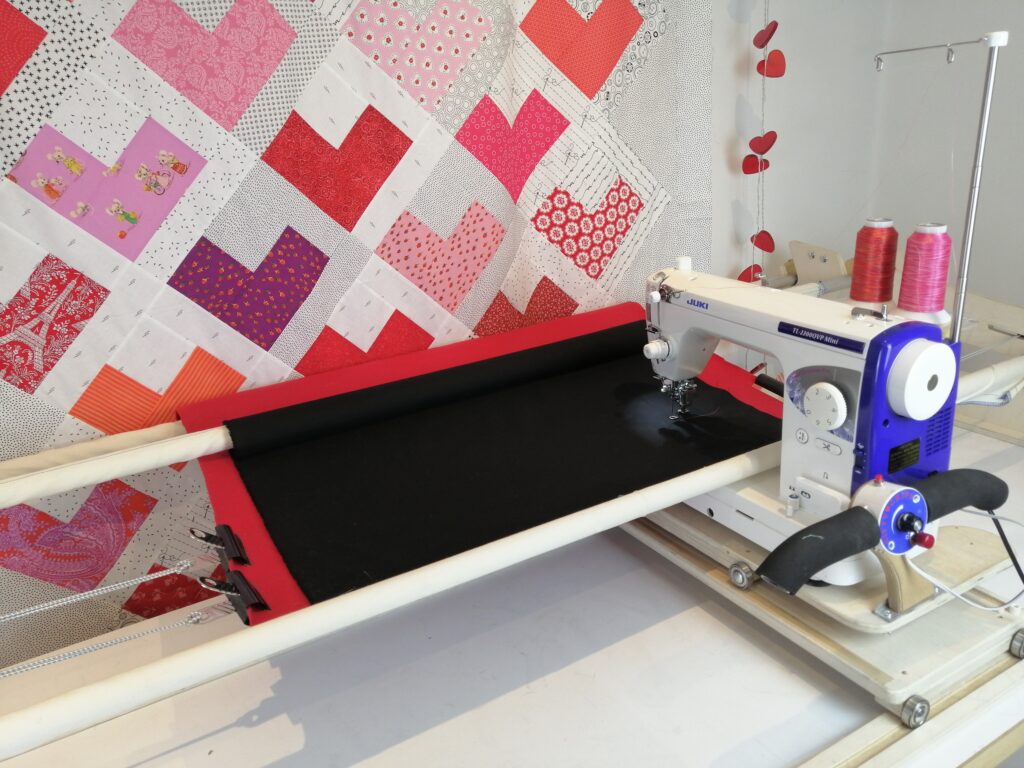 Then I chose some favourite fabrics and cut out some hearts. I do this using a schoolgirl method. Simply fold the fabric in half and cut out half a heart. when you open it you'll have a lovely symmetrical heart shape. You can tweak it until you get the shape that you want.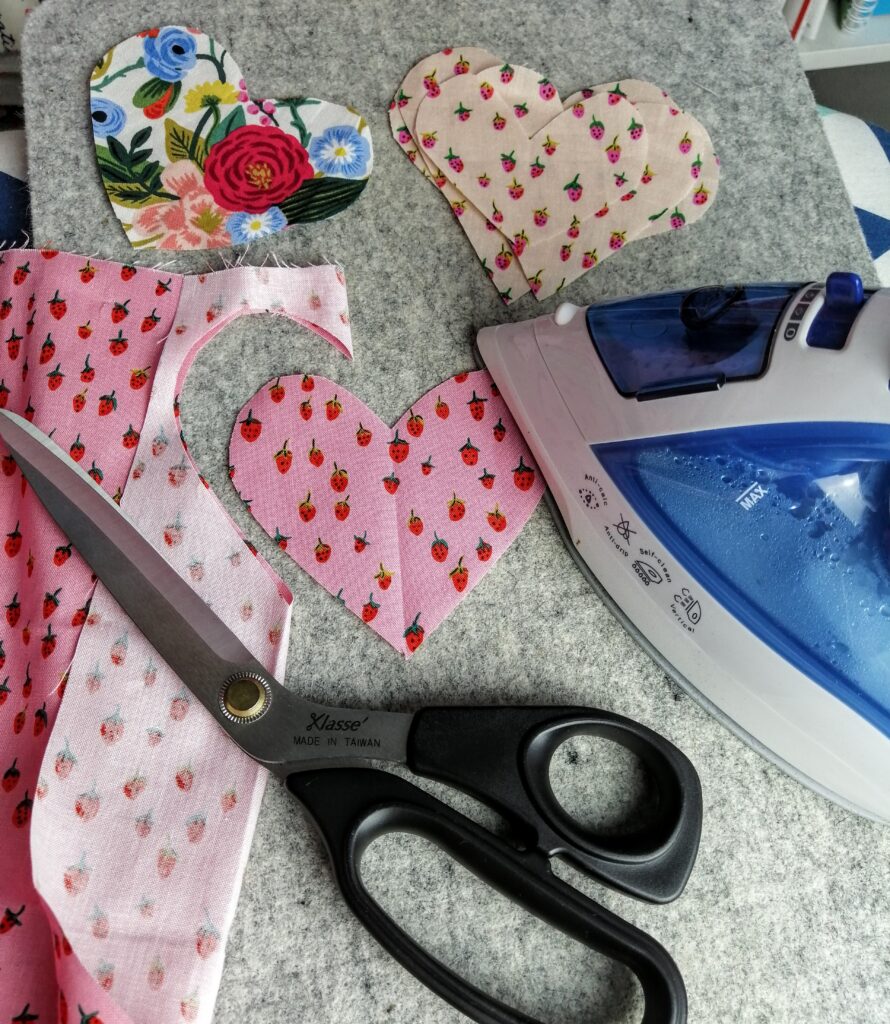 Now lay the raw edge heart fabric directly on the tensioned fabric on your long arm or frame. Take some tulle fabric and lay it over the heart shape.
The tulle is the magic ingredient! Different colours of tulle create really different looks on the fabrics. so it's fun to play with different combinations of tulle and fabric to get varied results.
Starting to stitch
I'm using the Juki TL 2200 QVP Mini straight stitch on a simple table top quilt frame. You can read all about why I love this machine for quilting here. And also get tips and tricks for tensioning the machine and getting it ready to quilt here. I've given it a good clean and changed the needle to a 100/16 topstitch needle. the larger eye makes this the perfect needle for free motion quilting with specialty threads.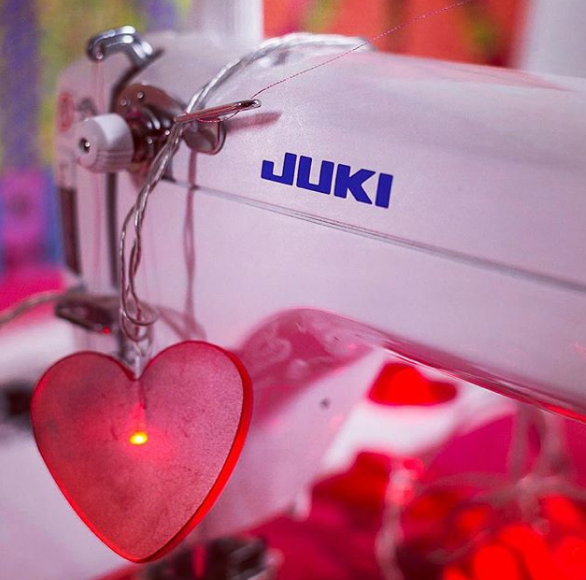 First I place the cut-out heart right on the black top fabric. then I audition the different colour of tulle.
Pin the tulle in place. Now choose some pretty thread and stitch around the outside of the heart shape just along the edge. It doesn't have to be perfect. go around several times. Again don't worry about being perfect. This is a whimsical kind of project and any imperfections will be endearing.
Cutting off the extra tulle
After you've gone around and around stop and cut off the tulle on the outside of the heart. Grab the tulle, lift it up and away from the heart and cut close to the stitching.
Scalloping around the edges
Now I'm going to scallop around the edges. Scalloping is one of my favourite free motion stitch techniques. The point in the scallop gives me a good place to stop or pause if I need to.
Now I'm going to go around again, this time adding a wee loop in the centre of each scallop. I think this makes it look almost like an eyelet ruffle.
That's it. Our raw edge applique heart is all finished. It's fun to try with different shaped hearts in a variety of fabrics and varied threads to get different looks.
Now it can be cut out and used for Valentine postcards or incorporated into another project like a pillow, bag, or book sleeve.
Happy Valentine's Day everyone! But don't stop there. Hearts are fun to stitch all year through. Every day is a good day to send some love to family and friends.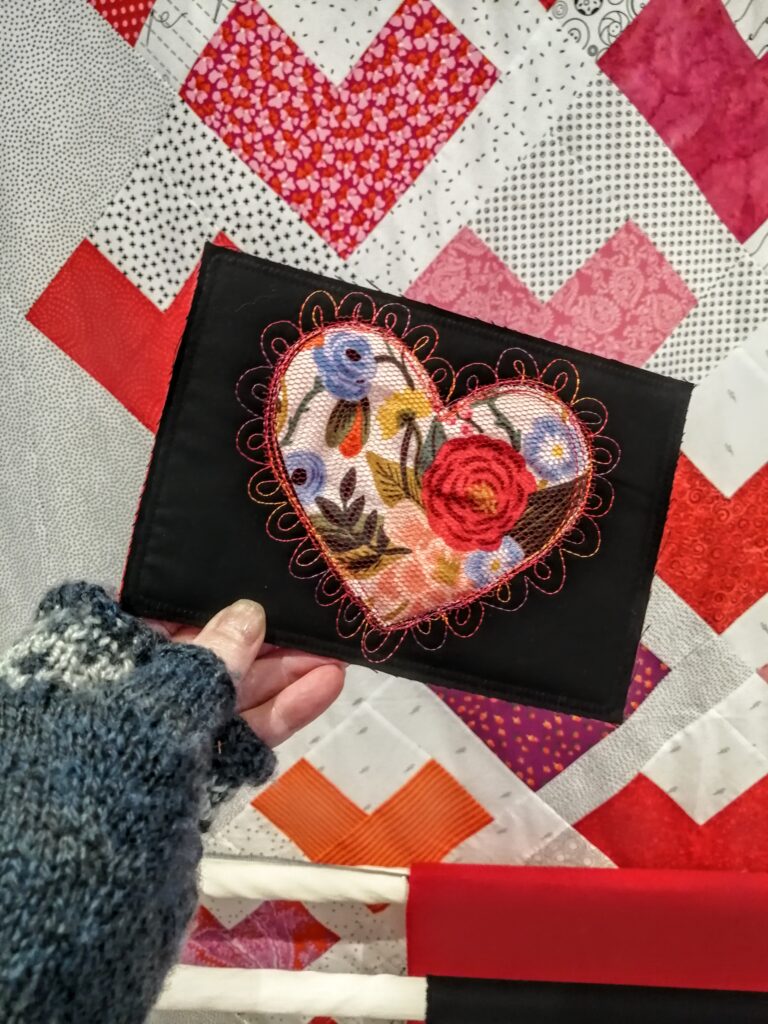 Follow the link to get FREE-to-use Downloadable Postcard templates that you can print on your computer.