It's good to cultivate gratefulness wherever we are. Emily's gorgeous tablescape certainly puts me in a thankful mood. Here's a post from our archives. Even though most of us will be staying home this year, we can still make the table special and be grateful that 2020 is almost over!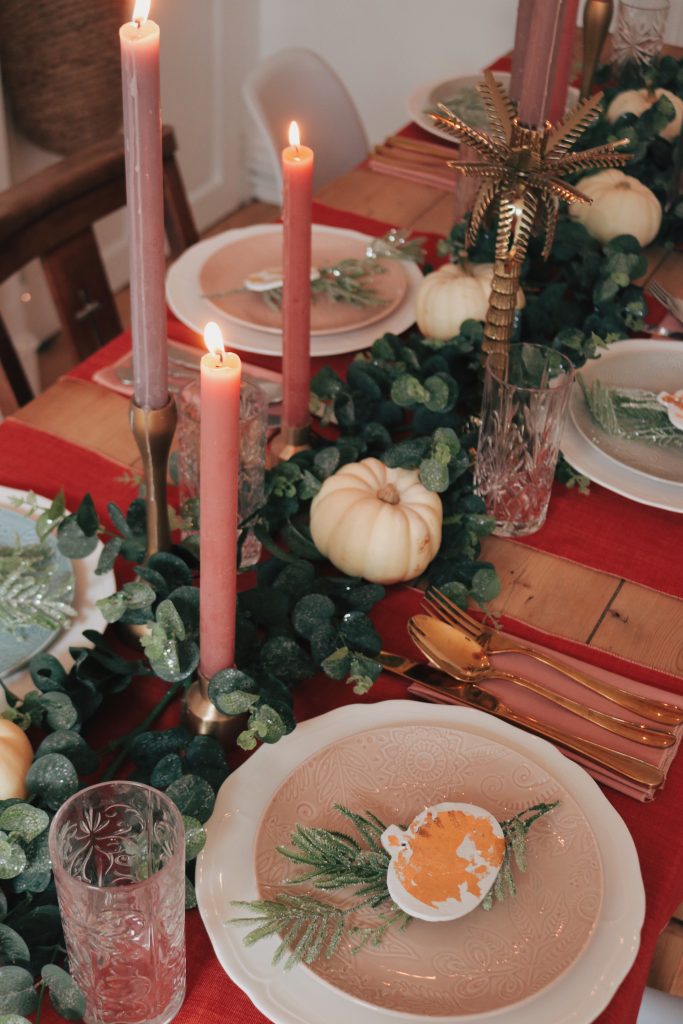 Emily celebrates Thanksgiving along side our Stateside friends as a reminder to feast together as a family and be truly grateful for what we have.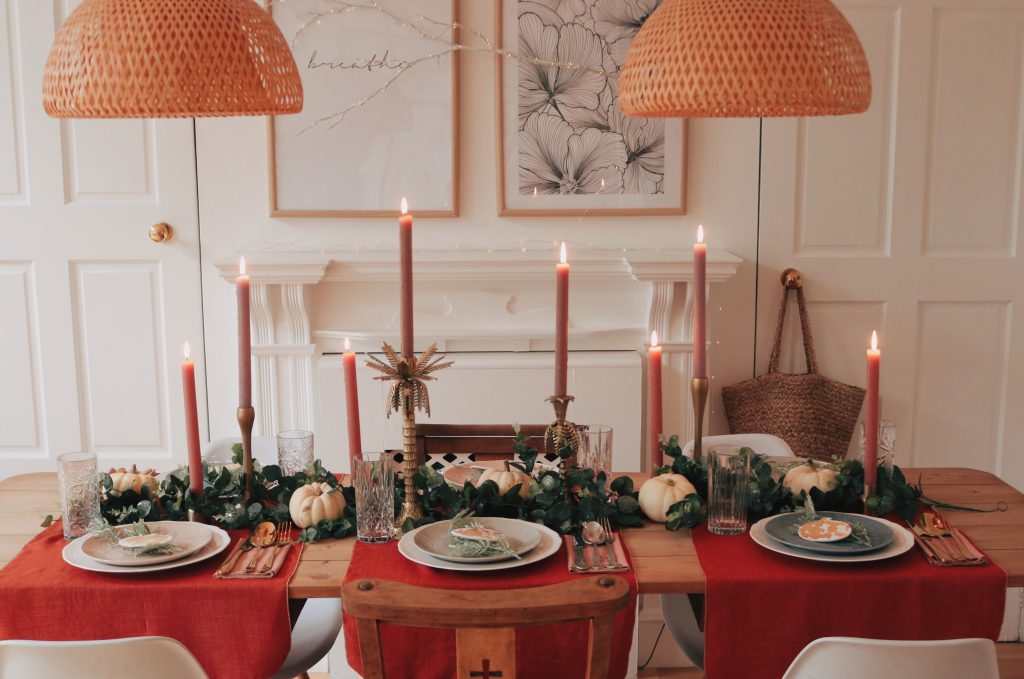 Even though life is busy, or perhaps because life is so busy, Emily and Rob have taken the time to gather with their extended family for the past 6 years to celebrate their version of Thanksgiving. They prepare a big meal and take the opportunity to toast each of the things in their lives that they're thankful for. Cultivating gratefulness has become a habit.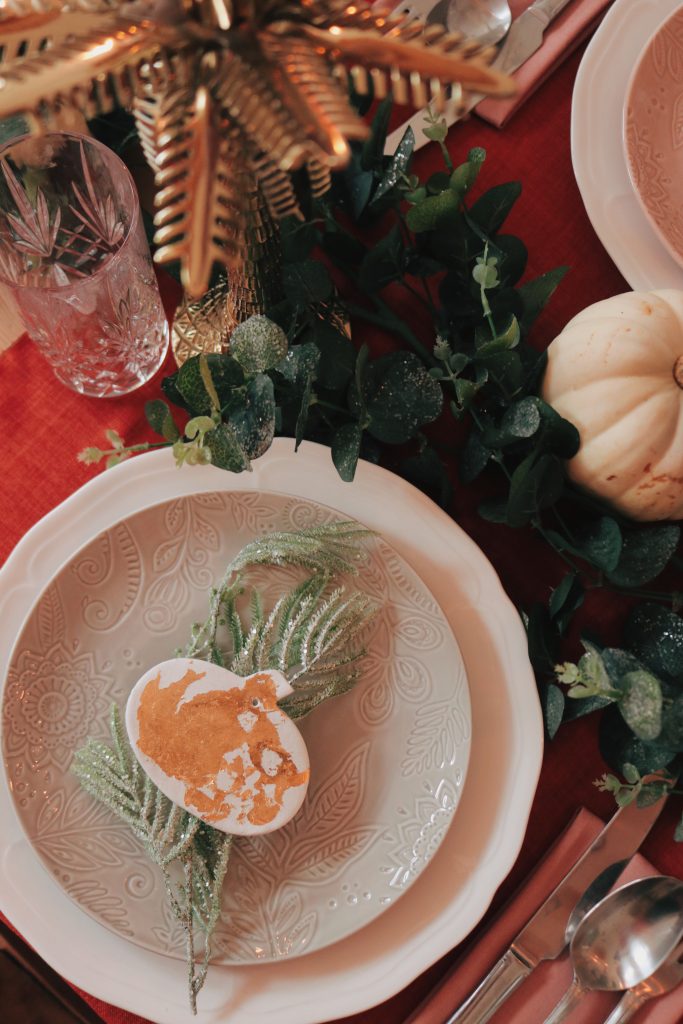 The first time
Emily remembers the first time. " I don't think anything will ever beat our first meal. Etta was only a few months old and we had just finished our house extension. It was the first time I had the opportunity to decorate the "new" house for an event and Rob and I were so proud of how everything looked. It was the end of a lot of work and the beginning of a new journey as parents of two little people.
I will never forget my mum's reaction to coming in. The soft glow of the candles illuminating the extended open plan house completely shocked most people. No one could believe that our little house could have so much lovely space. Baby Etta was asleep in a cot in the corner and Raph, at just over two was pottering around. I can still remember my mum saying to Rob as he worked on the food, "Thank you for giving Emily all she has ever wanted." The beautiful house, the children, the husband, it was all there, and it was true, it was all I ever wanted. I was grateful for it then and I'm grateful for it still.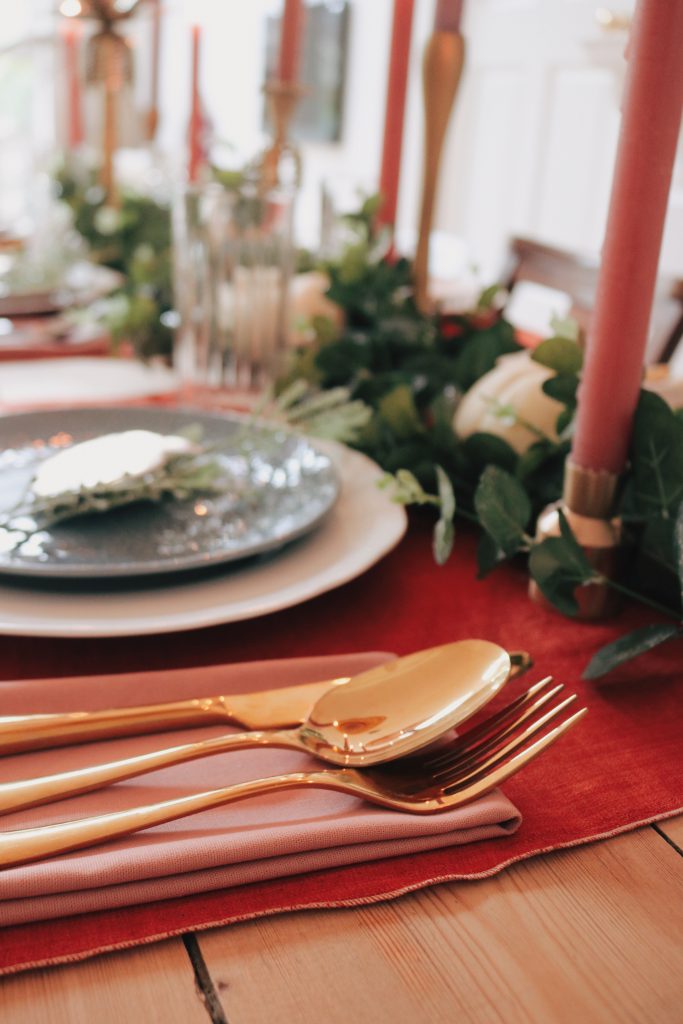 I think after our extension, our home took on a new role that night. It became part of us. As we worked round the table and each family member shared what things we were thankful for, the top of mine and Rob's list was the re-creation of the house and home it would become for us.
Each Thanksgiving continues to be a celebration. We get together with our ever growing extended family, share a table and raise a glass to say thank you for all the simple and ordinary things in our lives that make us who we are.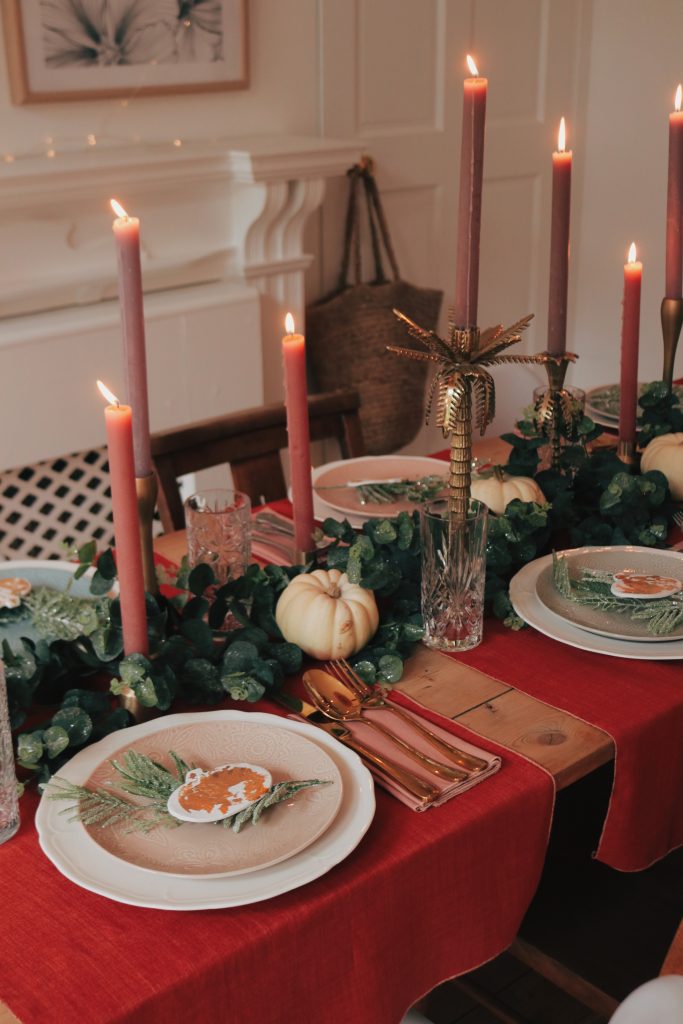 Table Talk
Here's a HOW TO for making Emily's Thanksgiving tablescape. We think that it turned out so pretty! It was fun and fast too.
For this project you will need fabric and an awesome overlocker or serger to give the edges a professional finish.
Emily used one metre of yarn dyed 'washed look' faux linen in RUST and PINK from her favourite online fabric shop; HIGGS AND HIGGS.
Then she used the rolled hem stitch on the Juki MO2000 Overlocker. This air threading overlocker is so easy to set up and even easier to use. The napkins and table runners for this pretty table came together in about 20 minutes.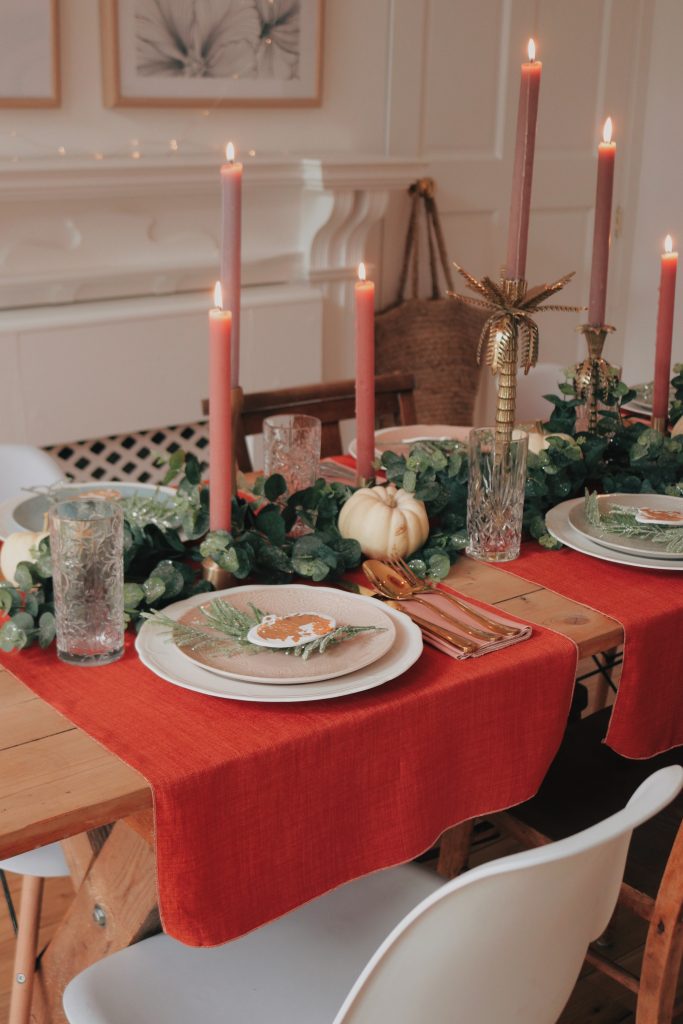 To create the runners, simply cut your fabric into three lengths adapting it to the size of your own table. Emily's thin table only needed a 1 meter length as the table was only just over a meter wide. Emily has just enough overhang here. Once you've cut the fabric to fit your table, overlock your edges, iron and that's it! You have really professional looking napkins and table runners. Your guest won't believe that you made it yourself!
Napkins: The joy of the overlocker is that it does the job so simply. Cut your napkin into squares, about 40cm x 40cm and run the overlocker around the edges using the rolled hem stitch. Iron and you're done!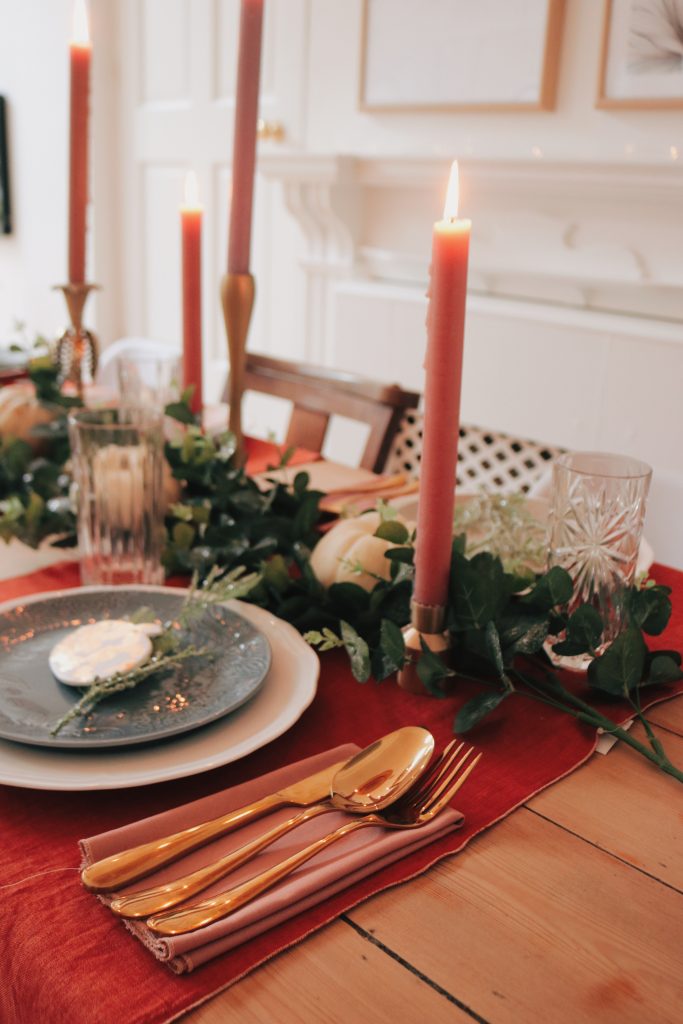 Making the table is then pretty simple. Lay the runner across the table, load up with your crockery, candles and some greenery. We think the white pumpkins are gorgeous! Add in your napkins, glasses and cutlery and you are ready to fill those plates up with hot food!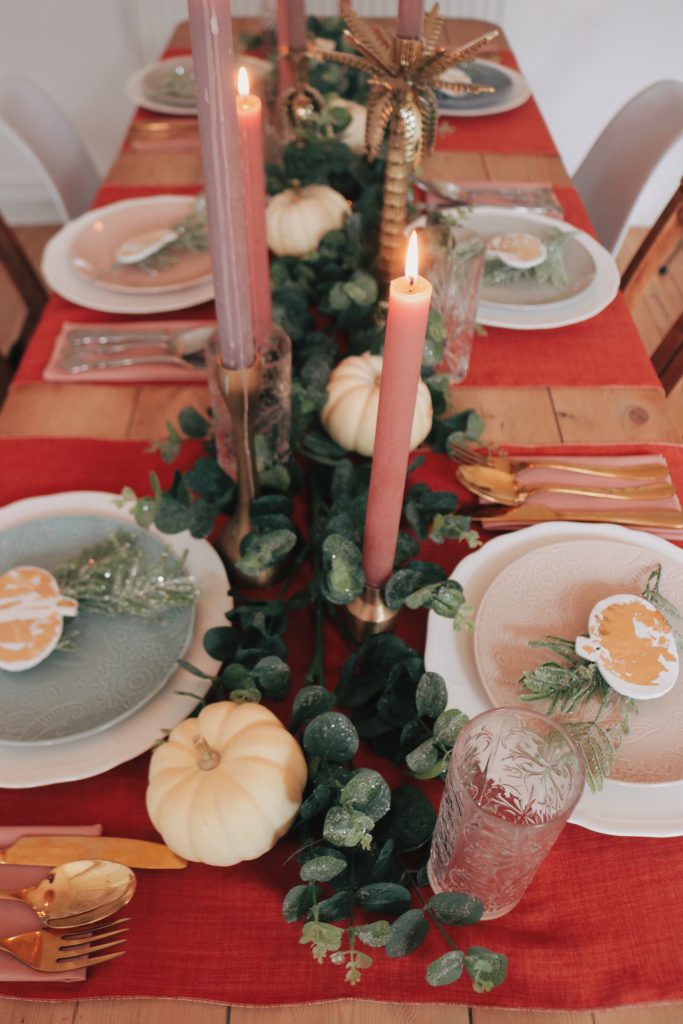 We have so much to be grateful for. Wherever you are, I hope that you can find ways to celebrate the little things with the people you love. Happy Thanksgiving!