Did you know that Scandinavian countries will be celebrating St Lucia's Day next Tuesday? St Lucia's Day is a Swedish Festival of Light celebrated on December 13th. In the old Julian calendar December 13th was the date of the winter solstice, the shortest day of the year. Lucia or Lucy means light. Although it's a Scandinavian festival now, it all started in Rome.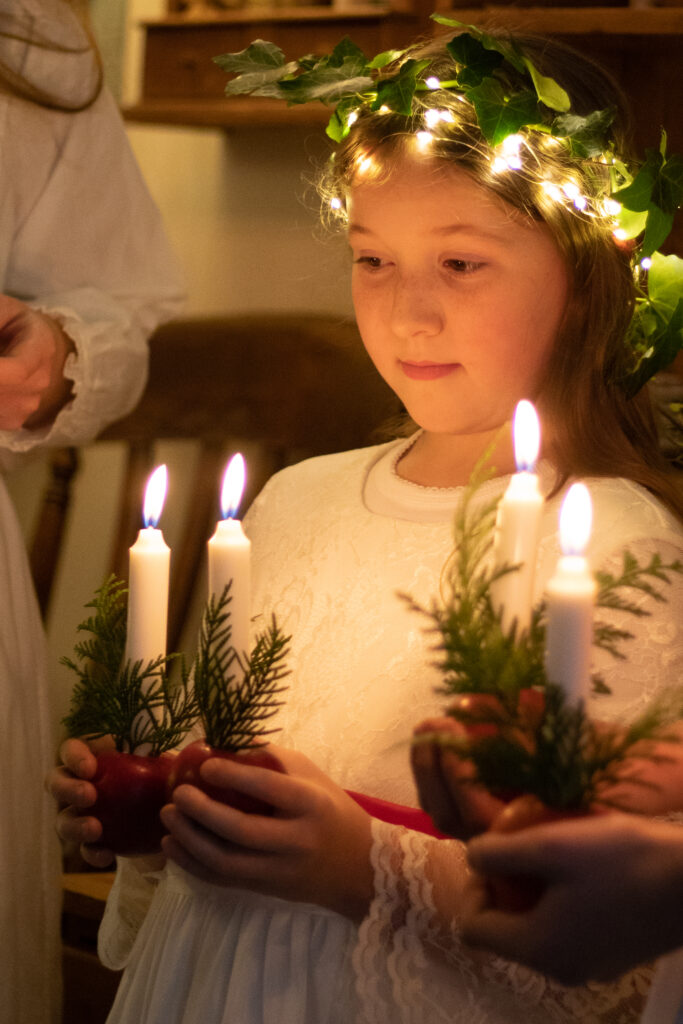 The Legend
Legend has it that St Lucia was a bearer of light and a bringer of food to Christians hiding in the catacombs under Rome. She wore a wreath of candles on her head to leave her hands free to carry the food she was bringing. In Sweden and other Scandinavian countries, celebrating St Lucia's Day became a popular folk festival of light on December 13th, the darkest day of the year.
Swedish Festival of Light
Children dress up in white gowns with red sashes. One girl is chosen to be St Lucia and lead the procession with a wreath of candles in her hair. She is accompanied by other girls also in white carrying candles and Star Boys with conical hats and stars on sticks. There are special carols sung in towns and villages.
The night treads heavily around yards and dwellings. In places unreached by sun, the shadows brood. Into our dark house she comes, bearing lighted candles, Saint Lucia, Saint Lucia.
Towns and villages have St Lucia's Day processions where carols are sung. In schools, hospitals and old people's homes children sing carols and share ginger biscuits.
Breakfast in bed
In families, St Lucia's Day is celebrated by breakfast in bed. The oldest girl gets to be St Lucia and wear of wreath of candles in her hair. She carries a tray with coffee and saffron buns to people in her family for breakfast in bed. Other children can join the procession. Girls in white dresses carrying candles and Star Boys with conical hats and stars on sticks. The littlest children can bring up the rear as elves with lanterns.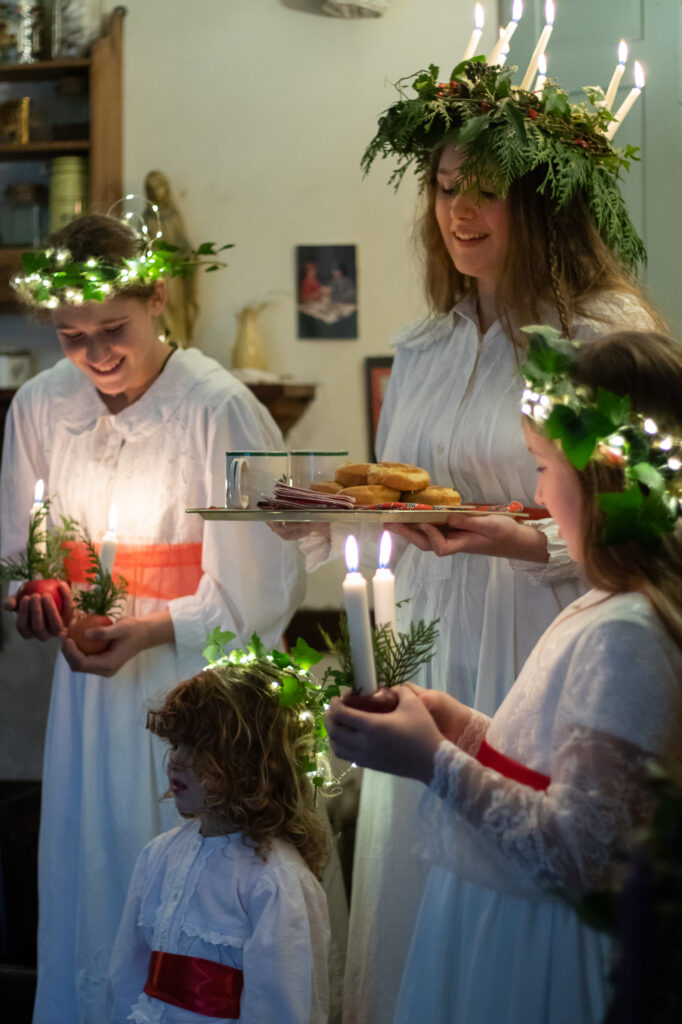 How to Celebrate St Lucia's Day
You don't have to be Swedish to celebrate St Lucia's Day. It's a fun way to usher in the Christmas season and who doesn't love breakfast in bed?! Here are some ideas on how to design your own family St Lucia's Day celebration. There are lots of ideas on my Pinterest board. But here are a few simple suggestions to get you started.
What to wear
In the old days, the children must have simply worn their night shifts and night shirts. But now, white nighties and dresses can be found, upcycled or easily stitched up and tied with a red ribbon around the waist.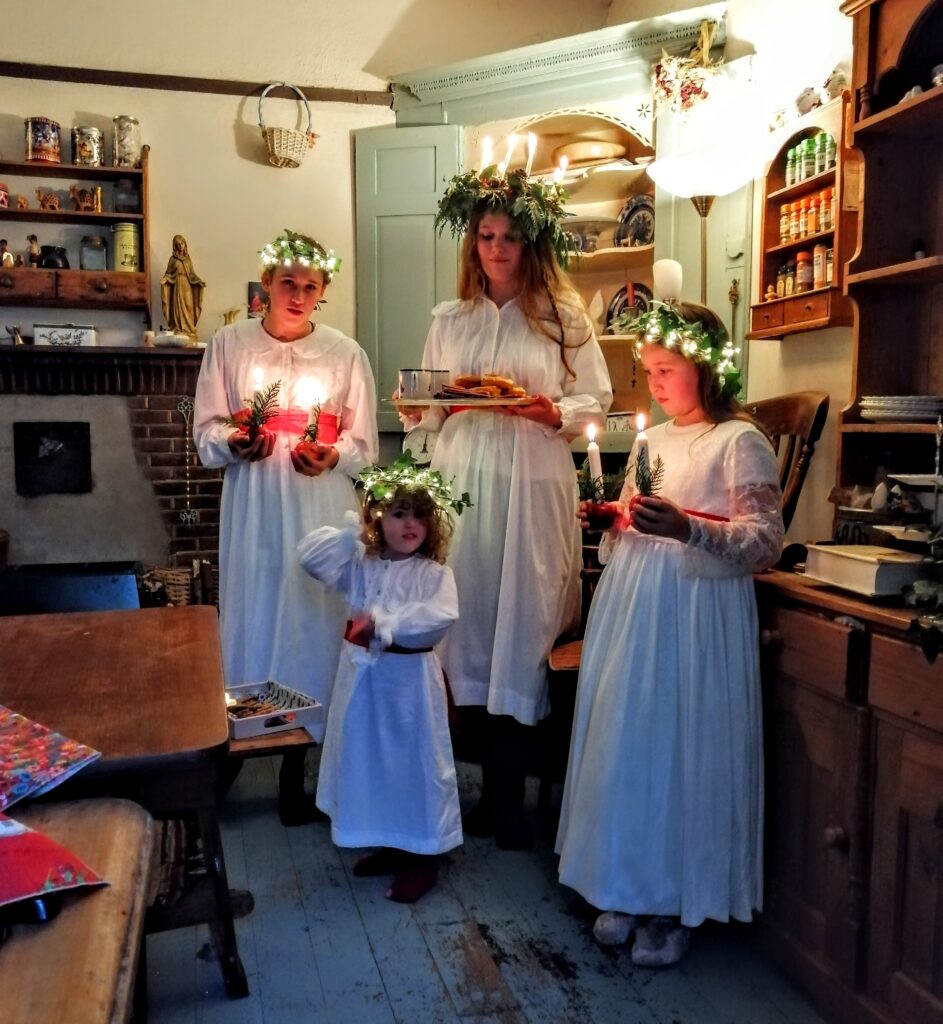 Star boys wear conical hats with stars on them. We made ours from white card and stapled the stars on. You can find directions here. The boys in our little film used 18th century night shirts stitched by historical costumier and film producer, Pauline Loven. But PJ's would be just fine.
Bringing lights
In mid-winter, the Scandinavian countries are dark in the morning. And candles would have been needed to light the way. Some families really do light a wreath of candles! But you can opt for the safer battery operated lights. Trailing vines of Ivy make easy wreathes.
We had the girls carry cored apples with candles and greenery tucked inside. Very little children could use battery operated lights. The star boys carry lights on sticks as in this illustration by Swedish Author Elsa Beskow.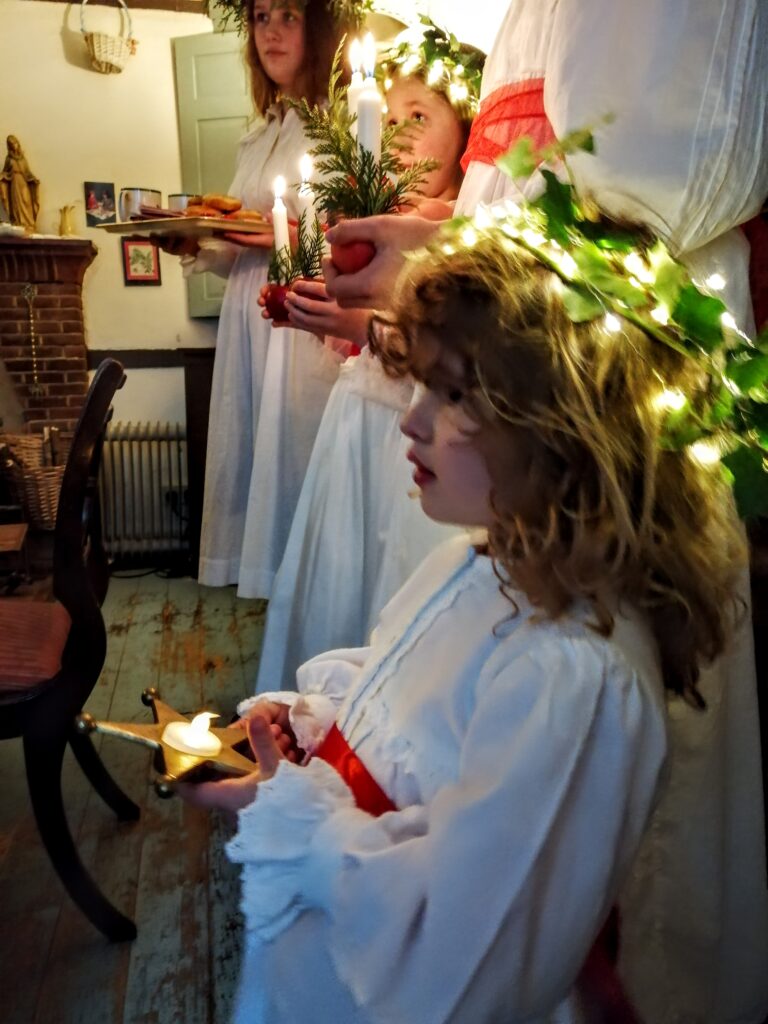 Presentation is everything
Next, it's time to make a beautiful breakfast tray. We made ours special by using homemade cloth napkins stitched in pretty Christmas fabrics.
We have a blog post that shows you how to make your own cloth napkins. Using the rolled hem stitch on the Juki MO 2000 is so easy, even children can do it. We used special Christmas plates and cups too.
Breakfast menu
Now, let's talk food. Traditional Swedish treats are on the menu. Many families make homemade Saffron buns called Lussekatter and Pepparkakor – traditional ginger biscuits. But simple Brioche rolls and ginger cookies (available from Lidl and/or IKEA) could also be used.
Finally, coffee is served in pretty cups. Tea lovers could have tea instead. And children can have bambinoccino, frothy milk with cinnamon on top.
Good Jul
Celebrating St Lucia's Day is a fun way to welcome the Christmas season into your home. And It's coming up this Tuesday! Enjoy!