Hi. Martha here. I've been stitching some more festive Christmas napkins! There are NEW Rifle Paper Company Christmas fabrics this year. Our family is growing as our grown up kids keep bringing more and more people home for Christmas! We can always use more napkins.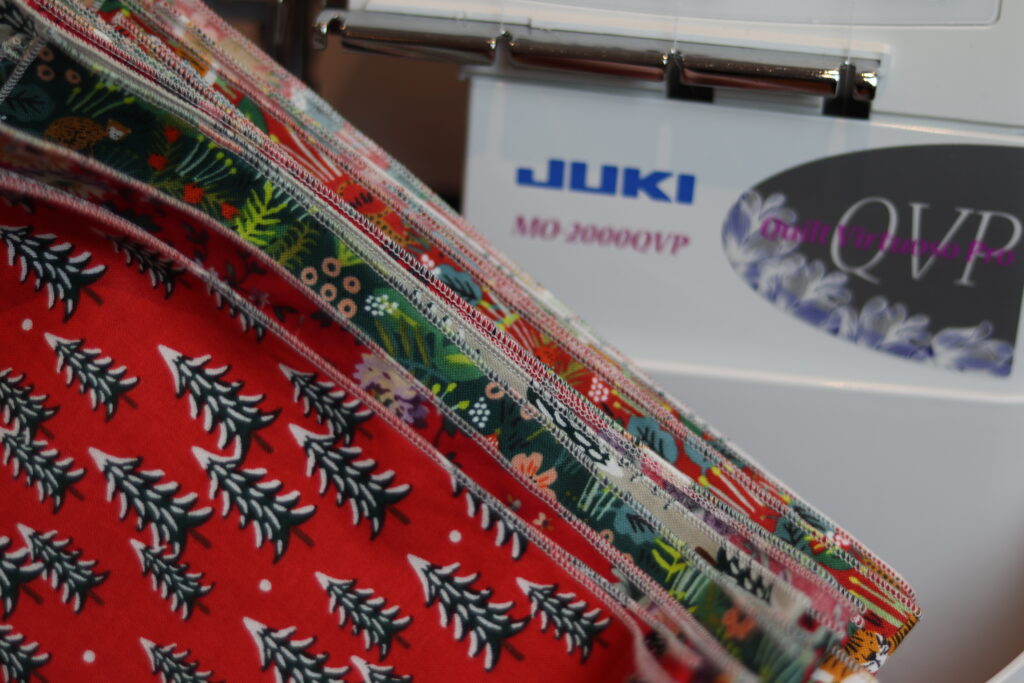 And I was desperate to add them to my collection. We have special Spode Christmas dishes that we enjoy during the Christmas season.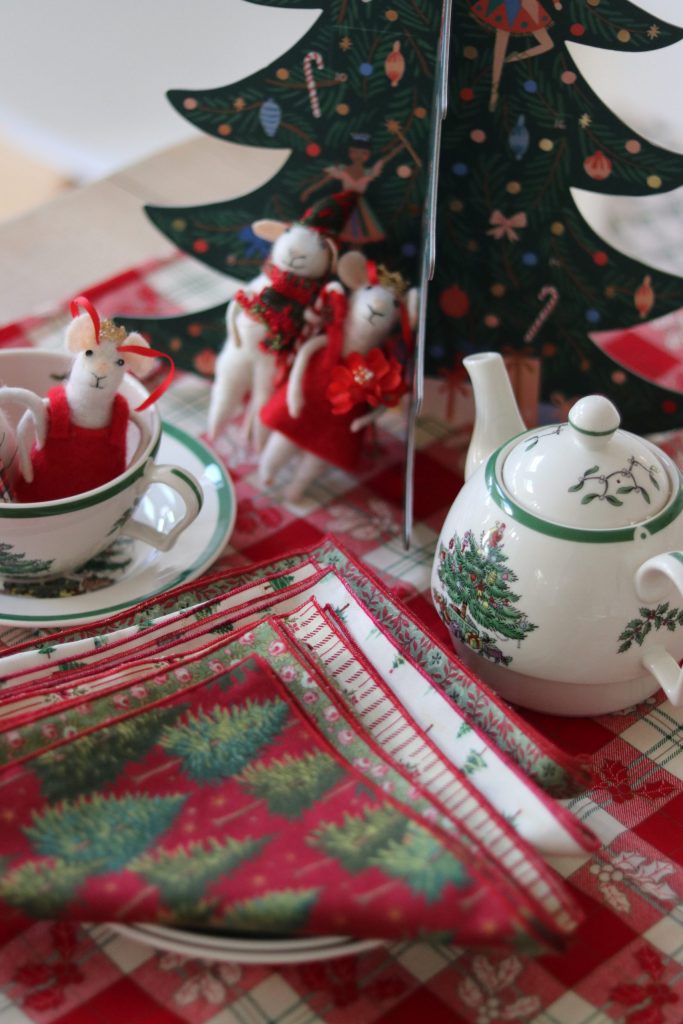 I wanted to make festive Christmas napkins and tablecloths to go with the dishes. First, I raided my stash. I've saved up lots of pretty Christmas fabrics over the years. I found fabrics that would go with the crockery and cut them into 16 inch squares. Then I edged them with a rolled hem stitch on the Juki MO 2000 amazing air threading overlocker.
The Juki MO2000 overlocker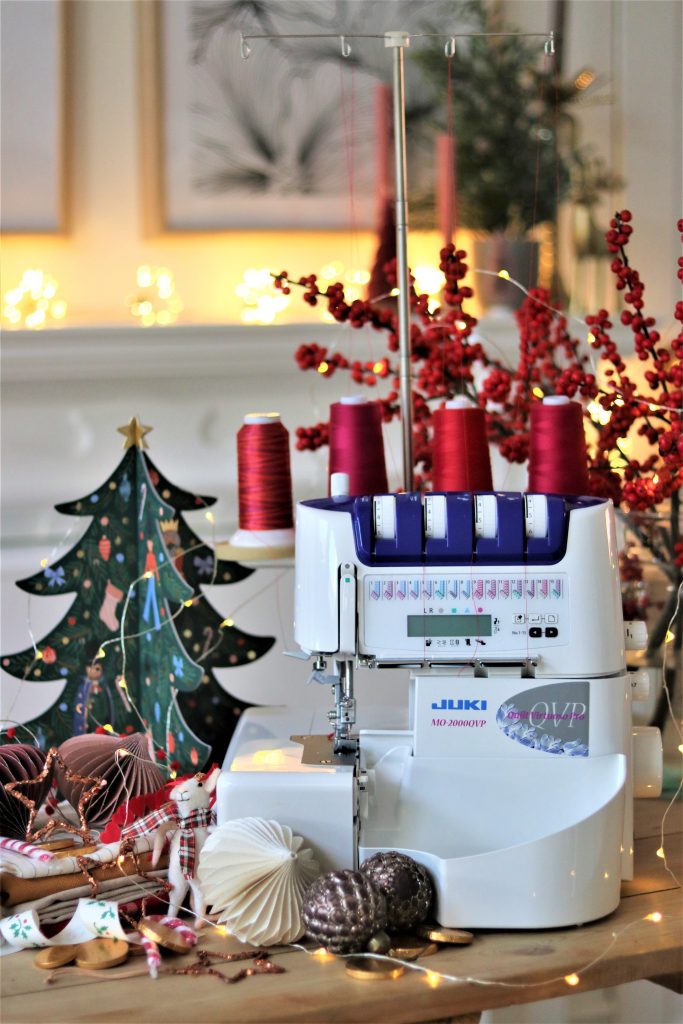 I really enjoy using this Juki MO 2000 overlocker! It's so easy to thread and it works like magic to give the edge of all sorts of fabric a professional finish. I didn't have enough of any one fabric, so I just chose lots of different fabrics that all went with the plates. I edged them in red serger thread and they turned out great!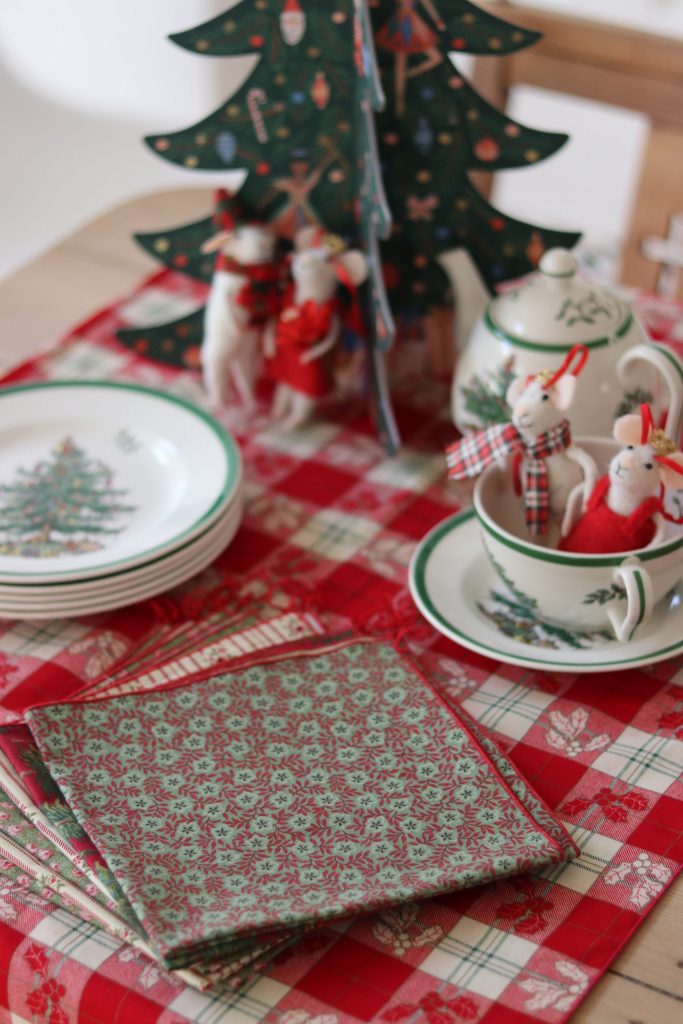 The Juki MO 2000 gives you a wide choice of stitches that are easily accessible by flicking through the screen. I've chosen stitch #13 which is a 3 thread rolled hem stitch. It gives a lovely thin edging which I think is ideal for so many projects. The video clip below shows me making a napkin out of some of my favourite fabric. Go here for detailed directions on setting up your Juki MO 2000 for a rolled hem stitch.
Auditioning threads
My daughter Emily Hawkins has the same plates! So I decided to make napkins for her too. Once you start making napkins, it's hard to stop! This time I bought the pretty Christmas tree fabric from the Craft Outlet at Springfields in Spalding. Then I auditioned various thread combinations to see which one I liked best.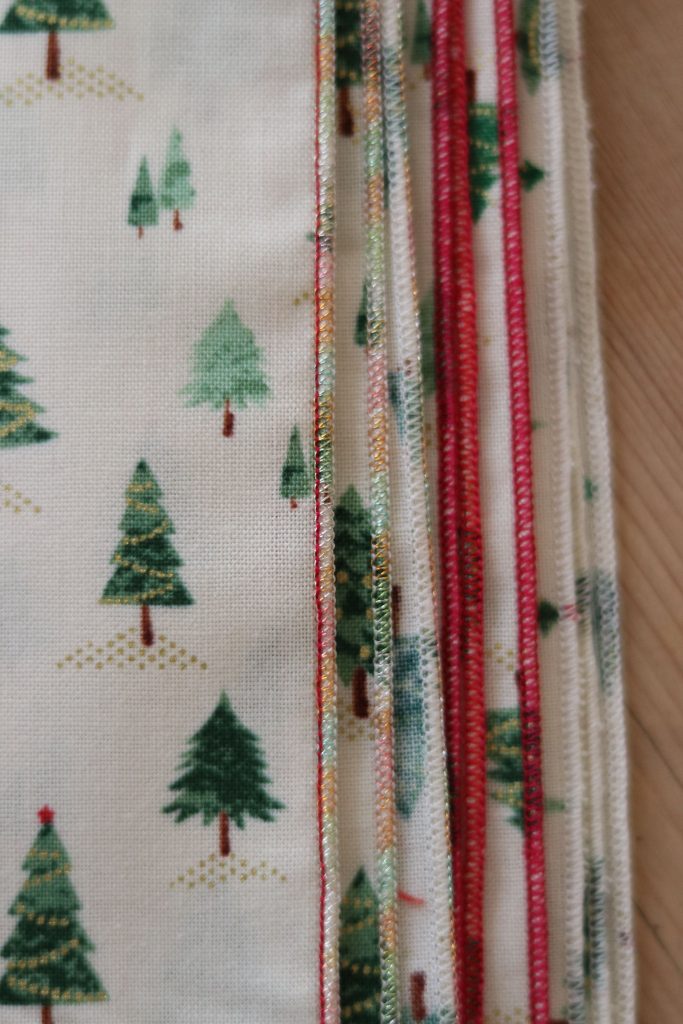 First, I tried a variegated metallic thread but kept the red cone on the left. That gave me quite an interesting red line with a metallic edge. Then I tried all 3 cones with the rather glorious variegated silver metallic. Then all 3 cones red, and finally all 3 cones white. You can see how my auditioning played out above. It was fun to see the variations. In the end, I went for the red.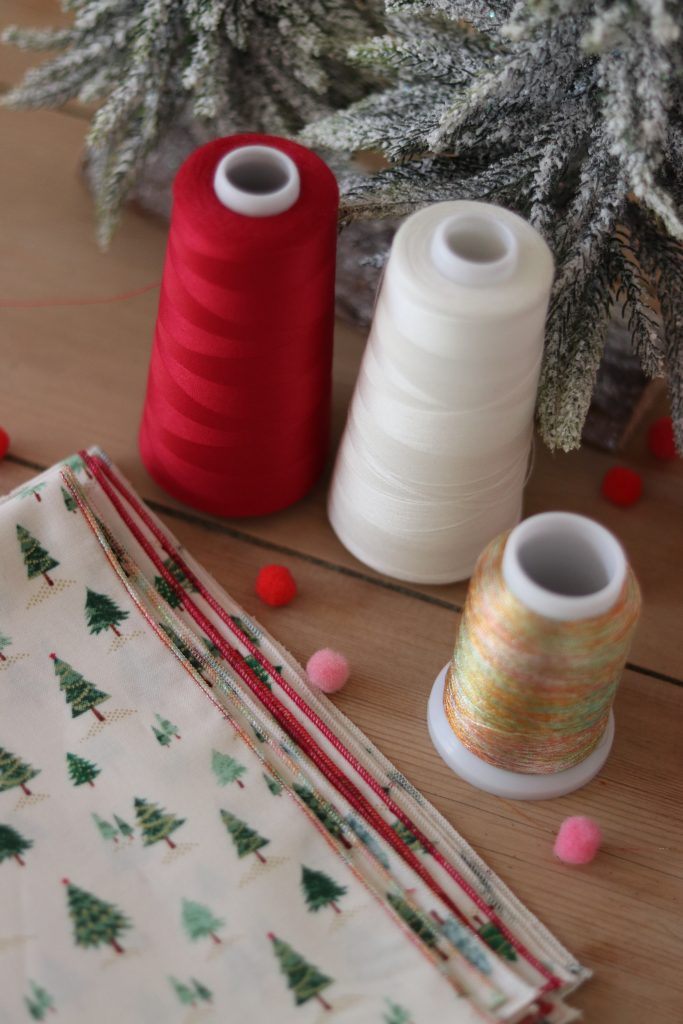 The red thread looked fabulous and the stitch was so pretty that it was worth showing!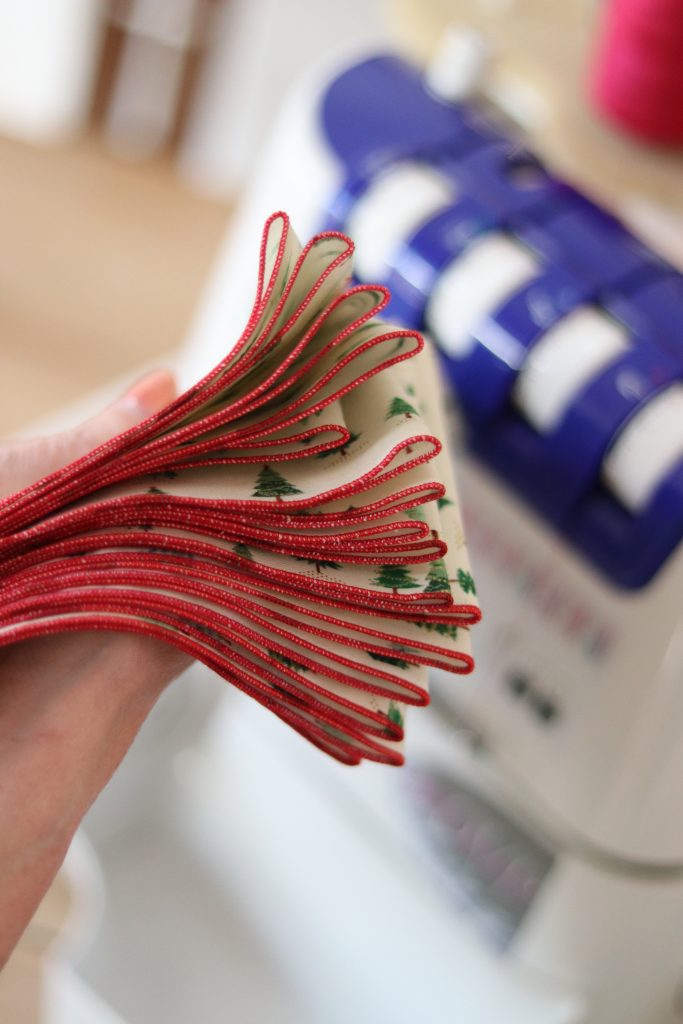 Troubles with tails
There is one problem with using an overlocker. What do you do about the tails?! The tails are these bits that hang over the edge. If you cut them off they unravel, but they look messy if you leave them on. Some clever stitchers can tuck the tails into the stitching, but even that would look messy on the napkins.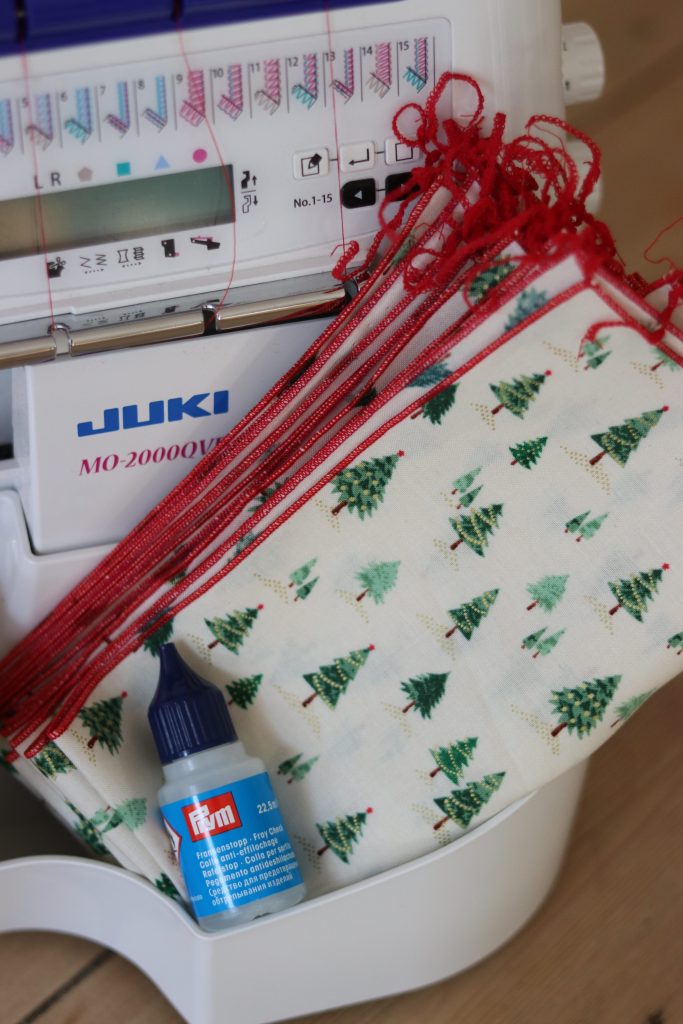 The easy answer to the problem is this Prym Fray Check that I ordered off Amazon, which came the next day! Here's how to sort those tails:
leave the tails on
put a drop of Prym fray Check on each corner
allow to dry several hours or overnight
when fully dry, cut the tails off
Now the corners look so neat and tidy! "It's machine washable too, Darling!" Which is great for tablecloths and napkins. I'll be able to use the Prym Fray Check an all sorts of other projects in the New Year. Meanwhile I'm going to be enjoying my pretty Christmas table linen and napkins all Christmas long!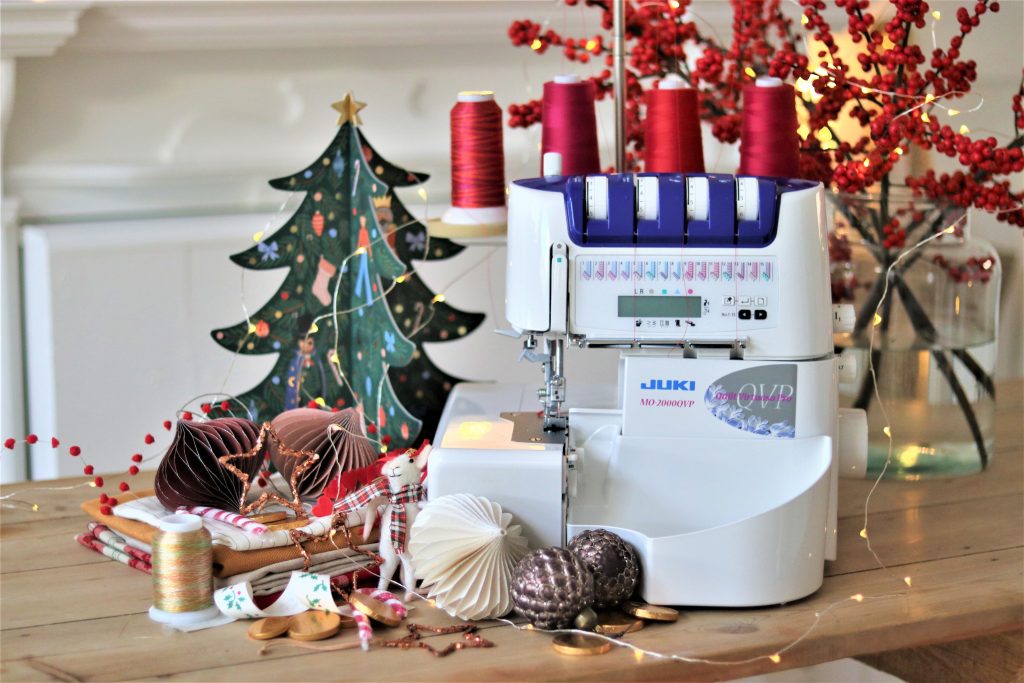 Christmas napkins are fun to reuse each year. And they make lovely gifts too!