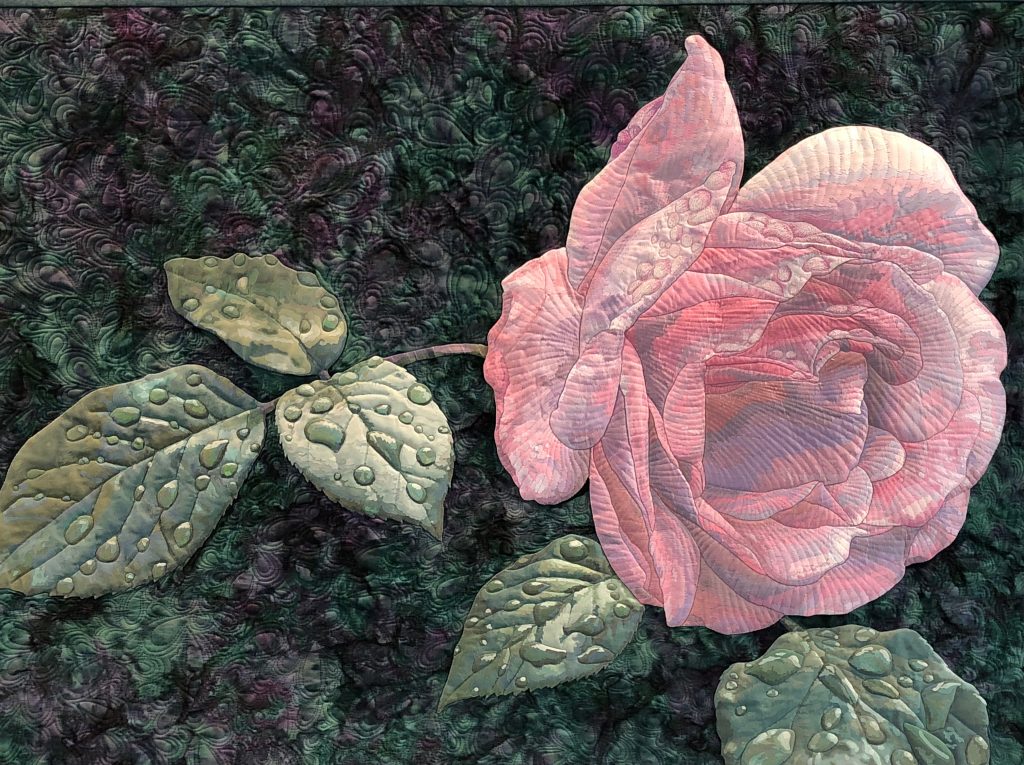 I grew up listening to Julie Andrews singing in The Sound of Music. So I was delighted when the penny dropped and I realized that this quilt called Favourite Things was actually inspired by the Sound of Music song lyrics.  The roses blooming in my garden reminded me of this amazing quilt by Katy Whitby-Last. I think we all could enjoy the backstory behind this award winning quilt. In the uncertainties of quarantine life, it's good medicine to 'simply remember our favourite things'.
Katy's Favourite Things quilt won the First Prize for the Pictorial Quilt category in the 2018 Festival of Quilts. We were thrilled to schedule an interview with Katy Whitby-Last earlier this month. We found out that Katy is no stranger to winning prizes but until now,  most of the prizes have been for GOATS!
Martha:     Congratulations on winning First Place in the Pictorial Quilts Category at the Festival of Quilts. You won Best of Show too! Were you surprised? When did you find out?
Katy:    I got the call on Wednesday afternoon when I was mucking out the billy goat stall. They asked if I would be attending the awards ceremony but it was too far to travel at such short notice. Then they rang again on the Thursday morning while I was milking and asked me to write a few words for them to read out at the awards ceremony as I had also won the Best in Show award.
Martha:    What inspired you to make the quilt? Where did you get the idea?
Katy:    Originally, I was making the quilt to enter the Royal Highland Show in Edinburgh earlier in the year. But, despite staying up all night, I didn't finish in time to enter. The Royal Highland Show had a Musicals theme this year, and the theme for the patchwork and quilting classes was The Sound of Music. Someone suggested that I also enter it in the Festival of Quilts. I'd never been there before, and at the time didn't know what a big deal it was, but I went ahead and entered it in the Pictorial Quilts category.
Martha:     The name, Favourite Things was so clever. The penny didn't drop for me until I was writing a Facebook post about it. Then I realised that it was Raindrops on Roses from the Sound of Music song lyrics.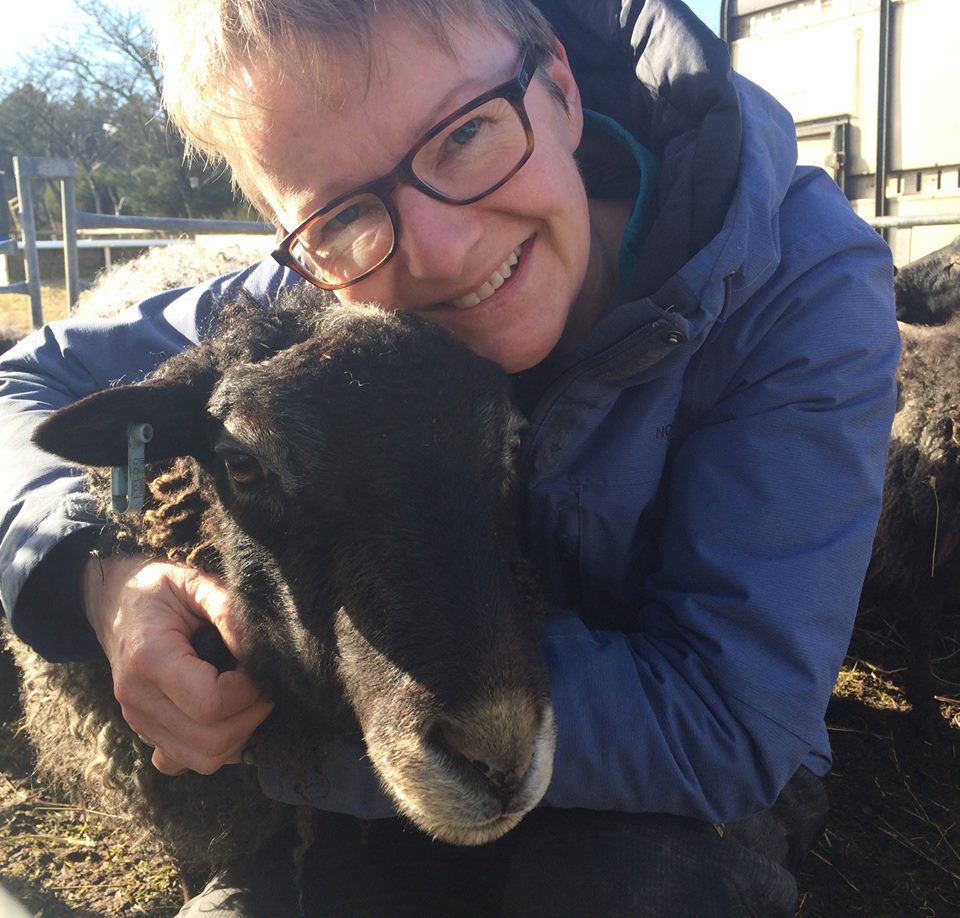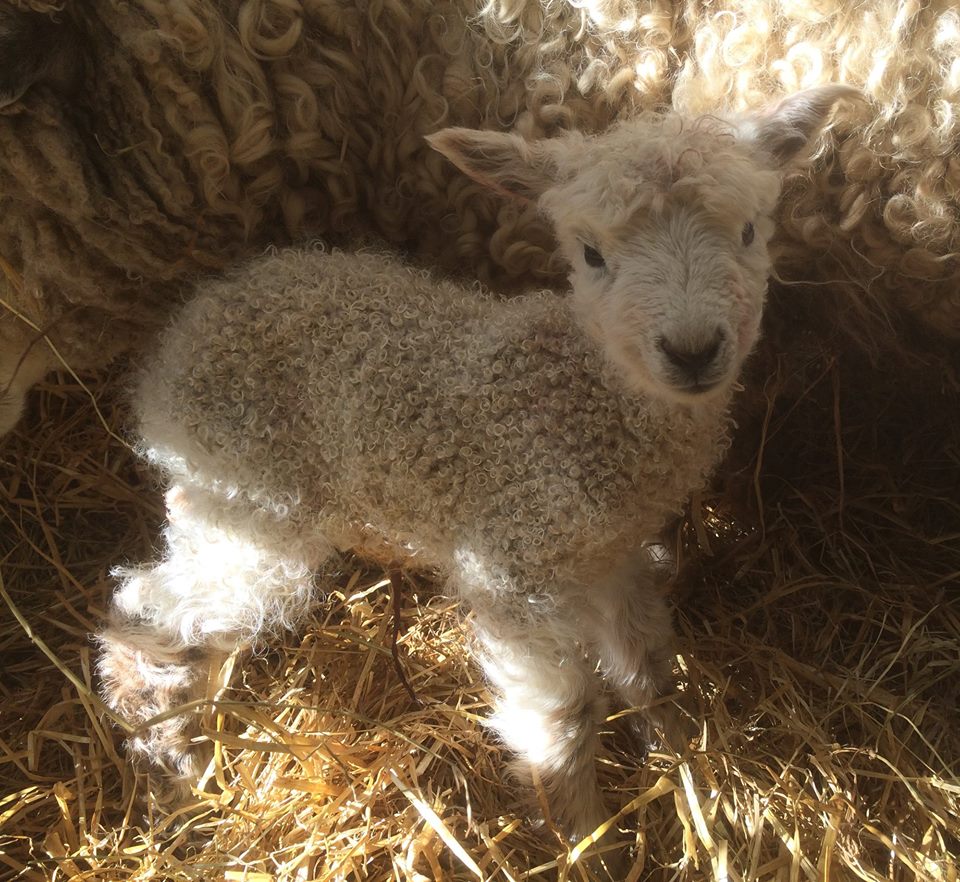 Martha:    You know that although Juki are the sponsors for the Pictorial Quilt category at the Festival of Quilts, we don't have any say in who wins. It's up to the judges. So when we found out that you actually used a JUKI to create the winning quilt, we were thrilled! You used a Juki Exceed HZL-F600. Why? What made you decide to get that machine?
Katy:  I've only been quilting since 2014 and when I started, my husband got me a very basic Singer. I hated it because it was loud and hard to get it to sew slowly and accurately. In 2015 I sold someone a starter herd of ewe lambs and had some extra cash and decided to get a better sewing machine. I went to my local sewing machine shop, the Elgin Sewing Centre. People in some of the classes that I had attended had recommended a Bernina machine but the proprietor recommended a Juki as better value for money.  I came home with the Juki Exceed F 600.
Martha:   Are there any features that you particularly like about that machine?
Katy:   I really like the fact that it is so quiet and there is no vibration that comes off when when I am sewing. It's very smooth. I also like the lighting. We live on a small holding in rural Aberdeenshire. I raise dairy goats and show them and I home educate our 2 boys. Between the boys and the goats, my daytime hours are full. I sew at night, usually between ten and eleven, which is why I love the lighting.
Katy:    I also do lots of non-quilting related sewing on it, such as making toys for the boys. It will stitch through anything, however tough, with ease, like the 4 layers of faux suede I used to make this Cornish Pixi.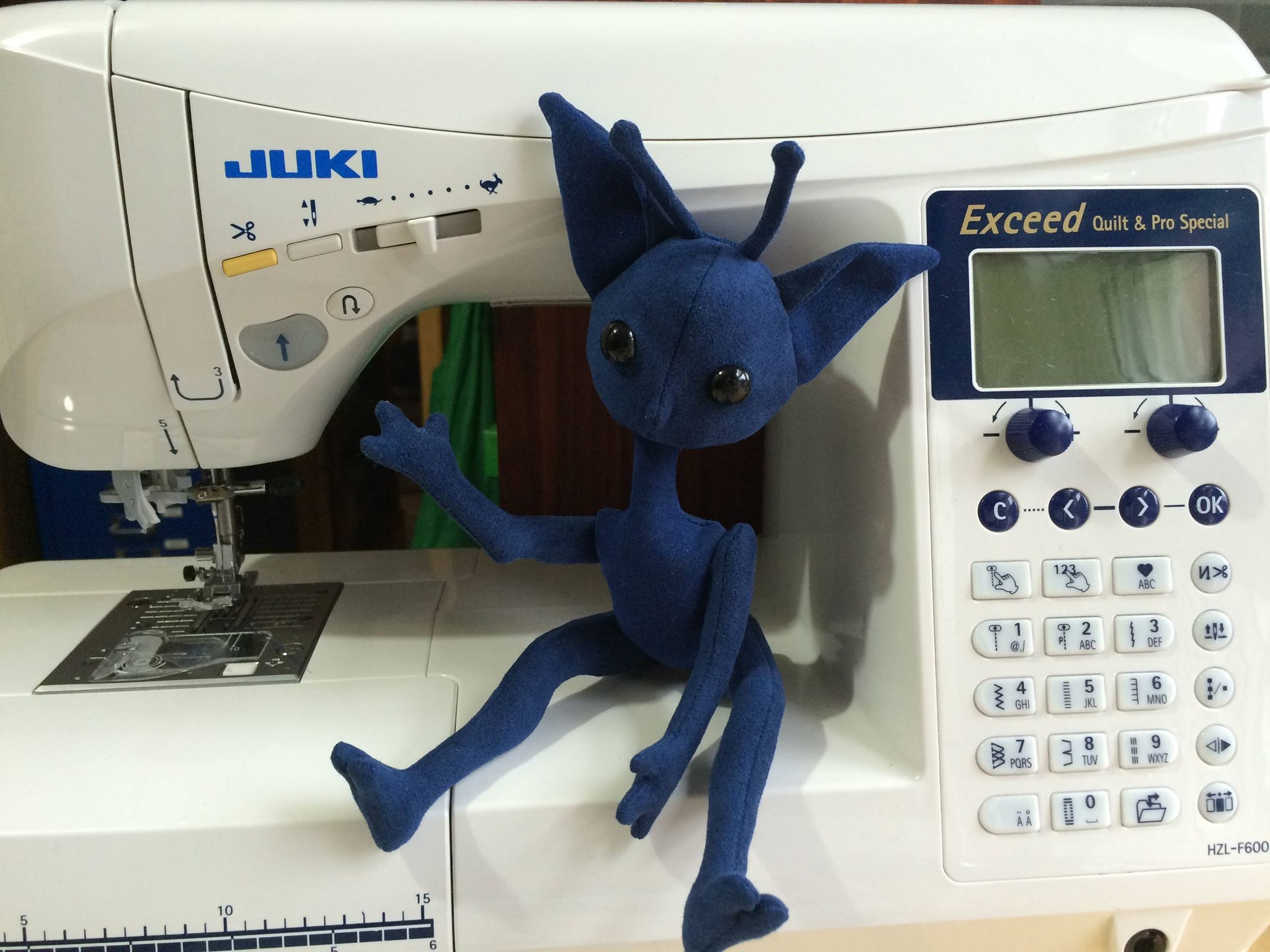 Martha:    Could you tell us something about your technique? How did you get the rose and especially the raindrops to look so realistic?
Katy:    I started with a photograph and divided it into areas of colour of different value. I used as many as 14 different values when devising the pattern pieces. I created the pattern so that each value of each colour is a different piece of fabric. My fabric is organised into value order so that I can more easily find a piece of the correct shade. I traced each individual pattern piece onto Steam a Seam then fused it to my chosen fabric.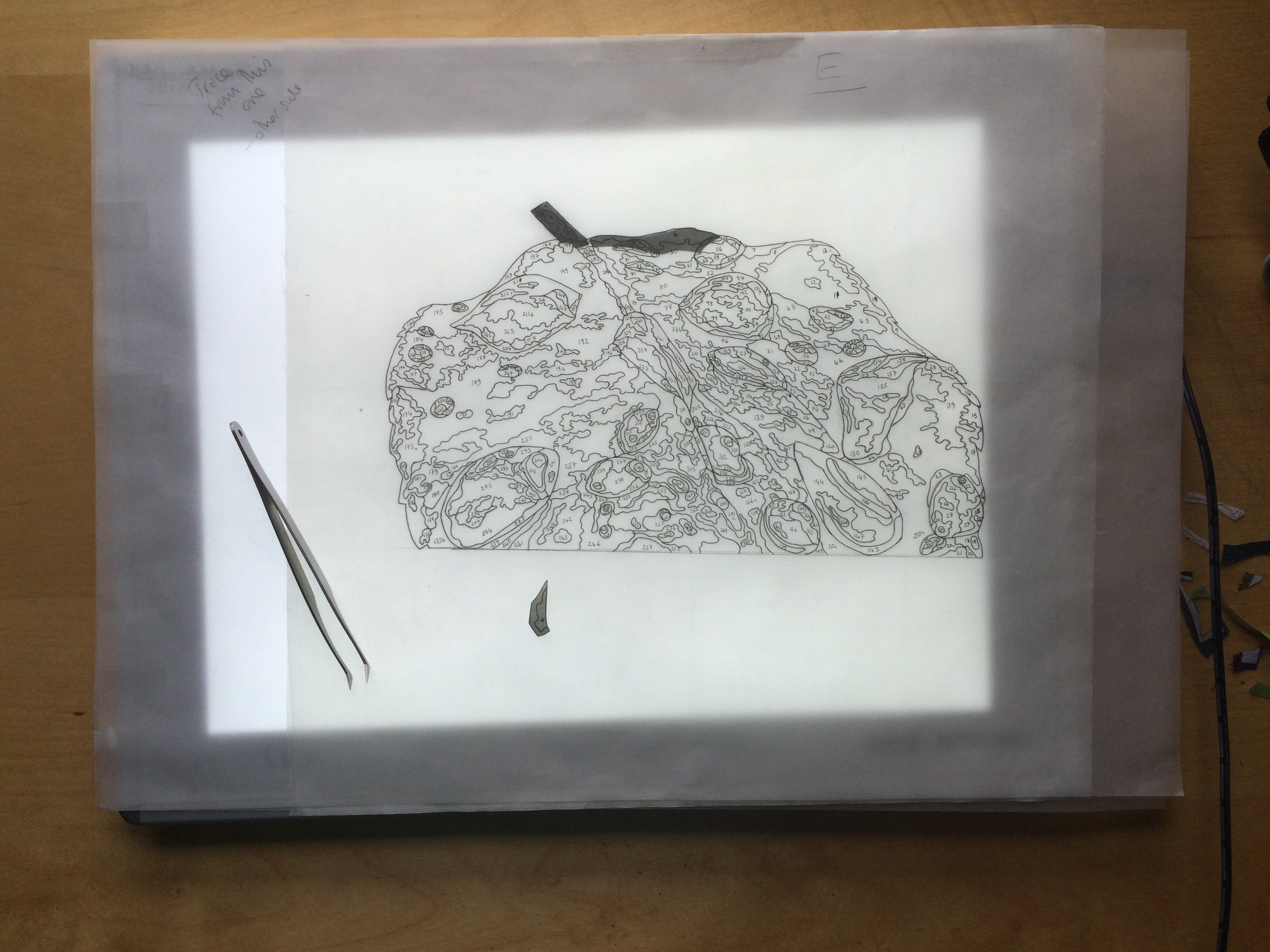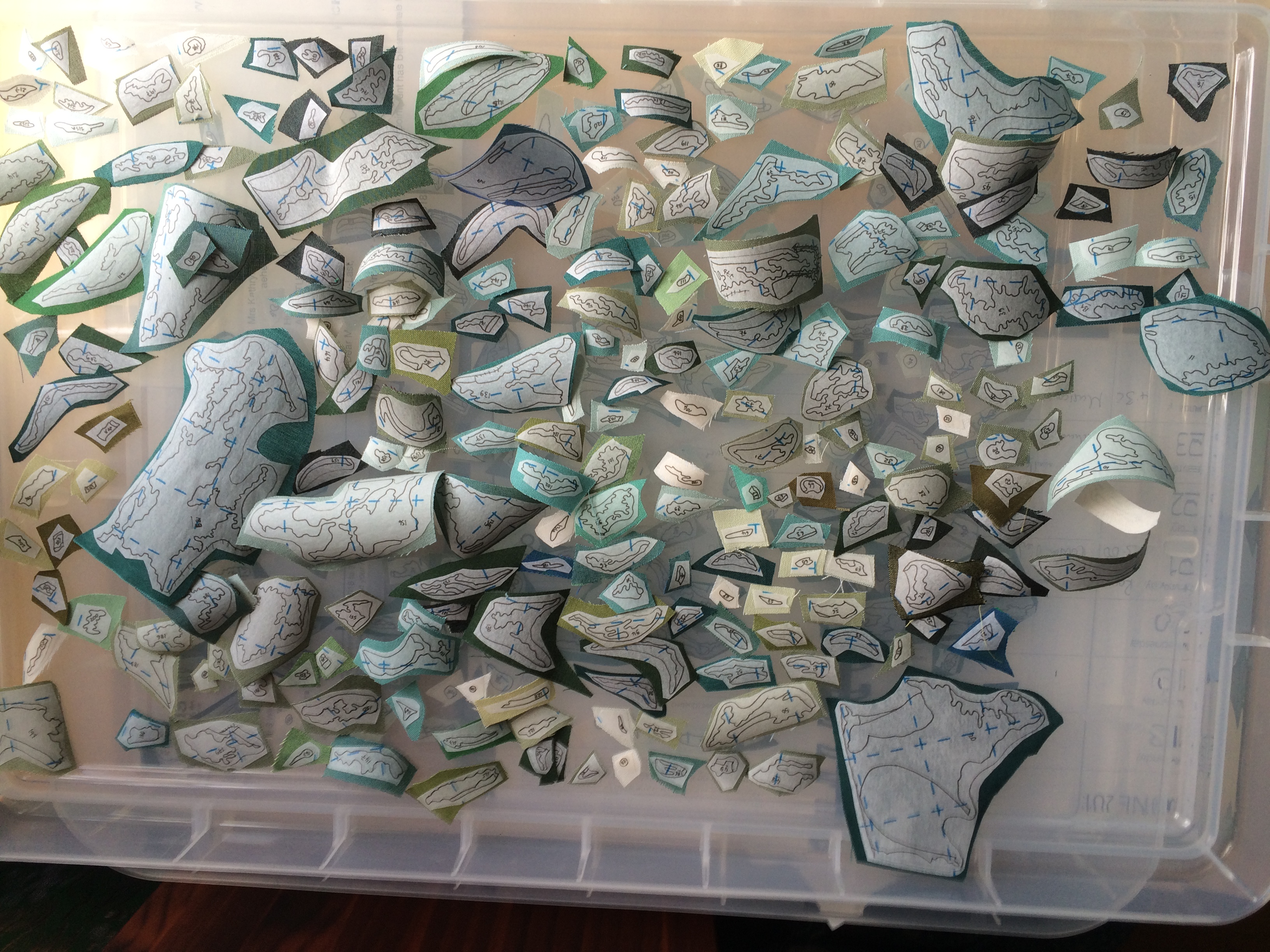 Katy:   I used only plain colour fabrics for the rose and leaves. I particularly liked working with the shot cottons from Oakshott fabrics and Kona cottons. Once I had all of the pieces ready for a particular element I would cut out each piece and assemble them on a pressing sheet laid over a light box with my pattern on it. At that stage I would sometimes change some of the pieces if I was not happy with the colours.
I took photos of the work in progress to give me the distance necessary to 'read' the colours. I then lightly fused it. Once all of the elements of the rose were completed in this way, I fused it to a piece of silk habotai and then covered it with silk organza. These were stitched together and then the rose was attached to the background fabric using needle turn appliqué.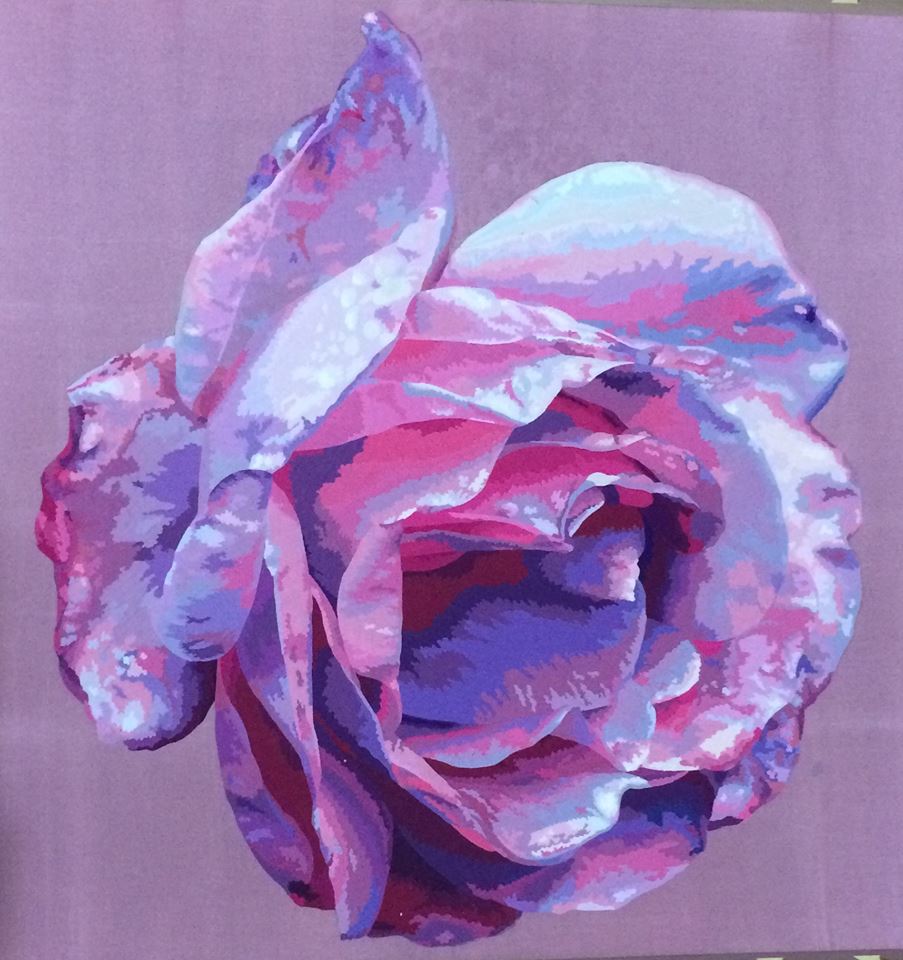 The leaves were done in the same way, however, I also added an extra layer of batting behind the raindrops to give them extra definition.
I used 2,198 pieces of fabric in all to make up the rose and leaves. Some of the raindrops, the biggest of which were only 3cm across, were made using 12 pieces of fabric so the pieces are very small, sometimes only 2 mm.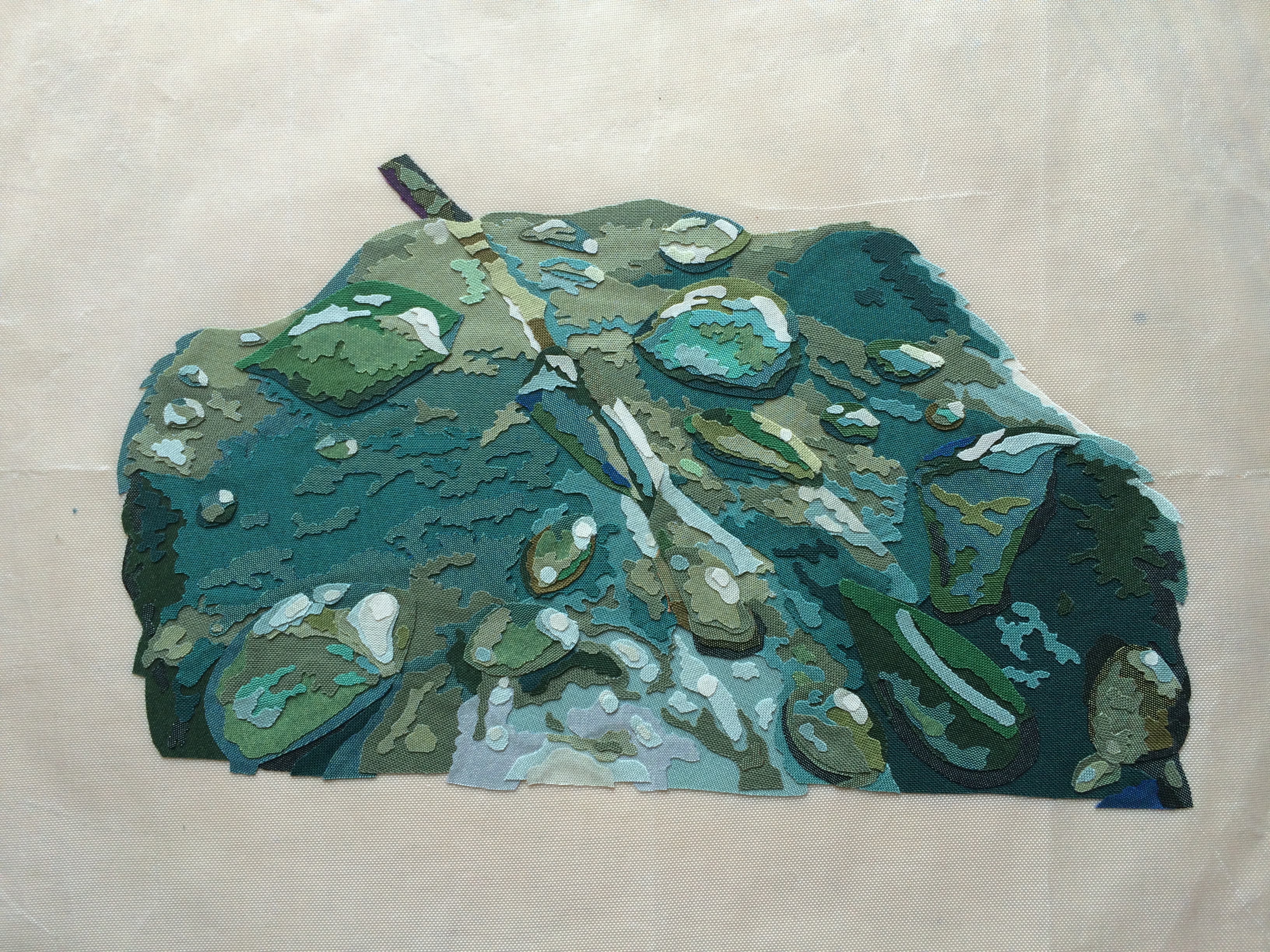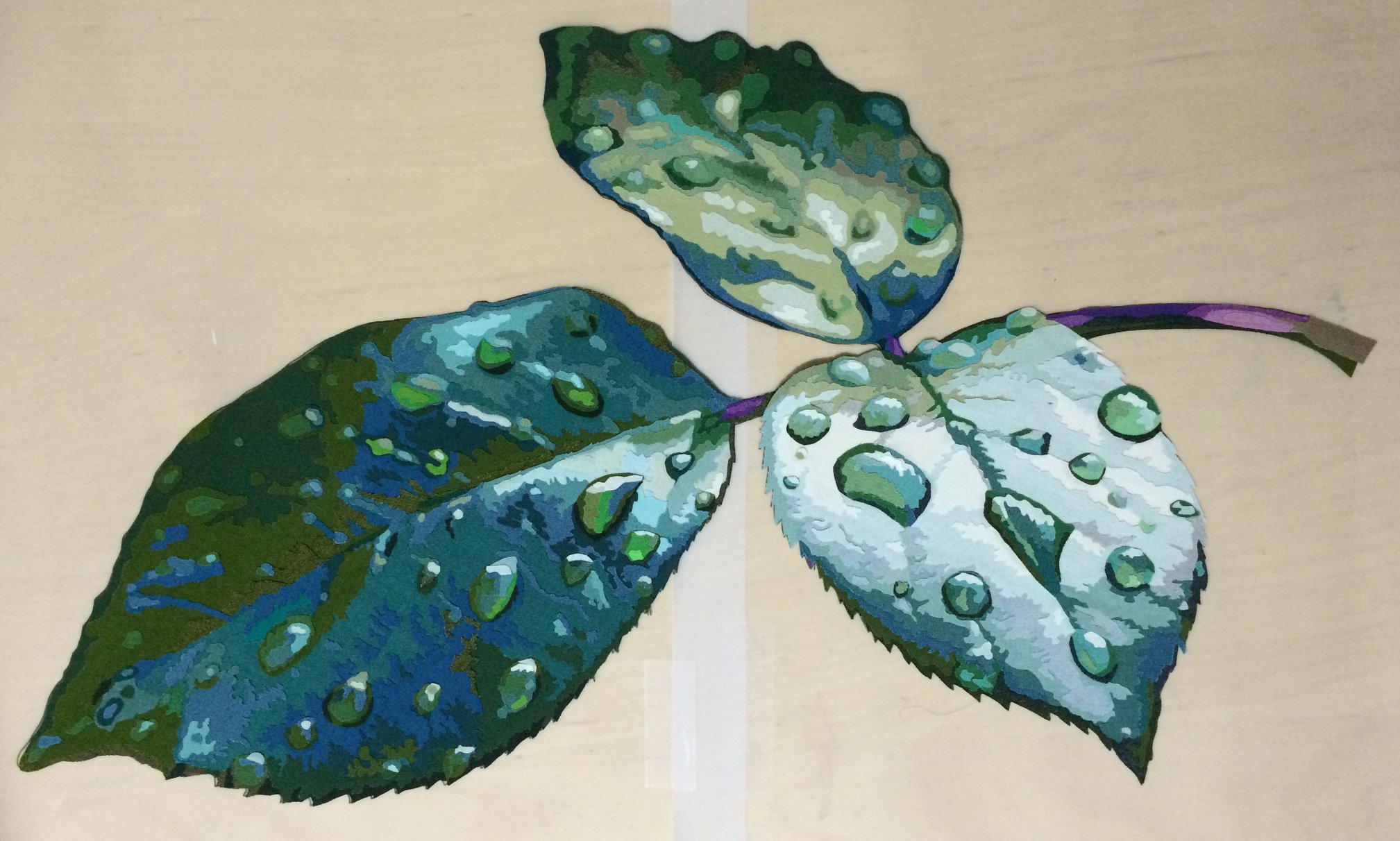 Martha:     Here's another photo of the piece. It looks like you're in the middle of the quilting.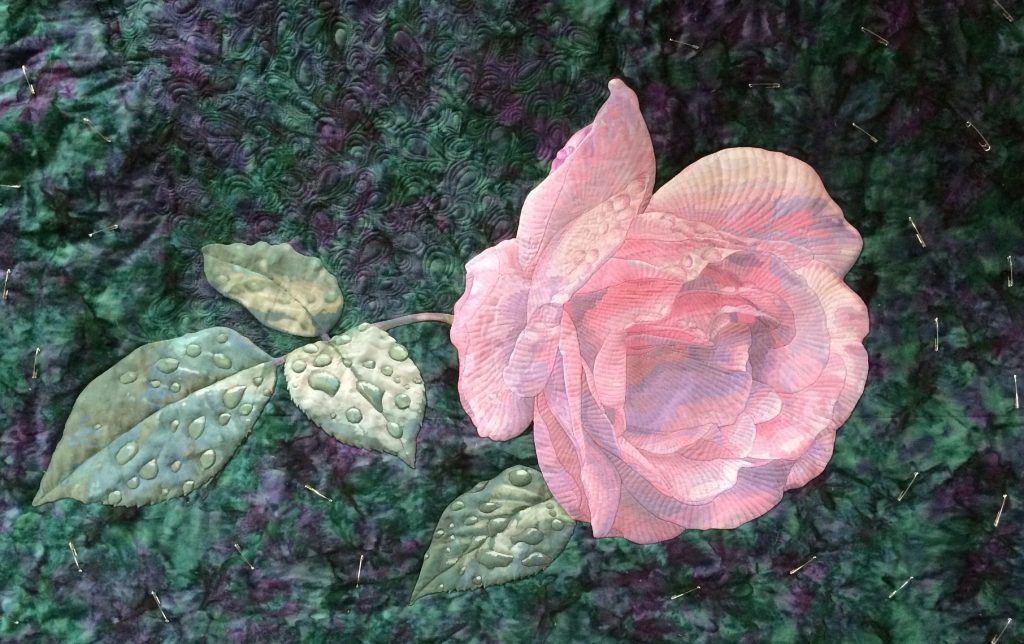 Martha:     What threads did you use?
Katy:      I used Aurifil 50wt cotton, Superior Threads Kimono Silk, YLI silk thread and Superior Threads Monopoly invisible thread for stitching around the raindrops.
Martha:     Can you describe your sewing space?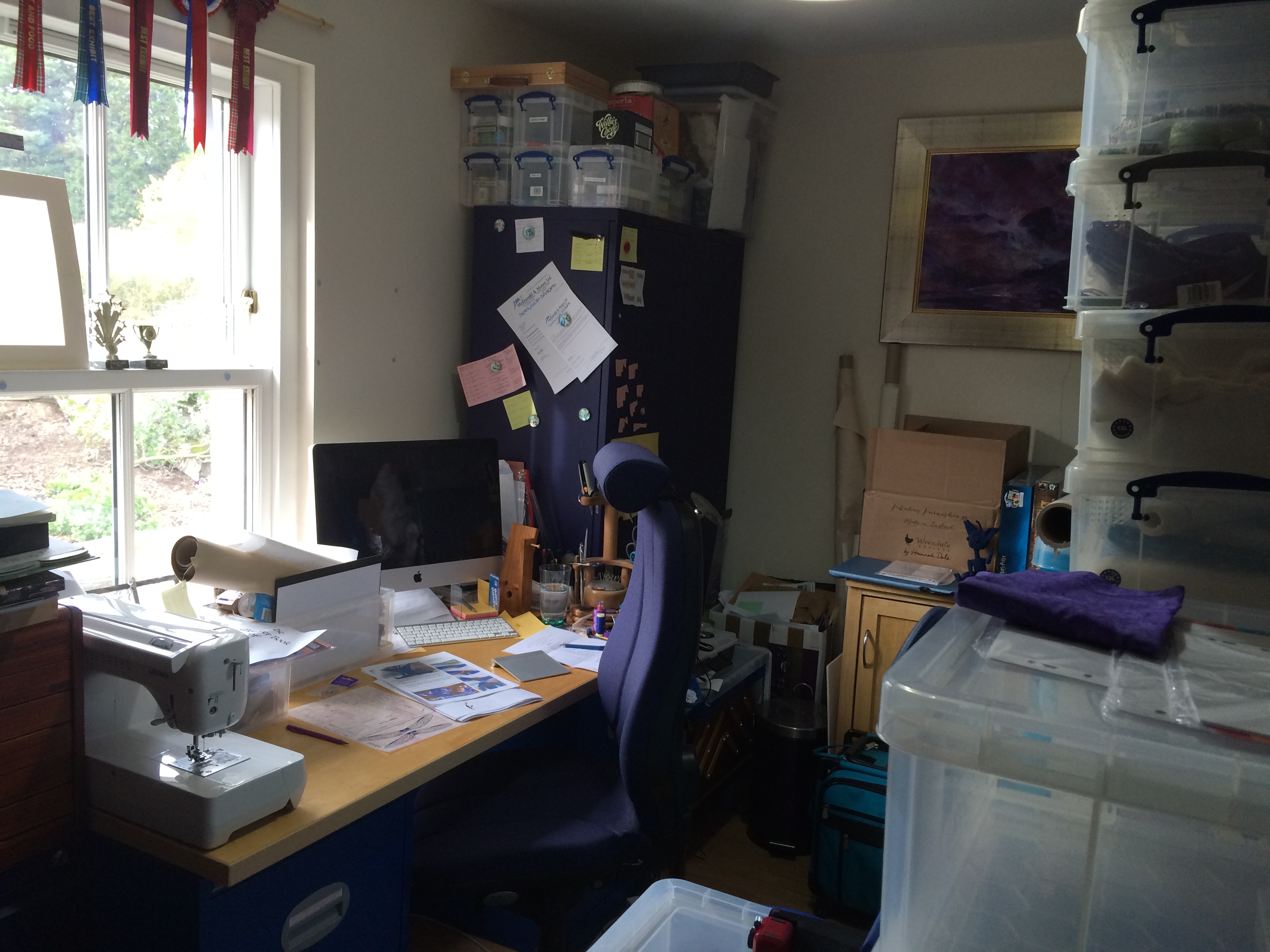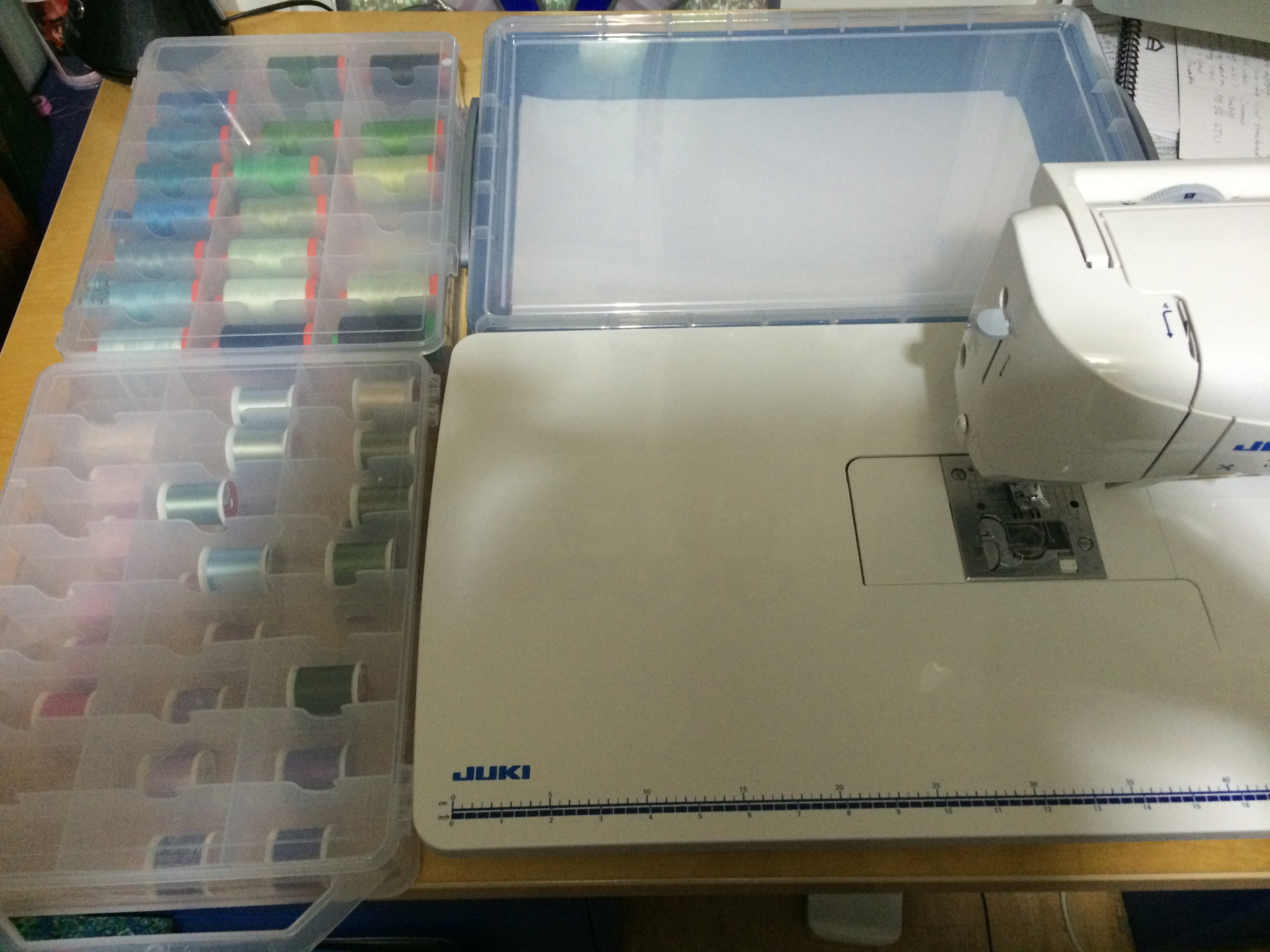 Katy:    I sew in a small room full of boxes up to the ceiling containing all of my craft supplies. All of my work is done on a computer desk and I am constantly moving things on and off the desk as I do different parts such as cutting, ironing (done on an ironing cloth laid on the desk) and using my sewing machine. Because my machine is on top of the table when I use it I surround the extension table with plastic boxes to give me a larger flat area for quilting.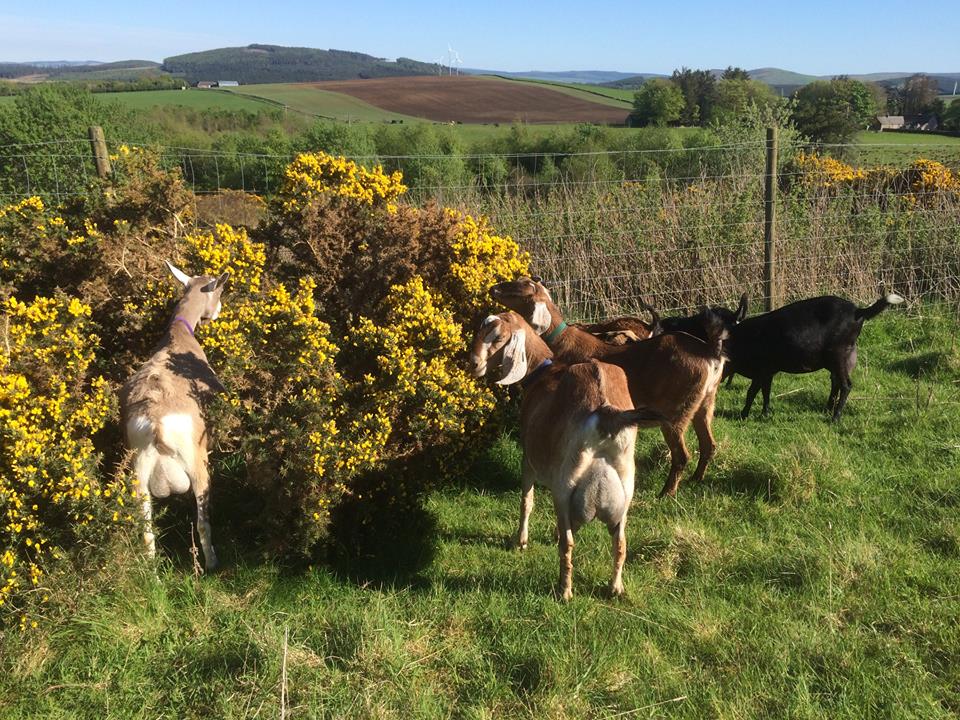 Martha:   Have you ever won anything else?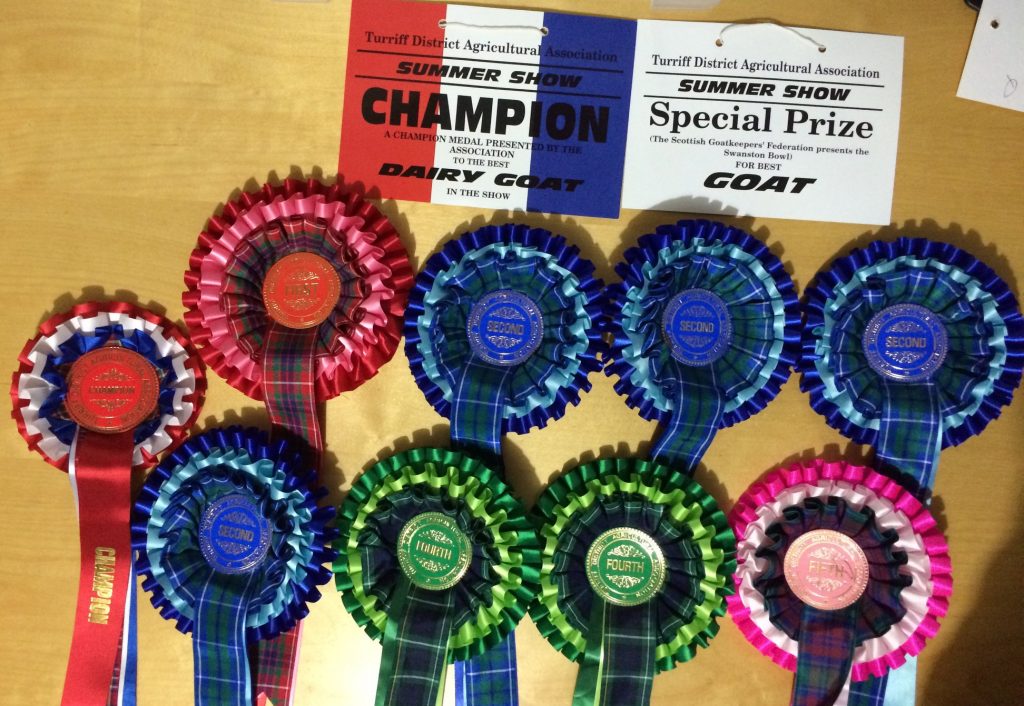 Katy:   I just won Dairy Goat Champion at the Turriff Show with a home bred milker.
Martha:    Great answer! I was expecting something quilty. Do you have any plans for your prize money?
Katy:   I'm looking to get a new trailer for transporting my goats because mine has broken beyond repair. Otherwise I would have loved to spend it on something quilting related.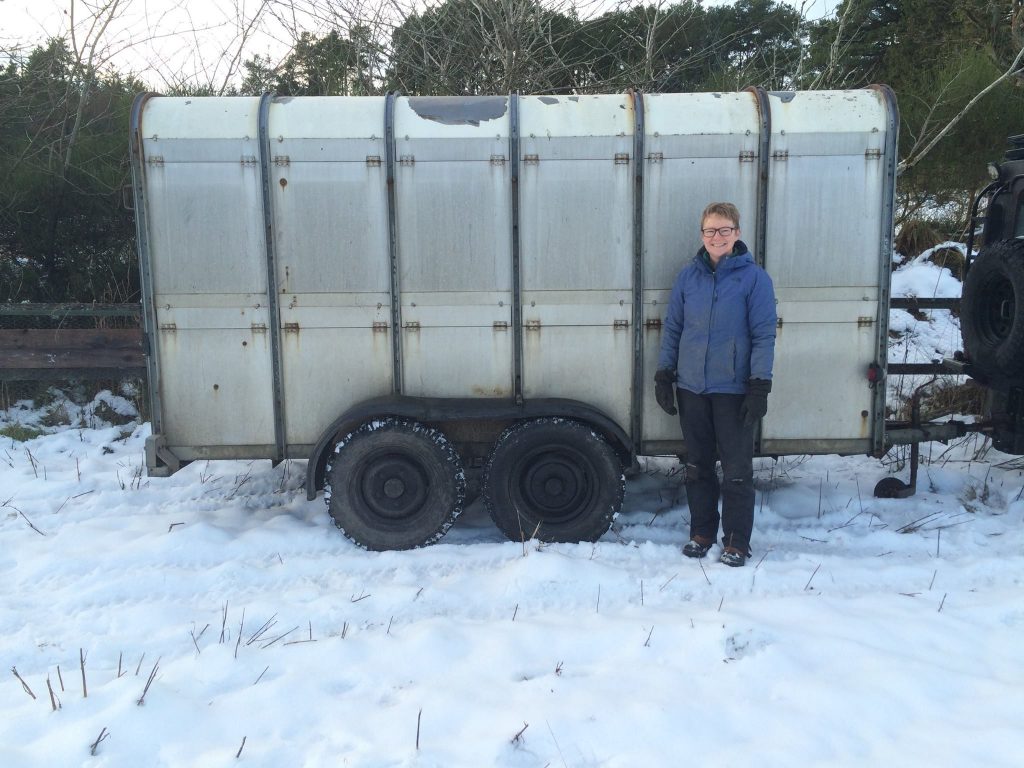 Martha:       Do you have any plans for your Favourite Things quilt?
Katy:      My friends want me to enter it in the Houston Show.
Martha:   What a great idea! I hope you do it! What's next? Have you started a new project?
Katy:   I'm currently working on a birthday present for my youngest son - a Harry Potter inspired Monster Book of Monsters.
Martha:  Thank you so much, Katy for this little window into your life. It's been brilliant to meet the woman behind the quilt!  Thanks for sharing a bit about your technique. Seeing how you went about creating the raindrops on roses is awe inspiring! Your award winning quilt was on display right in front of our Juki stand. We got to see hundreds of people admiring it every day of the show. It's pretty amazing to take a First Place in Pictorial Quilts and Best of Show in your first ever entry. The 2018 Festival of Quilts may have been the first time we heard of you Katy, but I'm sure it won't be the last!