Here's a tutorial for some fast and fun Baby Bunting. I love decorating with bunting and I'm always looking for new ways to make it. I needed to make some tiny bunting flags to go in a camper van that I was kitting out for our neighbours. But tiny pieces can be fussy to work with!
Then I got a great idea. Big triangles can be divided into little triangles. By folding and marking off a large bunting flag, I could get four smaller bunting flags. I tried it on scrap piece of paper and it worked. One large bunting flag yielded four smaller bunting flags. They were exactly the same shape, just smaller.
The genius of the idea, was to do all the stitching on the large bunting flag so that I wasn't working with tiny pieces. I'll come back to this later.
Making the template
There was no math in this. I just played with triangle shapes on scrap paper until I found one that I liked. The large bunting flag needed to be big enough so that the smaller triangles were a good size to work with.
Gathering materials
favourite fabrics
Vilene iron on interfacing
ruler and pen for tracing
thread that goes with the fabrics
First, I chose my fabrics. I'm a big Rifle Paper Company fabric fan. So it was fun to choose lots of my favourites for this project. Then I backed the bunting flags with (Vilene) Vlieseline H180 iron on interfacing. I use this for all my raw edge applique projects so I invested in a roll. Now I have the Vilene interfacing to hand whenever I need it.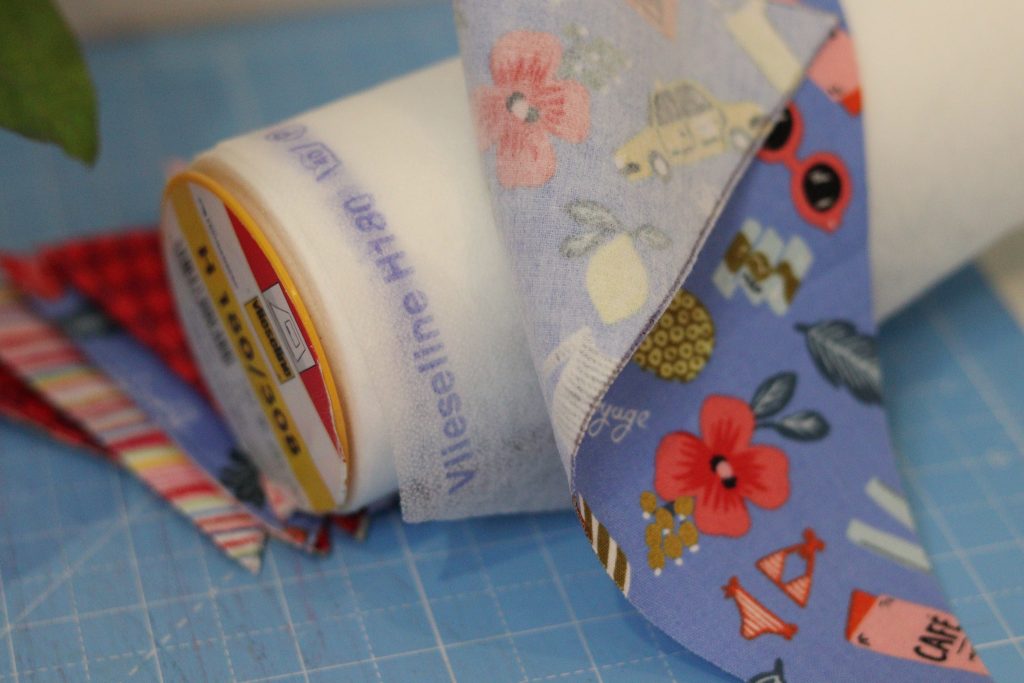 The vilene adds structure to the bunting flags and helps to keep the edges from fraying. The vilene also gives me a good clean cutting edge.
Because of this I trace the template shape directly on the smooth side of the Vilene and cut the Vilene bunting flags a few centimetres OUTSIDE the drawn line.
Then I iron the Vilene flags, bumpy side down, on the wrong side of my chosen fabrics. I put a piece of scrap fabric between the iron and the Vilene as an extra precaution to keep from melting or scorching the Vilene.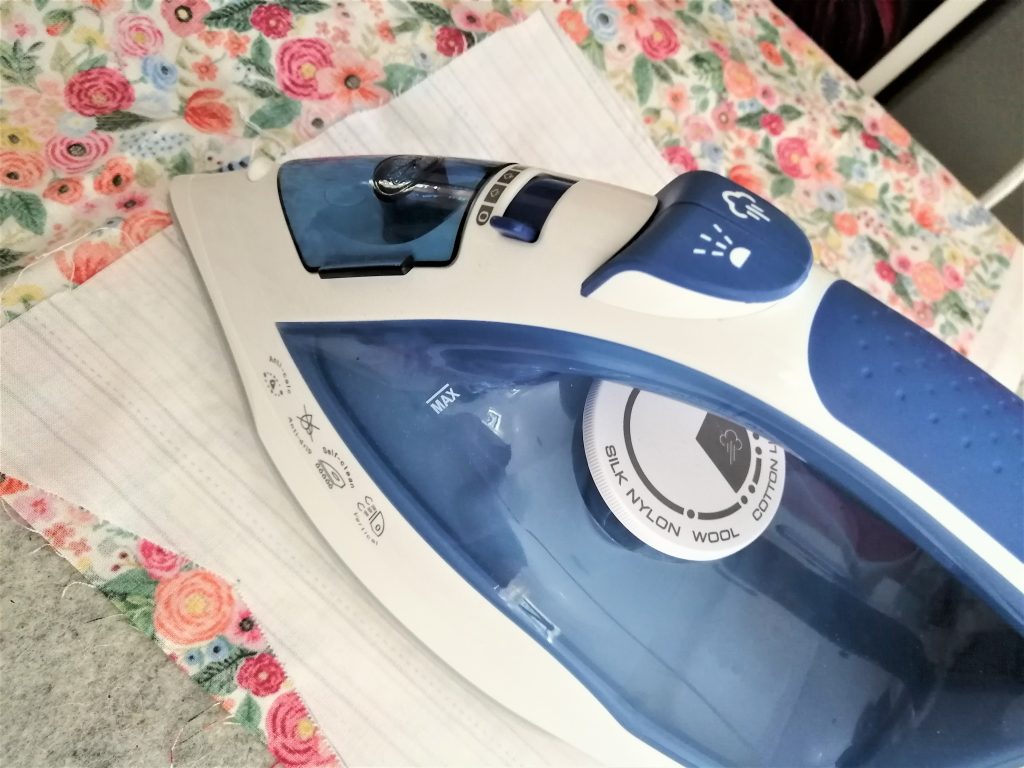 Lastly, I cut the bunting shapes following the traced line on the Vilene backing. The Vilene backing gives structure to the fabric, giving me a lovely clean sharp edge. I ended up with 14 large bunting flags backed in Vilene. This would make 7 big double-sided bunting flags which in turn would yield 28 tiny double-sided bunting flags.
Assembling the bunting flags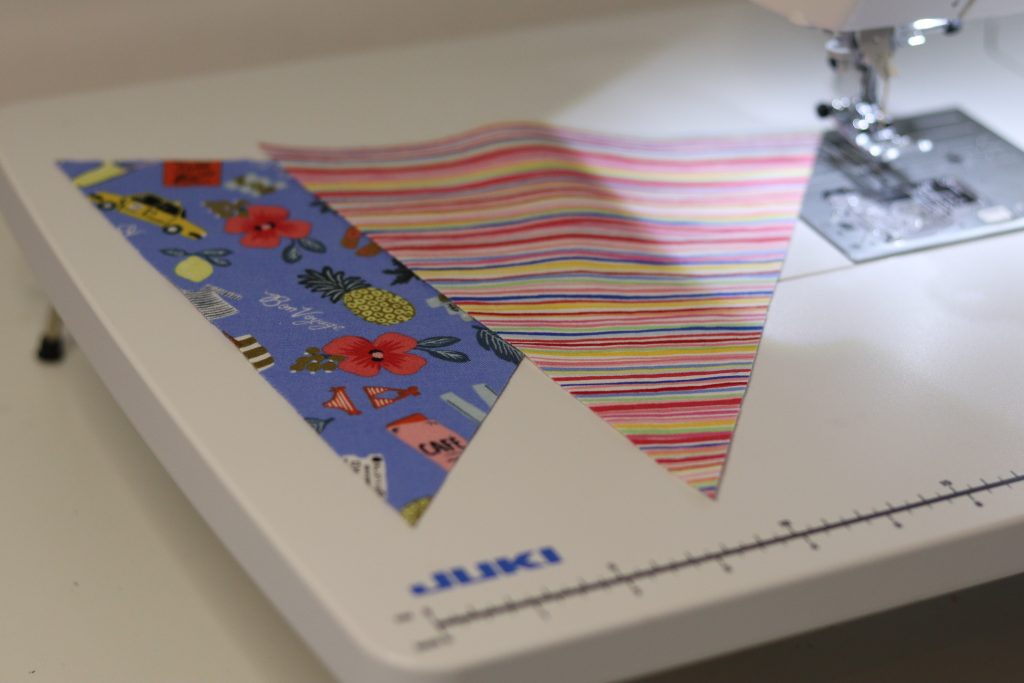 My plan was to make my bunting flags double sided. Just for fun, I chose different fabrics for each side. Placing wrong sides together, I stitched about a quarter of an inch all the way around the flag.
The Clever part
Now comes the fun part. Once the two sides of the bunting flag were stitched together, I folded the tip of the bunting flag up to the top. Like this.
Then I used my ruler and pen to trace that triangle shape. These drawn lines would be my cutting lines.
Then I took the large bunting flag with the traced lines to my sewing machine. I stitched a tiny bit outside of each drawn line, on both sides.
Now I cut carefully along the drawn lines, giving me 4 tiny bunting flags already stitched together.
And here they are – four pre-stitched double-sided baby bunting flags.
I repeated the process with each of my larger flags until I had a stack of 28 pre-stitched double-sided baby bunting flags.
A fast finish
Now I took all my baby bunting flags to my Juki MO-2000 overlocker. I set the overlocker to the rolled hem stitch.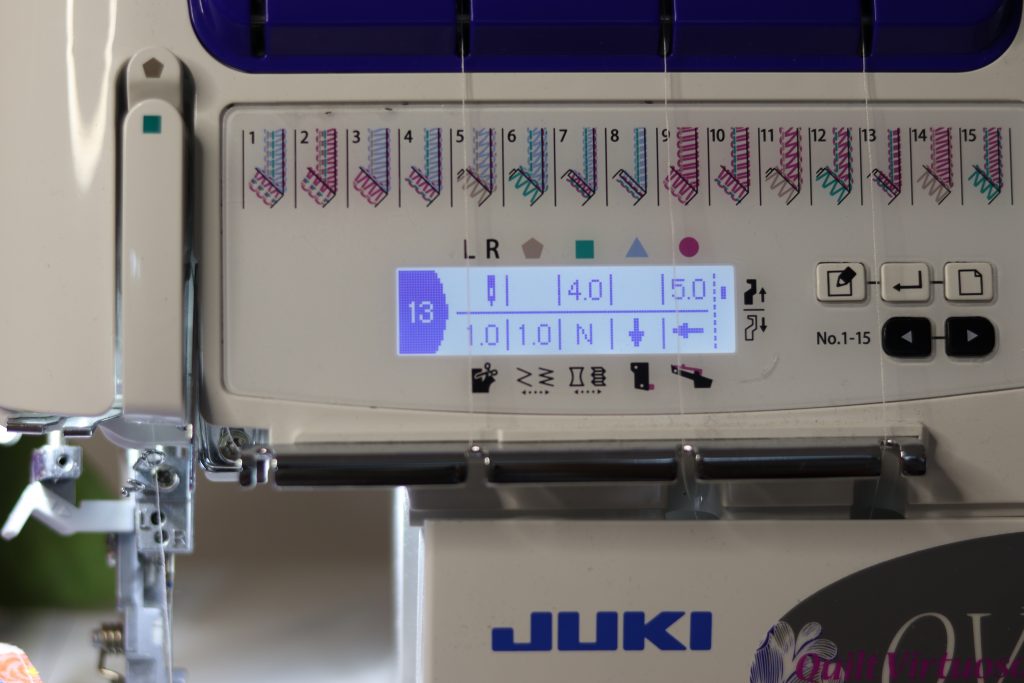 Leaving a long tail to start, I stitched the tiny bunting flags together.
This is such a fun fast method, especially for these baby bunting flags. The rolled hem stitch is just a perfect way to connect all these little flags. The long tail at the start and the finish is just what I need to tie the bunting in place.
This fast and fun baby bunting turned out so sweet. I ended up making two sets with my 28 baby bunting flags. One to give and one to keep. Now these baby bunting flags are looking pretty in my studio.
Check out the baby bunting shadow! And don't miss the stack of Rifle Paper Company Christmas fabrics. I've got plans to make some Christmas baby bunting.