Following on from her last post on making jeans, Jen takes a look at mending denim:
Invisible mending
Visible mending
Sashiko stitching on denim
Embroidery and embellishing denim
Meet the Author – Katrina Rodabaugh
Textile artist Tamara Russell
Social media inspiration @MendingMayhem
More about jeans! As I touched on in my previous blog, denim has a high environmental cost to produce which brings with it a responsibility to make full use of the fabric. That means not only making my jeans as well as I can, so that I maximise wear, but also mending them when required and finally repurposing the denim.
Invisible mending
Mending denim can of course be hidden. If you have a rip or hole in your jeans, here's a really simple fix.
Use a thread the same colour as the denim
Pull the loose threads through the hole to the back, and trim if they're long
Put some fabric or interfacing behind the hole, to strengthen the repair. If it's stretch denim, fusible interfacing will help to stop the fabric stretching as you stitch.
Stitch backwards and forwards over the hole, broadly in line with the grain of the cloth. On the NX7 I set my foot to autopivot, which makes changing direction so often much easier. Incidentally, I'm using the straight stitch throat plate for another project, but you can use either plate to do this.
At this point in my sample, you can still see the pale weft threads, so I stitched over them to blend them in. From a distance you wouldn't notice this repair.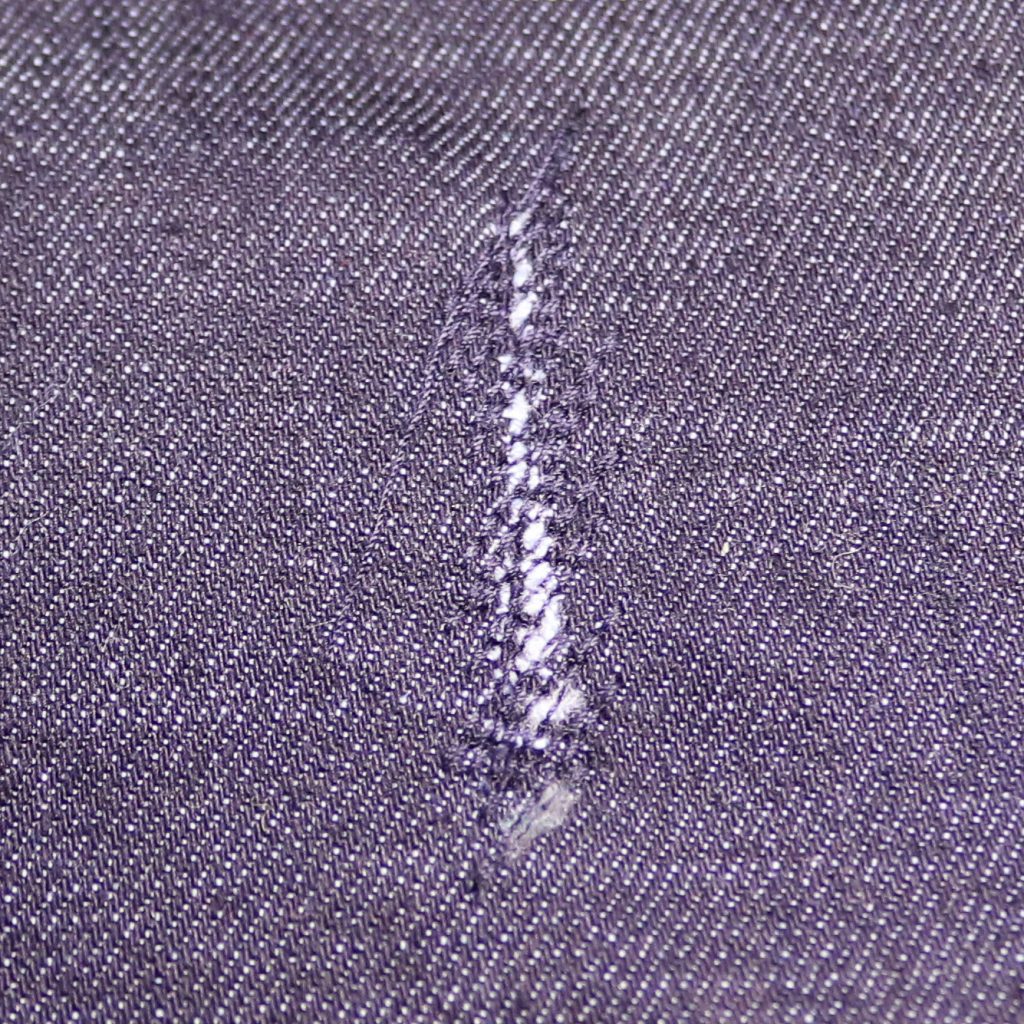 Visible mending
However visible mending can be so much fun. Done well, and your old jeans turn into something altogether more exciting. It can take the form of embellishment, embroidery, sashiko stitching and darning, or really anything else you can think of. You can incorporate patches, sequins, beads, fabric and again, anything else you can think of! Just remember to make sure whatever you're adding is washable.
Visible mending epitomises a mind-set towards fashion generally. 

Jen Hogg
The time and effort I've dedicated to creating my wardrobe means it's mostly filled with garments I have thought about carefully, in terms of colour, fabric and shape and construction.  Mending clothes takes this a step further: I care enough about this garment that I want to take the time to increase its lifespan.  Visible mending makes that message public.
The author: Katrina Rodabaugh
A maker who rather famously embraces mending denim is slow fashion expert Katrina Rodabaugh. Katrina, from the Hudson Valley, New York, is the best-selling author of Mending Matters (2018, Abrams).
Most of Katrina's handwork is focused on mending, dyeing, and re-design existing garments to keep them in rotation, and you only have to look at Katrina's favourite jeans, mended more than 20 times (so far!) to see how her simple but effective techniques elevate this most practical and ordinary of garments.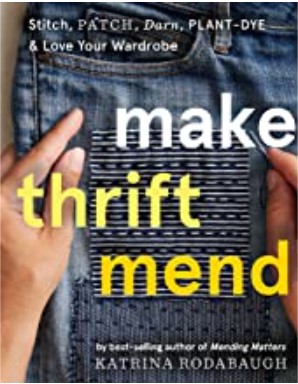 Katrina's inspiration
Katrina's new book, Make, Thrift, Mend, comes out in April 2021 (Abrams), and covers "how-to" projects on sewing, stitching, dyeing, and mending as well as personal essays, artist quotes and an extensive resource list. She leads by example. Her light-bulb moment came in April 2013, inspired by the garment factory collapse in Dhaka, Bangladesh. Cracks had appeared in the 8-storey building the day before the collapse. Other businesses were evacuated, but garment workers were instructed to return to work. The death toll reached 1134 with a further 2,500 people injured. This moved Katrina to commit not buying any new clothes for one year, instead making and mending garments plus buying second-hand. Fast forward seven years and this ethos is still at the heart of her studio and work.
Mending background
How did Katrina come to mending at this very high level? She grew up at the side of her mother's sewing machine but didn't start mending until that commitment in 2013. Since then she's been sewing, mending, darning, dyeing, and learning some basic knitting. So now it's her own children who are growing up at the side of their mother's sewing machine. Isn't that one of the lovely aspects of textile skills, they tend to be passed on from parent to child, and in the past most likely from mother, or grandmother, to daughter. In this way there is a direct link between us and the generations who preceded us.
Textile artist: Tamara Russell
One of my favourite examples of mending denim, which uses a number of different techniques, is by Australian textile artist Tamara Russell (@karhina_textileart on Instagram).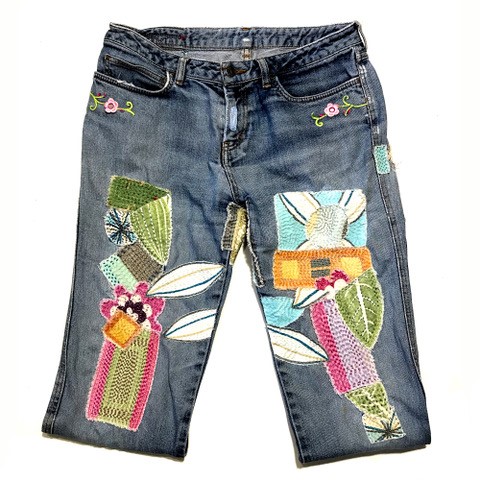 Tamara is a textile artist specialising in free machine embroidery, hand stitching and mending, based in Melbourne. She has been making her own clothes and mending since her teenage years: "Fast fashion is not sustainable so we need to love the clothes we already own and work harder to make them last. By mending our clothes we create a bond with them ensuring we wear them longer".
The jeans in the photo are Tamara's favourites. She's adding more embellishment as the denim softens and thins with wear. I asked Tamara if she starts off with a plan, or if she starts adding to the denim and sees where it takes her. She tells me that the patches tend to be made from reclaimed fabric, so whatever is in Tamara's stash informs her colour choices, there's some invisible mending in there too.
The popularity of mending
Tamara runs mending workshops online and in person (when not subject to Covid restrictions) in the state of Victoria. Most of the participants are men and women aged 20 – 30 who want to learn how to mend their clothes for individuality and sustainability reasons, closely followed by women over 45 who want to be more creative or wish to relearn skills they learnt back in high school.
There are also mending kits on Tamara's website. The darning and needle-felting kits are the most popular over winter as they offer a complete set of tools and instruction to start repairing woollens. The Sashiko kits tend to be more popular in the summer while the embroidery kits are popular year round.
You can find out more on Tamara's website, as well as seeing examples of her upcycled and recycled textiles and jewellery for sale. Those masks!
Social media inspiration: Mending Mayhem
If you're looking for more mending inspiration, @mendingmayhem on Instagram and Facebook covers all kinds of mending. Administered by Katrine Stålstrøm, it has almost 4,500 followers and covers all kinds of mending by Katrine herself and from across social media. You can find a variety of resources through their Instagram bio, including links to podcasts, media articles and a super-clear recent blog about using sashiko stitching to repair jeans.
A lifetime of mending
Katrine is, quite simply, a maker. She sews, knits and crochets as well as mending, having learned her skills from her mother and grandmothers (there's that generational link again). Indeed her devotion to recycling, upcycling and mending all kinds of textiles has been lifelong, and since the days when it was frowned upon. Like most creative people, Katrine's skills extend beyond textiles – her photographs of Norway are spectacular, you can see them on Instagram under @trollkjerringa1.
Hopefully you'll be feeling inspired to do some mending denim of your own. We'd love it if you would share your efforts with us on social media @juki_club.
Resources:
Katrina Rodabaugh (Instagram @katrinarodabaugh) has an online shop where she offers small-batch, seasonal collections of mending kits, darning kits, and some special fibre offerings. Six new kits will be added between October and early December. You can sign up for her newsletter for shop updates and other news at www.katrinarodabaugh.com
Make, Thrift, Mend will be published on 20 April 2021. It will be available in all good bookshops and can be pre-ordered on Amazon.
Mending Mayhem (@mendingmayhem) blogs, podcasts and other media here.
Tamara Russell (@karhina_textileart) runs workshops in Melbourne and sells bags, jewellery and more, plus mending kits on her website www.karhina.com
Many thanks to Katrina, Tamara and Katrine for showing us all about mending denim. Thanks for being so generous with your time and photos.
Up next: repurposing jeans
Now that we're inspired for mending denim, the next post will be all about repurposing. Jeans, made, mended and repurposed!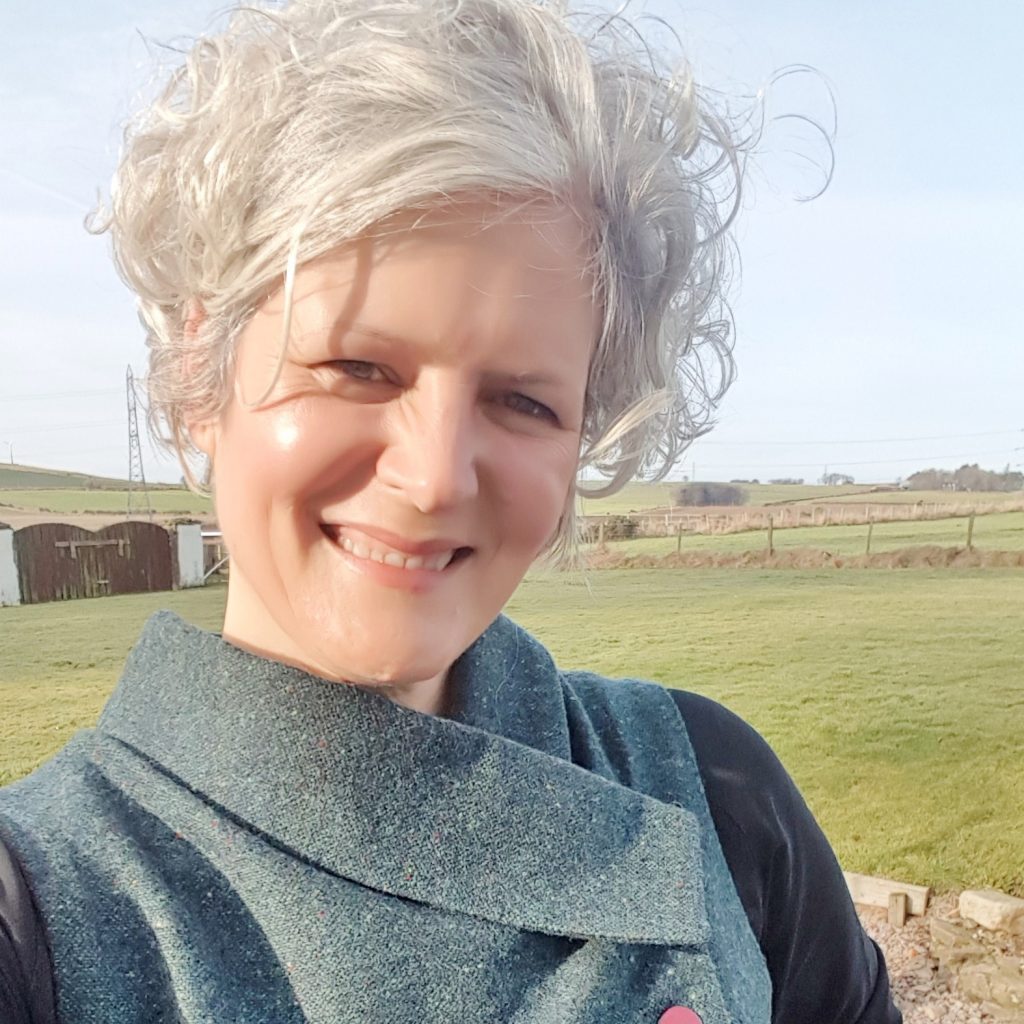 Jen Hogg lives in Glasgow with her husband and dog, and has two children at university. A former solicitor, she reached the semi-final of The Great British Sewing Bee Series 5 (2019). Life for Jen now revolves around sewing: writing, teaching and recently bringing the Jenerates Sewing Ruler to market. She also enjoys knitting and many other textile crafts, as well as silversmithing and photography, woodwork, wrought iron, stained glass, pottery and generally making things. You can follow her on Instagram and Facebook @jenerates, and at www.jenhogg.co.uk, and you can read our Juki Club introduction here.