I love making fabric postcards! I've been making them for years. It's fun to send and receive postcards during the Valentine season. Here's a post from the archives about a fabric postcard swap, hosted by Kate Brown @sparklestash. During a swap people get to make and receive fabric postcards from all over the world. During this Sparkle Stash postcard swap, I made and posted 5 postcards and I received 5 postcards.
What are fabric postcards?
Fabric postcards are like tiny quilts that get to go on adventures. They are a similar size and shape to the postcards you buy on holiday, but you stitch them together out of fabric. Then you put a stamp on them and send them through the post. It's a super way of spreading some handmade loveliness to your family and friends.
There are lots of different techniques. I'll be sharing three of my favourites. But the main appeal for me, is the size limit. This is a small project and being small, it's achievable. Making fabric postcards is a perfect opportunity to try something new.
Focus on the piecing
Some fabric postcards focus on the piecing. This gorgeous postcard from Cathy @miss_kathys_couture is a perfect example. It's pieced together like a mini quilt and lovingly hand embellished. This is a great way to use every little scrap of your favourite fabrics. Sometimes fabric postcards can make use of orphan blocks or tiny scraps left over from piecing other projects. Foundation Paper Piecing works well on fabric postcard projects too.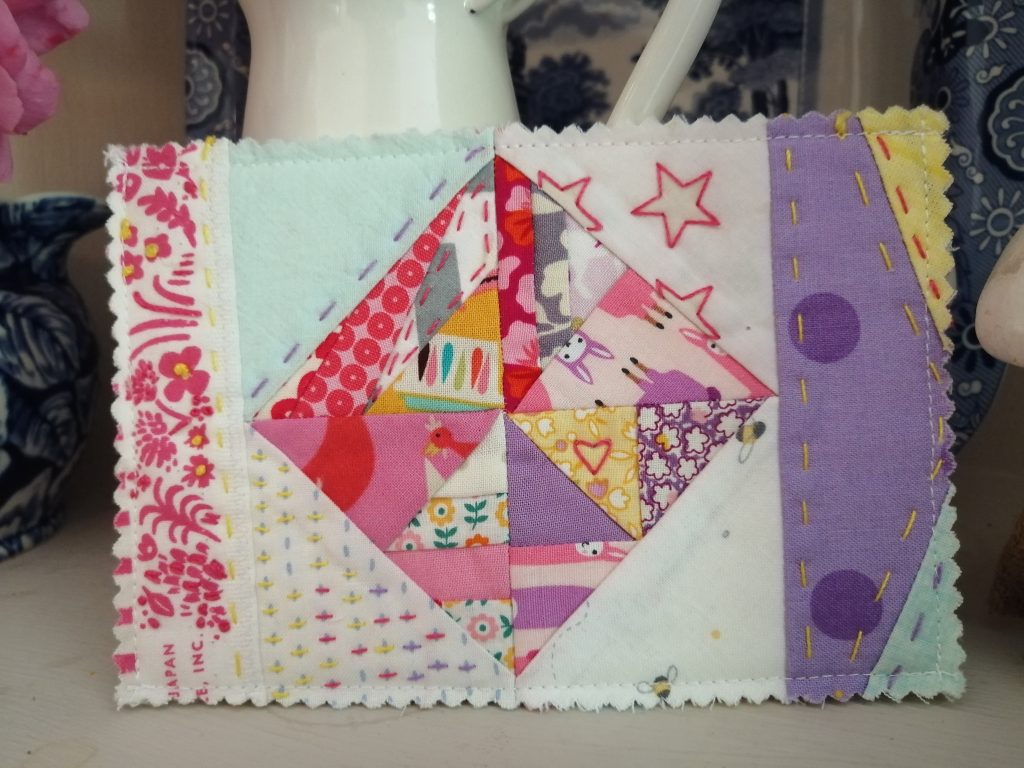 In the example above Cathy has gone on to hand embellish the pieced fabric to make something truly special.
Here's a stunning foundation paper pieced postcard by Kate Brown.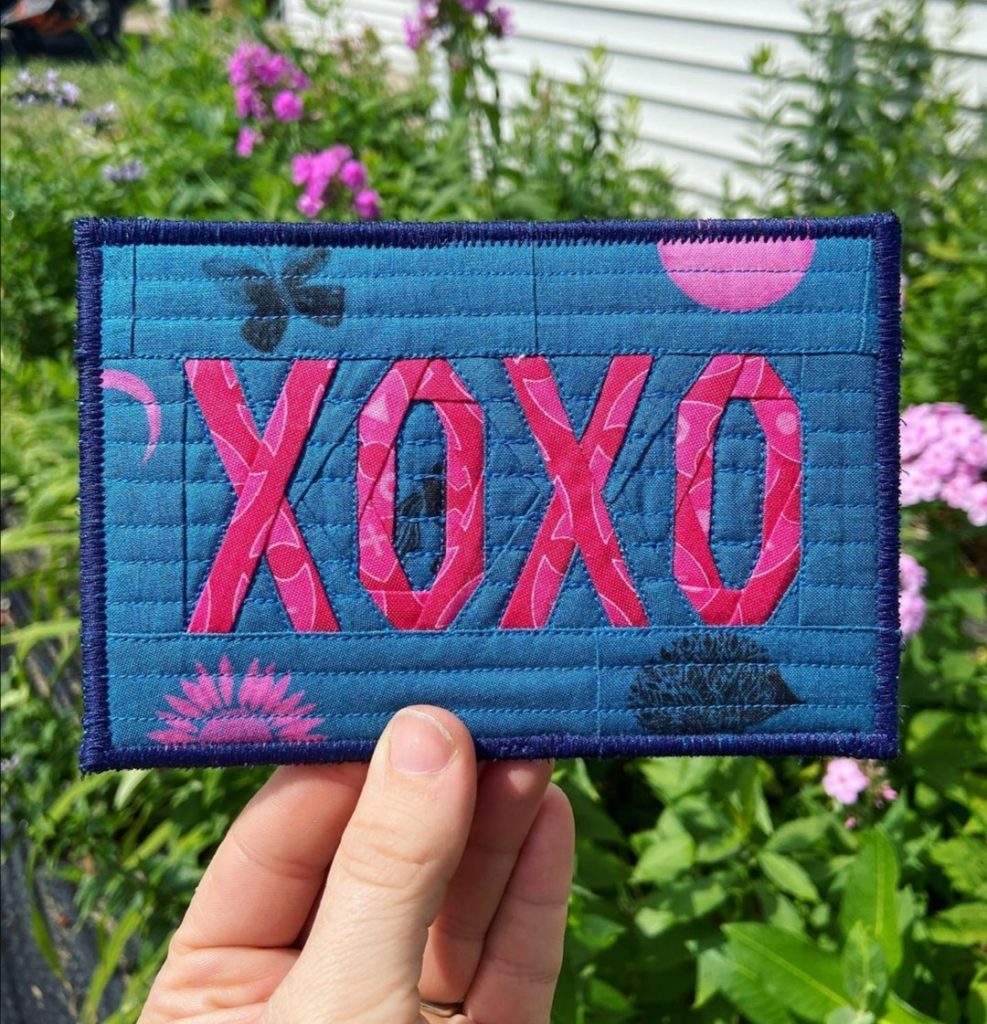 Focus on the quilting
Some fabric postcards focus on the quilting. I've been playing with this technique for years! I make fabric postcards in batches as an opportunity to practice line designs on my quilting frame.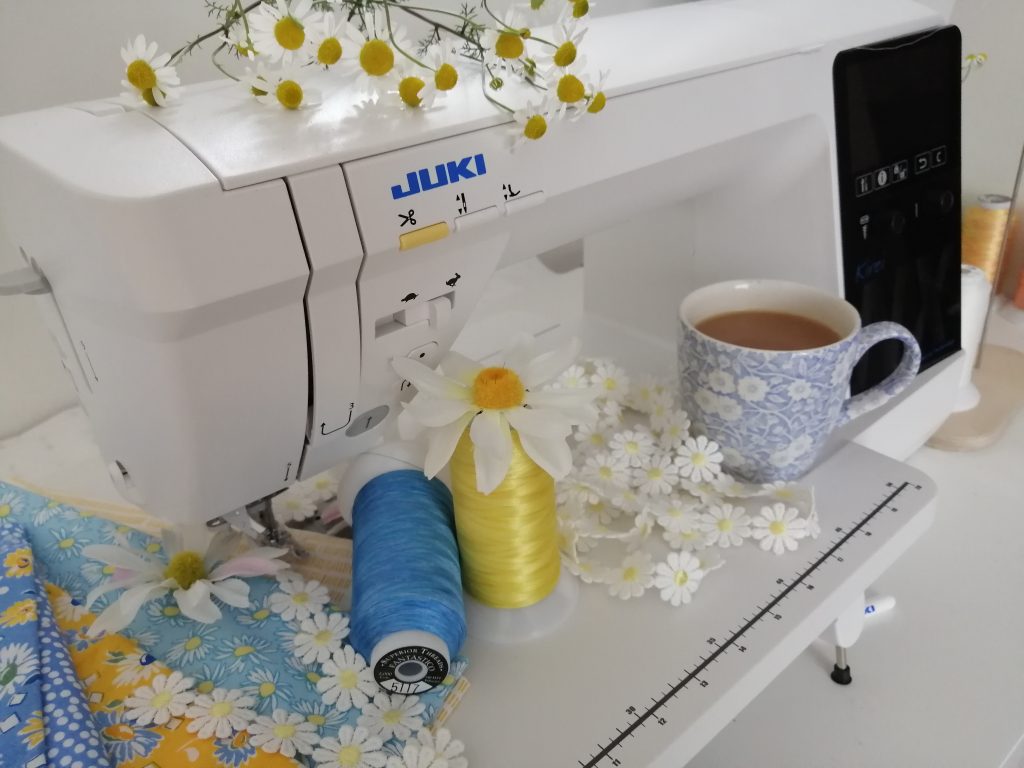 First I piece together fabrics. Then I load this practice piece on my quilting frame. Next, I play with pretty threads and line designs. For this batch of postcards I was playing with daisy designs.
Then I take it off the frame and cut the practice piece into postcard shapes. At this point I can hand or machine embellish the postcard shapes with ribbons, rick rack, and beads & buttons, before stitching them to postcards that I've printed on my computer printer. This technique allows me to make lots of postcards in a couple of hours.
Try raw edge applique
Raw edge applique is another technique that's fun to use on fabric postcards.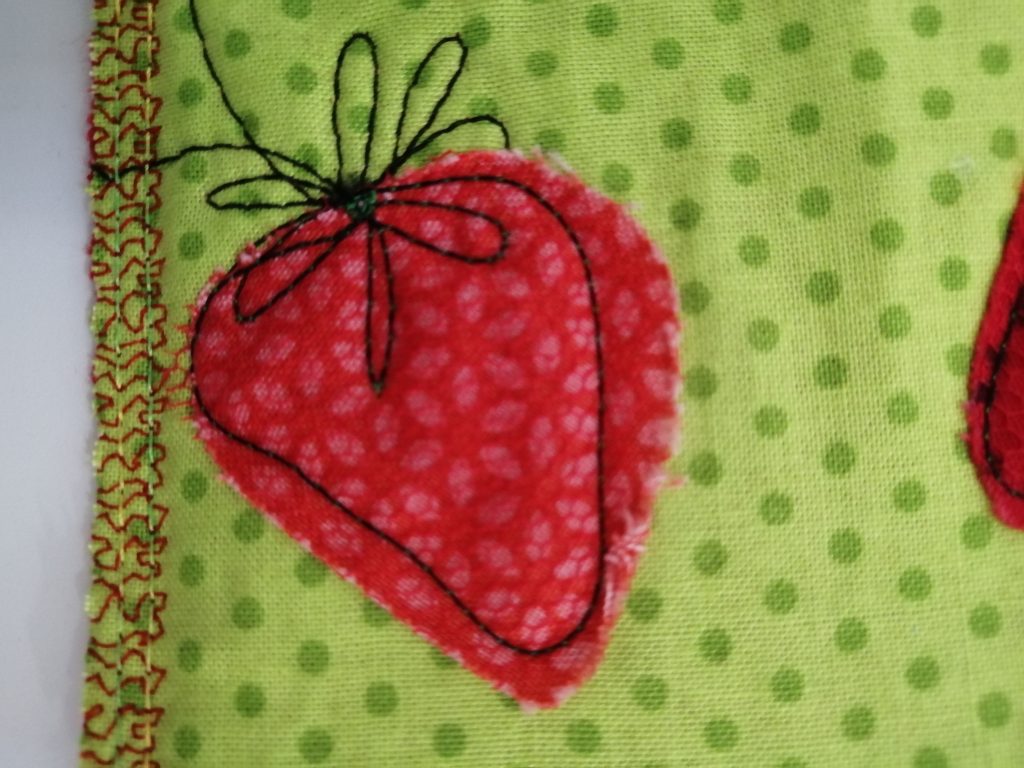 The other side
Postcards have two sides. So far we've been focusing on the front of the postcard. Now we'll look at the other side; the side that has room for a short note and the address and stamp. There are lots of ways to make the other side, here are a few.
This Alice in Wonderland themed postcard has a card backing that was printed on my computer printer on cardstock, then cut out with a rotary cutter and finally stitched to the fabric front. There's a selection of FREE downloadable postcards from the MachineQuilter website that you can use to print your own postcard backings. Follow the link to view lots of seasonal postcard designs that you can use all through the year.
Another option is to have fabric on both sides. The postcard underneath was addressed and written on fabric and made it all the way to the UK from Canada. No problem. It arrived in beautiful condition. Finally, the postcard on top was slipped into an envelope and travelled across the pond from America tucked safely inside. Mary @crazy_fit_gma even made her own postage stamp and dated postmark.
Finishing the edges
Lastly, I'd like to look at different options for finishing the edges of the postcards. Here's the fabric side. Moving from left to right you'll see a simple pinking/straight stitch, satin stitch, triple straight stitch, two zig zags and a rolled hem stitch on the overlocker.
Here's how the stitches play out on the card side.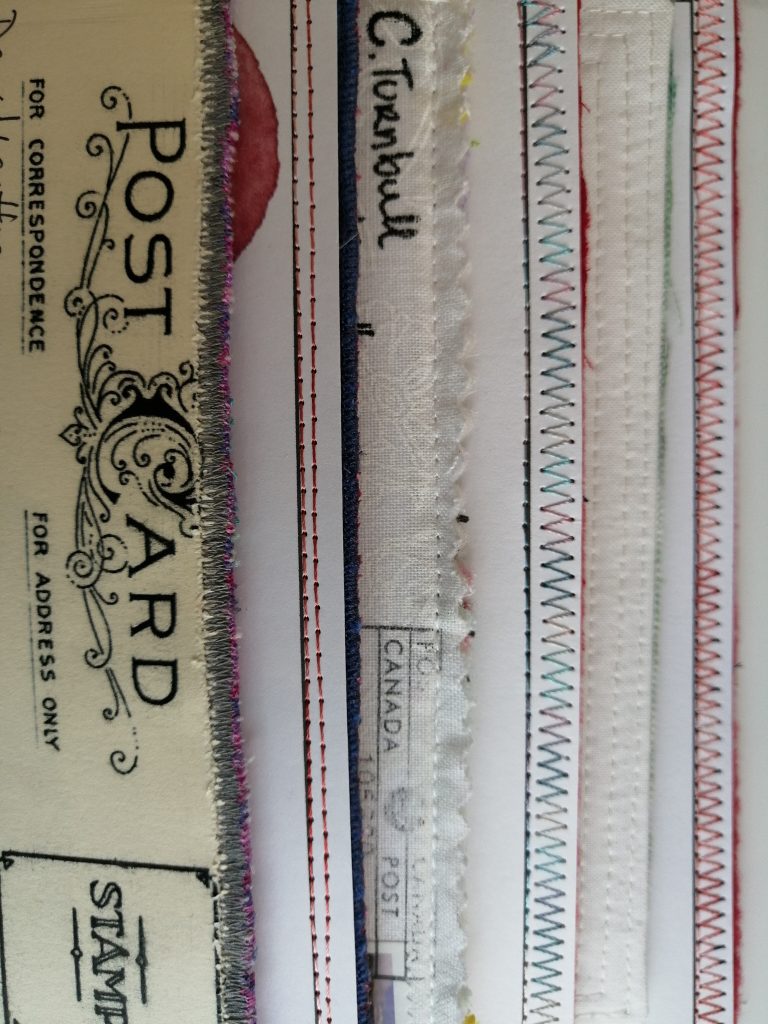 There you have it. All about fabric postcards – both sides and the edges too. It's fun to take part in a fabric postcard swap. But fabric postcards are fun to make and send anytime. Especially now when it's hard to visit, sending fabric postcards is like sending hugs to all your friends and family.