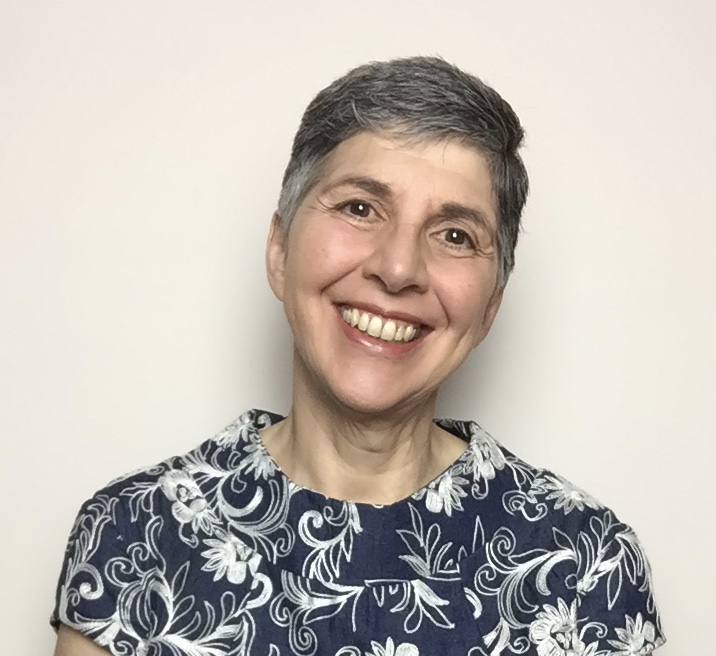 At the moment I am so excited I could hug everyone I meet. Not only have I become an Ambassador for JUKI, I have also been asked to join the JUKI Club as a guest contributor. And I thought last year was a good sewing year. For those that do not know me, my name is Mercedes and I was a contestant on Series 5 of the Great British Sewing Bee. I am a dressmaker.
Early Years
I have always been surrounded by sewing, crochet and knitting. I was brought up by my Italian grandmother, who was an absolutely amazing crafts woman. So from a very early age my nan was passing on these skills to me. I was a well fed child, so in those teenage years when I wanted fashionable clothes I had to learn how to make them myself. I also learnt how to embrace my dressmaking skills when my desire to wear something different to the current trends meant I could make it myself. My grandmother believed if you could sew you would do well in life and when I left home at 16 she sent me off with my bed and a second hand sewing machine, which kept me sewing for years.
Finding the time to create garments was hard. Leaving home, first ever job, experiencing life and then at 18 joining the Territorial Army (now called the Reservists) meant there was little time for me to sew. I did make a couple of long dresses for our Annual Squadron Dinners but not much else. The last dress I made for an event slightly crushed my dressmaking confidence.
The year was 1981 and it was my first garment made in a stretch fabric. As I was sewing, my machine kept missing stitches and stitches were snapping, I had no idea what was happening. Without the internet, I did not read about ball point needles and was not advised by other helpful sewers to use a stretch stitch. I persevered, finished and wore the dress, but my confidence was shot. It was not till 2014 and Series 2 of the Great British Sewing Bee (more about that amazing show later) that I decided I was going to conquer my fear of stretch fabric and from that day I have not looked back.
Costume Design
So apart from the occasional garment, bit of home furnishing and curtains for my children's bedrooms, I did not do much sewing for years. My job was creative in an "issue resolving/fault finding" IT project manager sort of way. Then after being made redundant I got a part-time job at my children's secondary school as the Drama Technician.
At the time, staging, lighting and sound were not a strong skill of mine, but I could costume those kids up like a pro. I loved it. In fact I loved it so much I joined the kids and took my GCSE's in Drama & Performing Arts, with my emphasis being costume design. I started to design and make costumes for the annual school productions. Though there was not the time to do all the costumes, I would always make at least one that was special. So while I was enjoying this revival of my sewing opportunities, along came the first series of the Great British Sewing Bee and my love of all things sewing exploded.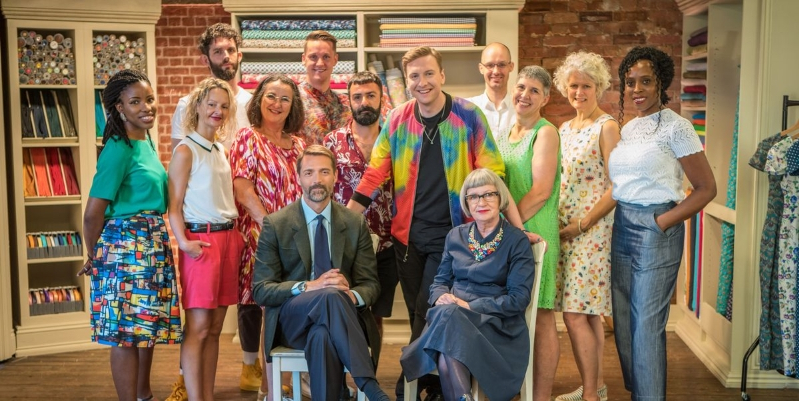 The Great British Sewing Bee
One evening I saw a promotion for a new TV show. A show about sewing? Really? From the first minute I was hooked, who does not remember that beautiful haberdashery. The show was an inspiration and the winner, Anne, a goddess in quality and finishing. The penny dropped. I knew I wanted to do this, not just occasionally, but at every opportunity. Then, on the shelves of the supermarkets, I noticed all the sewing magazines with help and advice and the details of sewing workshops you could do. While doing workshops I met other lovely sewers. I made sewing friends. I started following them on Instagram and then followed their friends and before I knew it I was a member of our amazing sewing community. All this from one little programme about sewing.
And as for me and my time on the Bee. Honestly, I only applied to see how far I could get. If I got on I was going to turn it down as we had a holiday booked. I applied late on the last day, and was rather flippant in answering some of the questions. At each stage of the process I was doubtful about getting any further. I still remember the phone call saying I was through, and once the shock had dissipated, the absolute horror at the realisation of what I had got myself in to. I didn't sleep for 4 days. But then I got to meet my fellow Bees and every panic attack, lost hour of sleep and severe moments of self-doubt was worth it. We are all still friends, I speak to at least one of them most days, they are all amazing people and sewers and I do not feel in the same league as them at all. But I am willing to learn and improve.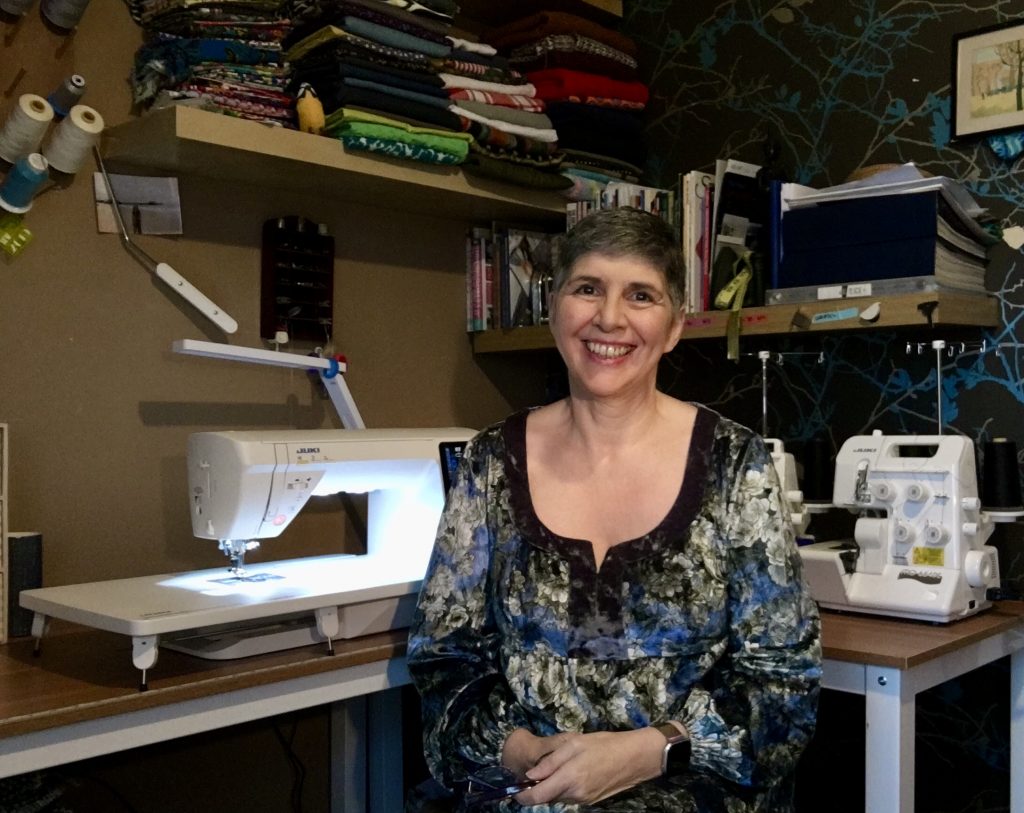 JUKI Ambassador
And to assist me with my continuing quest for sewing excellence I have invested in 3 new JUKI machines. As my main sewing machine I have treated myself to the top of the range model the JUKI NX7. This is a beautiful machine, with a large number of bells and whistles, which I am looking forward to fully exploring and reporting back to you all my findings. I also bought the JUKI MO-654DE over locker. This is not one of the air-threading models but recommended to me as a very capable machine. I am also looking forward to putting this one through its paces as I do a lot of garments in stretch fabric and love using it for finishing seams on woven fabric. And finally I completed my trio with the JUKI Cover stitch MCS-1800. I know a cover stitch machine is a luxury, but as I said, I do make a lot of garments in stretch fabric and love the finish it gives. I am also going to explore how else I could use it when creating garments.
May I wish you all a wonderful 2020! I am looking forward to sharing my sewing experiences with you on JUKI Club.
Mercedes lives just outside Brighton with her husband Graham and their two cats, Maggie and Erica. Although their two children have flown the nest, Mercedes still uses them as guinea pigs for new designs and fabrics she wants to try out. Having worked in IT for over 20 years, Mercedes has a keen interest in all things technical and wants to know the ins and outs and whys of everything. 5 years ago Mercedes conquered her fear of stretch fabric. Now it's her passion. Developing new techniques and encouraging others to use and love this fabric has become her crusade.
Mercedes was a contestant on series 5 of the Great British Sewing Bee and can be found at @ohsewthatmercedes on Instagram, read her Blog at ohsewthatmercedes.wordpress.com