Jen Hogg's been thinking of all the children being off school and all the adults trying to keep them busy! So, here's the first in a series of child friendly sewing projects for wee ones to try themselves.
Using felt
This bunny is made from scraps of felt, and is hand-stitched with a button tail. The instructions are online and also in a pdf so they can be printed. They're supported by videos of some of the techniques used.
To keep it super simple, Jen focussed on handstitching so your mini stitcher has a chance to get used to handling the fabric – cutting out, aligning the pieces and so on.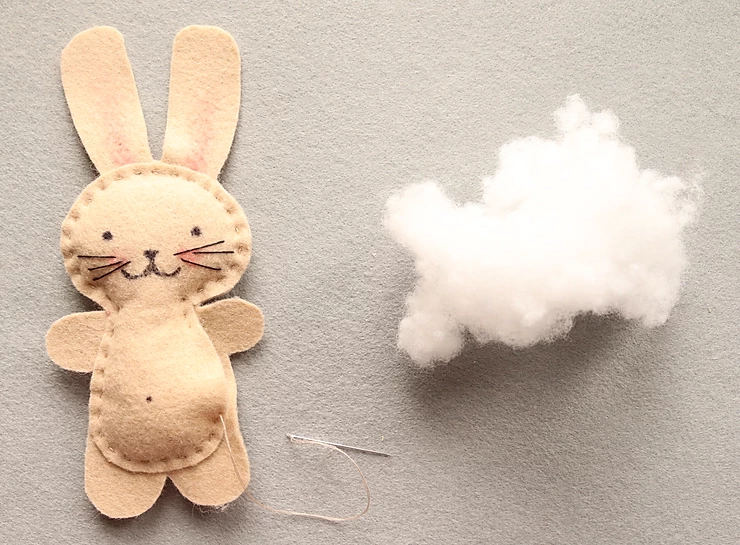 Here's Jen's Bunny Pattern for Mini Stitchers follow the link for the pattern and easy directions for sewing bunnies with little people.
Jen's pattern calls for felt. Felt is ideal for this kind of project. It's stiff and doesn't ravel. It takes marker pens well too. I didn't have any felt but I do have lots of fleece in all sorts of colours. So I decided to try a fleece version of Jen's bunny.
Using fleece
I followed the link above to download the wee Bunny Pattern from Jen's blog post. I printed out the pattern, cut out the bunny and traced it onto my fleece scraps. When I cut it out, I discovered that my fleece was too floppy. To remedy the situation, I decided to try multiple layers of fleece. Two layers was better. But three was just right.
I cut out one bunny shape. I found that the fleece was too furry to use markers to draw the face. So I stitched the nose and mouth by hand and added sequins and beads for the eyes. I stitched the whiskers with thread too. It didn't matter if the back was messy because it was going to be hidden by the next layers.
Then I placed this top bunny on a folded piece of fleece that was big enough to accomodate the top bunny shape. I chose thread that matched the fleece and stitched the three layers together using my NX7 sewing machine. The Juki NX7 pressure foot can be adjusted to lift higher to accomodate the three layers of fleece. It can also be set to a float function. This is perfect for applique especially around fiddley bits like bunny ears. Each time I stop stitching, the presser foot lifts automatically leaving both my hands free to pivot the fabric.
Once I stitched all the way around the bunny, I cut the bottom layers to fit the top layer. I ended up with a nice sturdy little bunny, all it needed was the cotton tail. I had little pompoms that were just the right size. I stitched these on by hand.
The sequin and bead eyes were real cute, but not suitable for small children. I want to give one of these bunnies to my little 6 month old grandaughter and need to avoid any chance of a choking hazard. So I decided to figure out how to stitch the eyes and mouth using the special stitches on the Juki NX7.
Stitching faces with the Juki NX7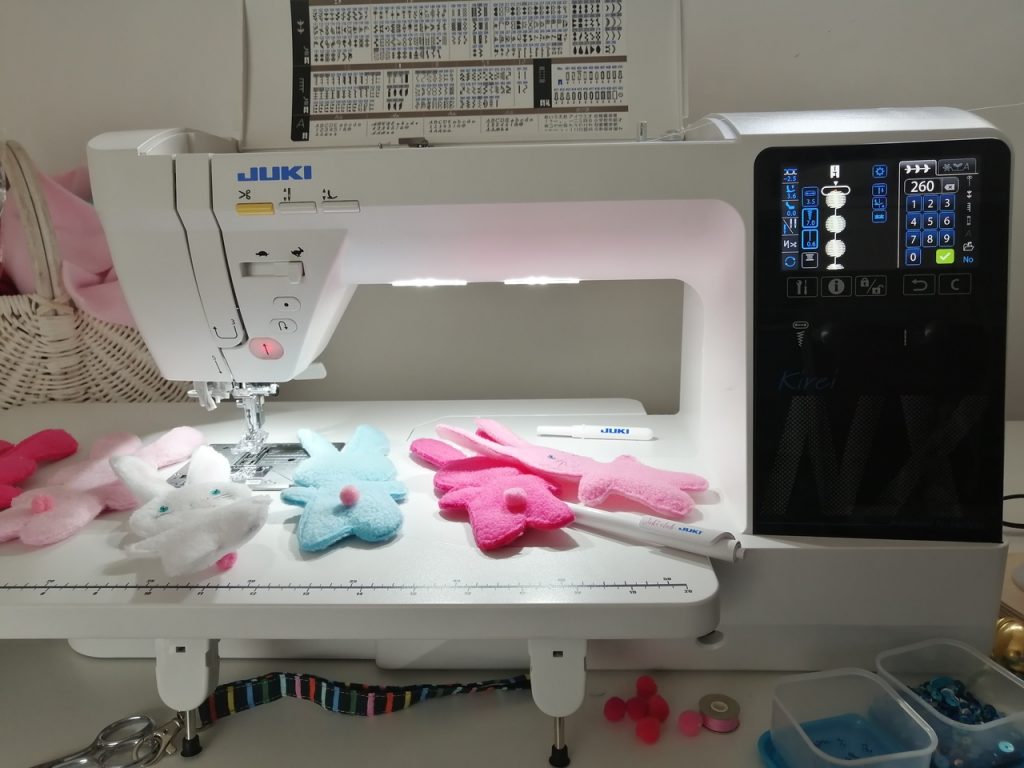 I'd never tried the special stitches before, but how hard could it be? Shockingly easy, actually. I found a circle shape on the lid of the machine and entered that number 260 on the screen. Then I had a play on piece of scrap fleece. Easy peasy. I did a bit of adjusting the size.
I used the 260 circle to stitch the eyes and the nose. The mouth was straight stitched using the float function so that I could pivot the fabric to get the curves. Finally, the whiskers were stitched by hand. It turned out so cute! Now I have bunnies I can use for babies.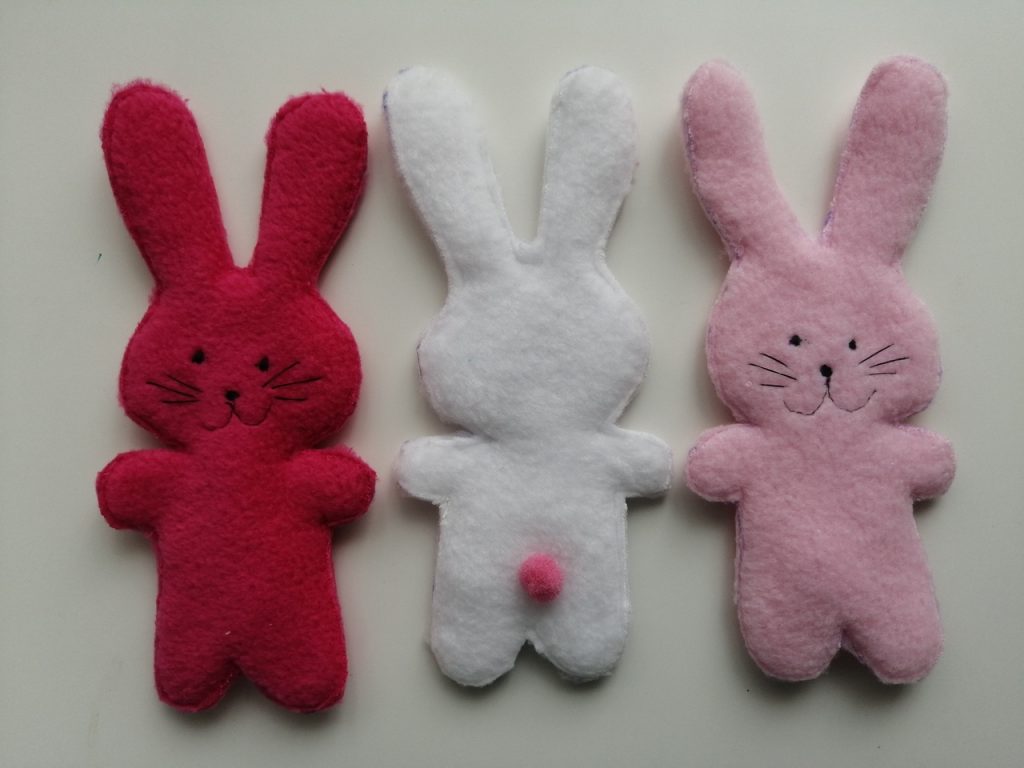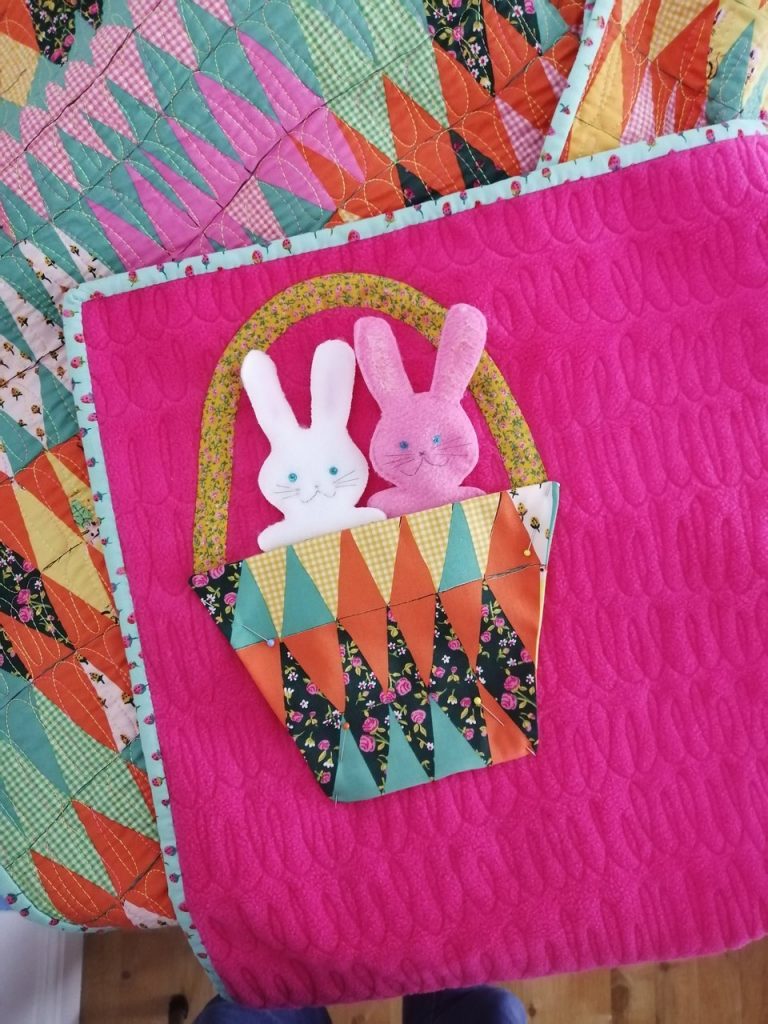 This post has been a collaboration between Jen and Martha. Jen Hogg lives in Glasgow with her husband and dog, and when she's not making bunnies she's sewing amazing things. Jeans are her current craze. A former solicitor, Jen reached the semi-final of The Great British Sewing Bee Series 5 (2019).  You can follow her on Instagram and Facebook @jenerates, and at www.jenhogg.co.uk, and you can read our Juki Club introduction here. Martha lives in Lincolnshire and works for Juki Club. This week she's taken time off making quilts to make bunnies, lots of bunnies.