During our Christmas in July event last weekend we celebrated summer and got ready for Christmas at the same time! The venue was the Franklins sewing shop in Colchester. Besides a massive selection of Juki sewing machines, Franklins have everything for the quilter and stitcher; a superb selection of fabrics, yarns and sewing & quilting gadgets. We had Juki's big 4 top-of-the-line sewing, quilting and overlocking machines set up for demonstrations and test drives.
It's always exciting to have a go on the Juki TL Quilt Virtuoso Pro long arm! Laurence Franklin is getting the machine ready and showing it to an interested quilter.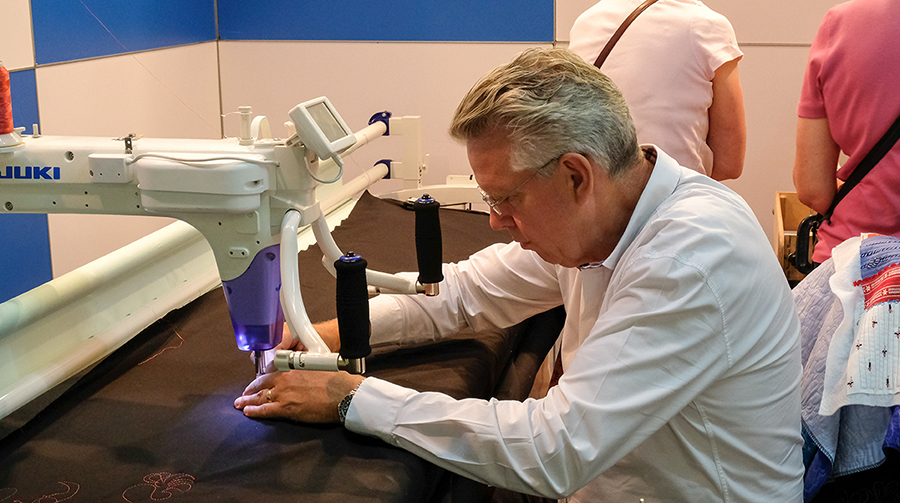 We like having the TL QVP Mini set up close by the TL QVP long arm. It's good to be able to compare the 2 machines and see how they share the same shape. The TL QVP Mini is 2 inches taller and longer than most domestic machines. She's only mini in comparison with the long arm. The extra height under the arm as well as the strength, speed and simplicity of this lockstitch machine make the Mini perfect to use with a machine quilting frame.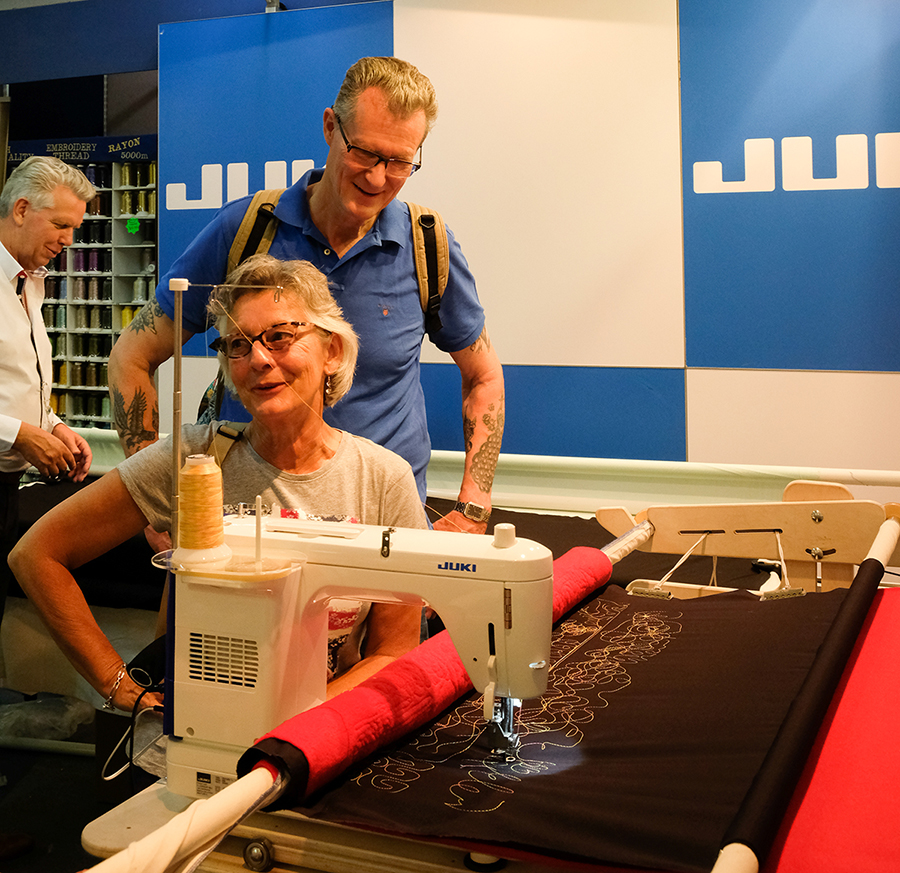 The TL QVP Mini was set up on a 6 foot MachineQuilter frame. This is an ideal choice for people who want the freedom of movement that a longarm offers, for a fraction of the cost. The Machine Quilter/Mini combo sets up and takes down in minutes making it perfect for people with limited space and un-limited imagination. This woman tried it for the very first time and wrote her name, beautifully! Look how impressed she is.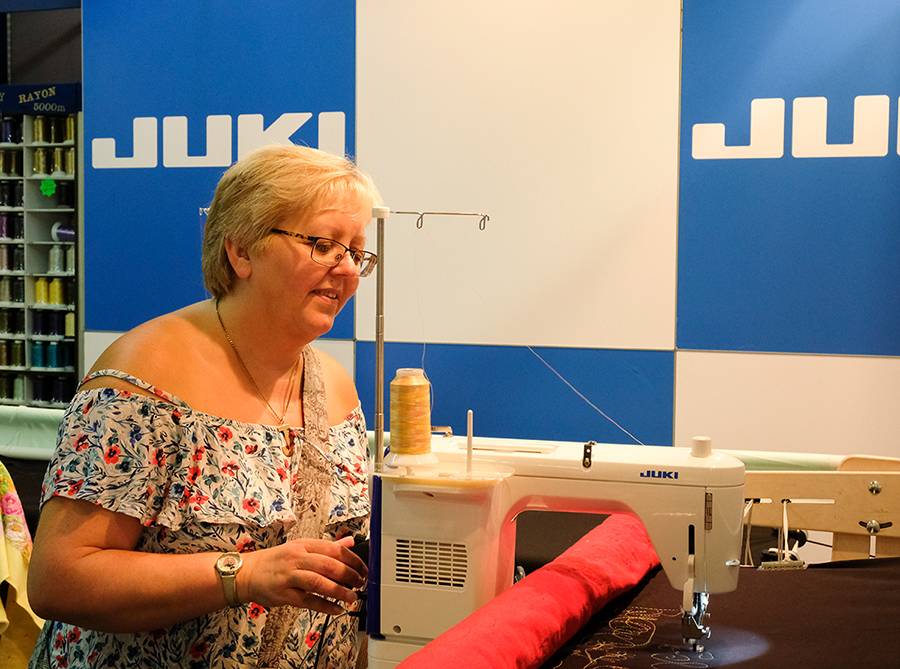 The woman above is quite an experienced machine quilter. She is enjoying how easily the sewing machine glides on the frame. She's practising dovetailing the quilting design as she moves from one line of quilting to the next. She did such a good job that you couldn't tell where one line of quilting stopped and the next line began. Below,  Martha is demonstrating the 'air quilting' technique! It's a no-mark hand-guided free-motion-quilting technique that we use with the TL QVP Mini on our Machine Quilting frames. It's a way of using kinesthetic muscle memory to master a line design.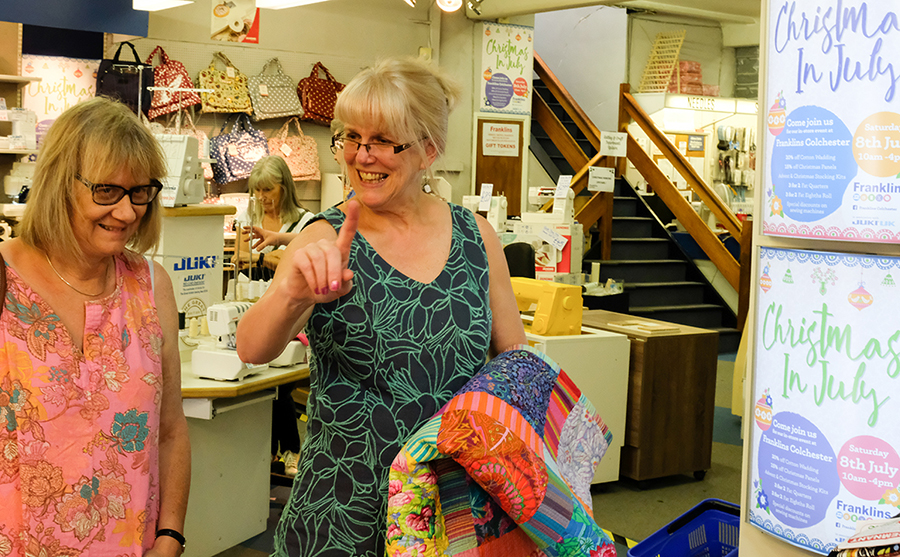 The Juki Dx7 are the top-of-the-line machines that do everything well; from super straight stitching, to awesome applique and brilliant button holes. We set DX7 machines up so that people could enjoy these cool features and make FREE projects with tropical fabrics to take home.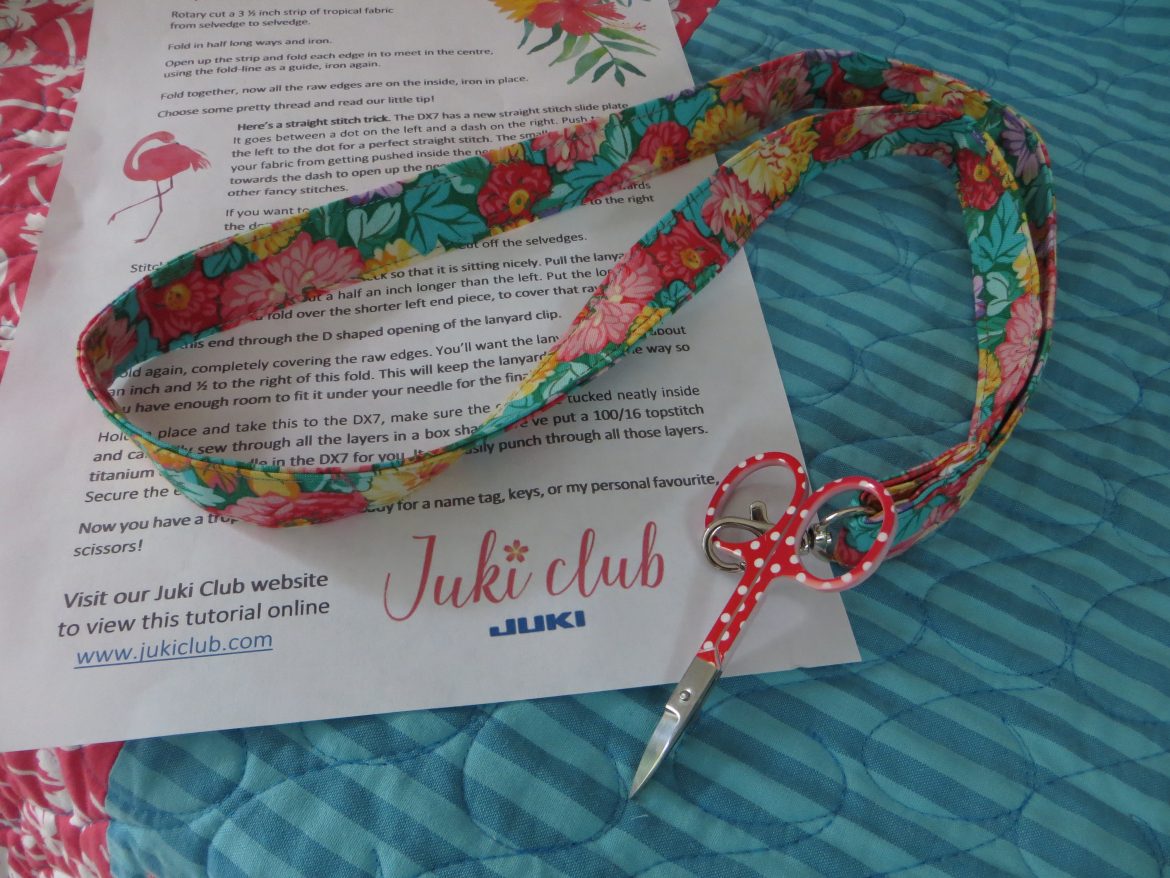 Some people chose to make the lanyards with fun summer fabrics. We wanted people to see the beautiful straight stitch that is enhanced by the new straight stitch slide plate feature.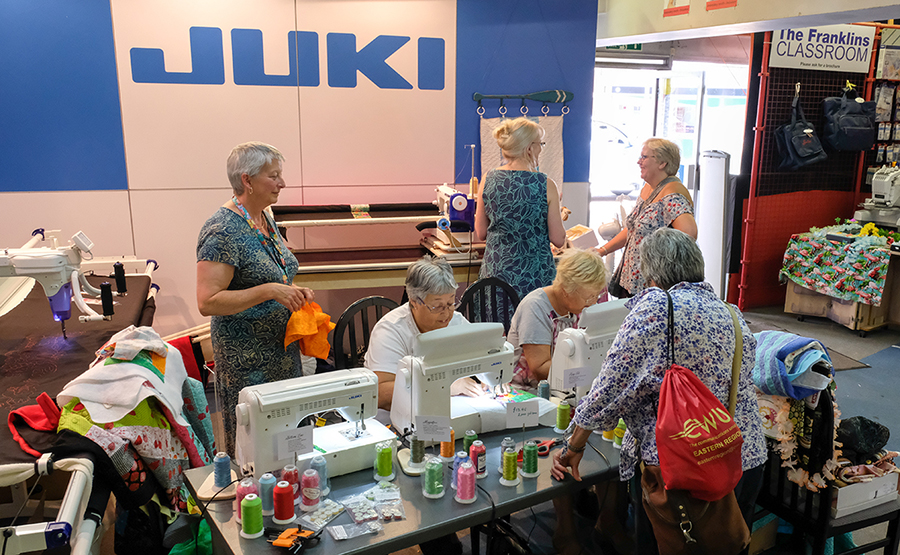 Other people tried this straight line quilting project with tropical fabrics. The new float function made changing direction so easy! We posted the directions here. If you missed the Juki Club LIVE event, you can still do the project at home. We even have our own FREE tropical postcards that you can download.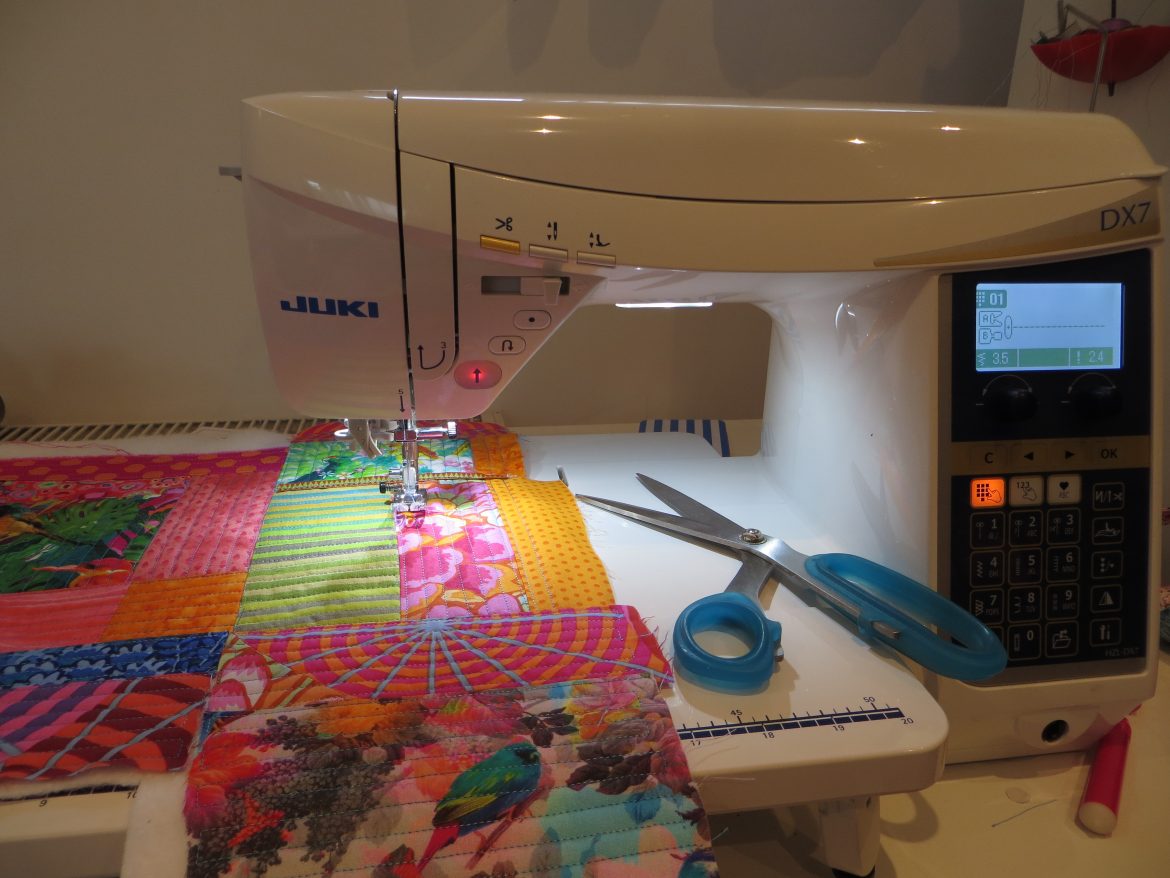 The MO2000 air threading overlocker was set up to make watermelon or Christmas bunting.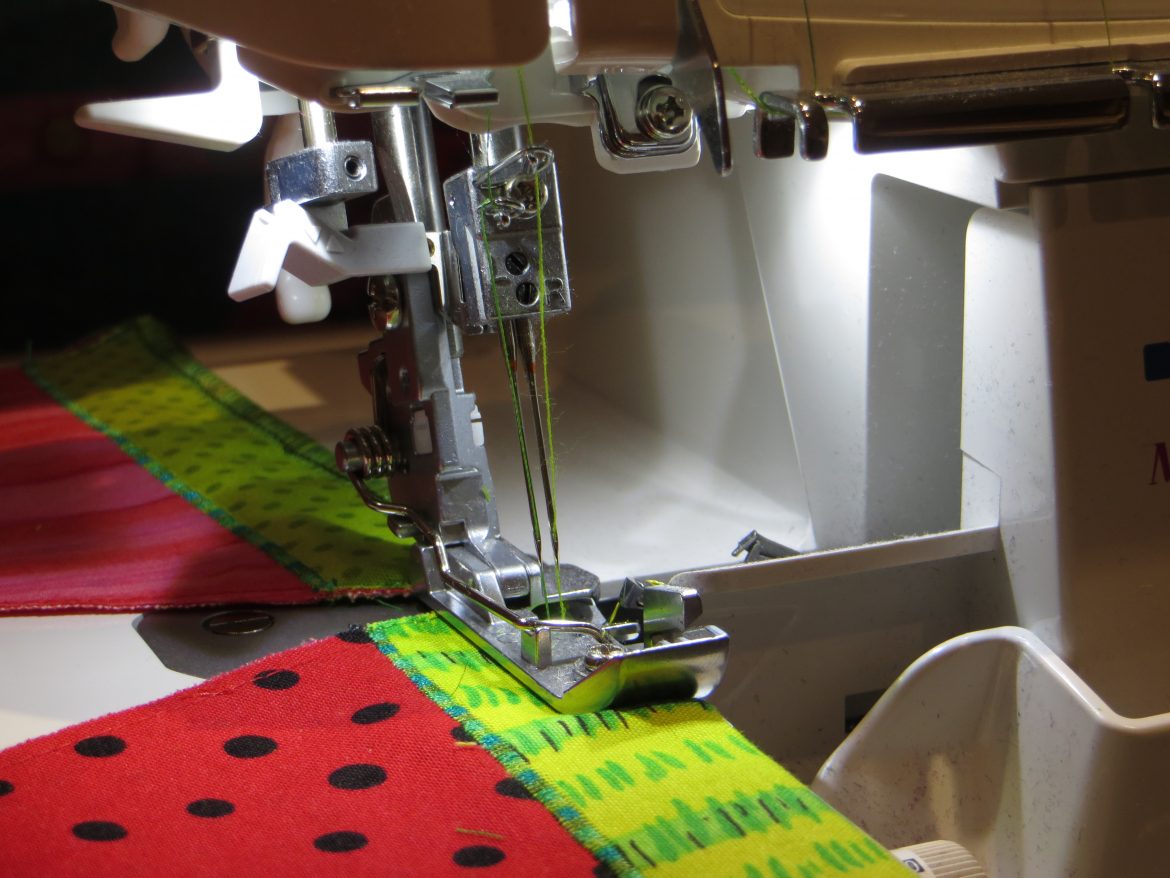 We had fun food too. The macaroons tasted just as gorgeous as they looked.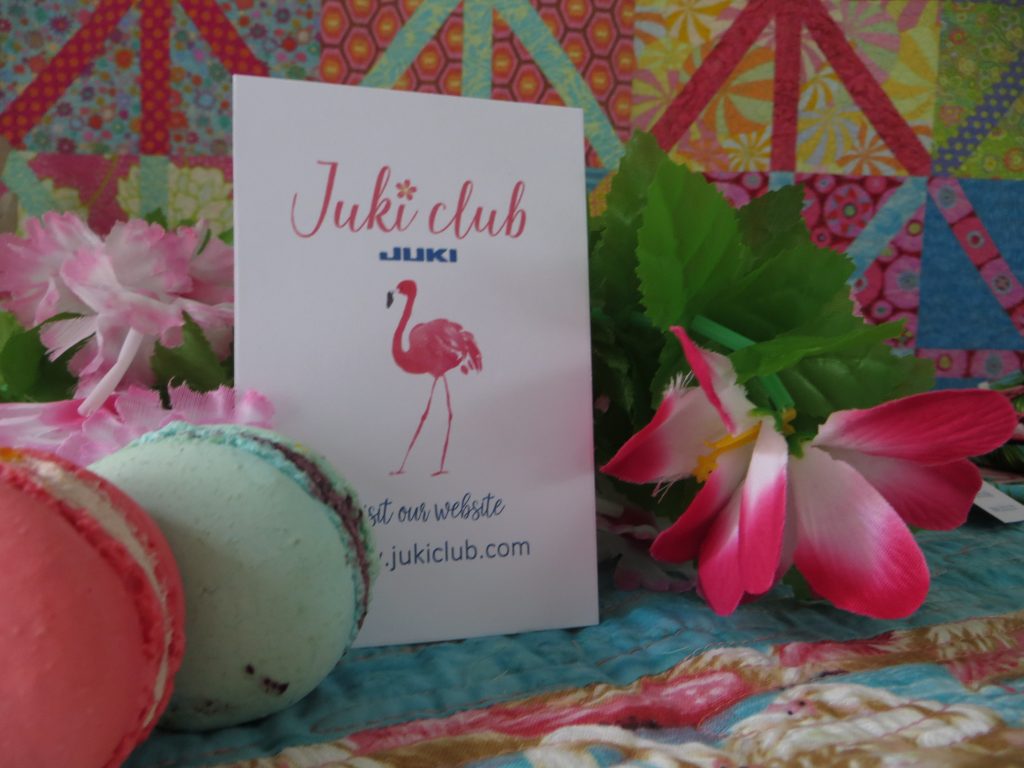 We host these Juki Club LIVE events because we want to meet our Juki customers face to face and share our passion for quilting and sewing. We throw a shop party with free projects and fun food. We give demonstrations, show quilts,  answer questions, offer inspiring projects and make real life connections. It was a pleasure to meet so many people keen on quilting. We hope to keep in touch with our Juki Club website, Facebook and Instagram.  We look forward to meeting up again soon at the Festival of Quilts in Birmingham.  You'll find us at stand A46, just where we were last year. Please stop by and say hi!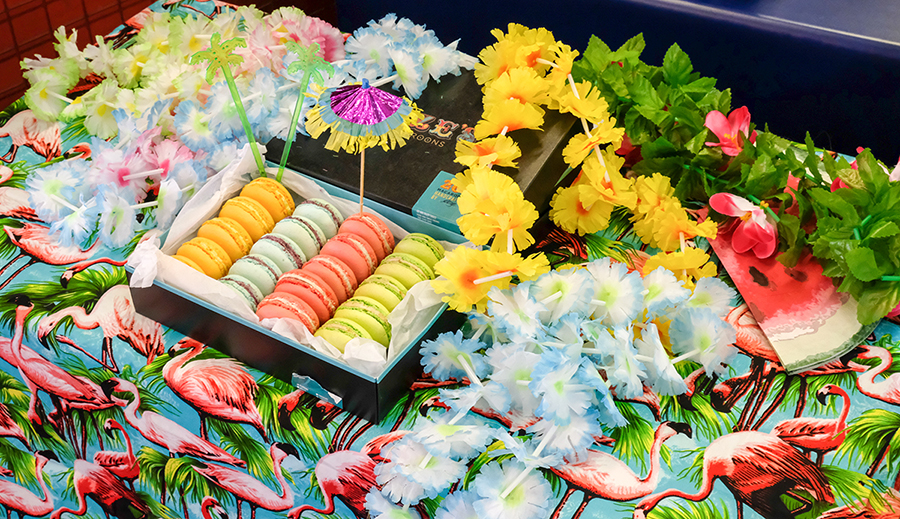 [/vc_column_text][/vc_column][/vc_row]