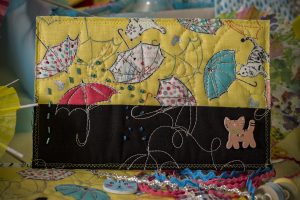 They do! We had fun with our April umbrellas line design which looked so cute with the little kitties in the rain. This quirky retro fabric from Lecien provided the perfect canvas to practice the umbrella shape, outlining, extending and then going on to draw our own.
We used a particularly lovely cone of Fantastico  from Superior Threads called Opalescence #5024. The creamy pastels created a dreamy texture without calling too much attention to itself.
Opalescence is one of our most popular machine quilting threads. It looks great in so many different settings. Our April Sunshine Box subscribers were delighted to add it to their stash. Our April little Bags of Moonshine offer a mid-grey Magnifico 3,000 yd. cone called Stainless Steel #2165 – that's just right for drawing clouds.
Grey is such a useful colour to have in your thread stash. Here's the practice piece set up on the Machine Quilter frame with the new JUKI TLQVP Mini lockstitch sewing machine and our Nifty Grip speed control handles. And here's a nice up-close quilting detail. Clouds come in handy on all sorts of landscape and seascape projects and our Moonshine tutorial teaches 3 different cloud shapes.
These particular clouds were stitched with the Fantastico Opalescence. One of the best things about having a thread stash is that you can mix and match your threads. The Magnifico mid- grey Steel thread would also look great outlining the umbrellas in the Lecien theme fabric. Our Sunshine and Moonshine tutorials will make you happy when skies are grey.