Here's a parent/child Stitched Mobile project that can be used to introduce your children to your sewing machine. Children will need adults to work with them on the sewing part of the project. When they were little, my kids were facinated by the sewing machine! Here's a project that lets them sit on your lap, push the buttons and do some sewing with you.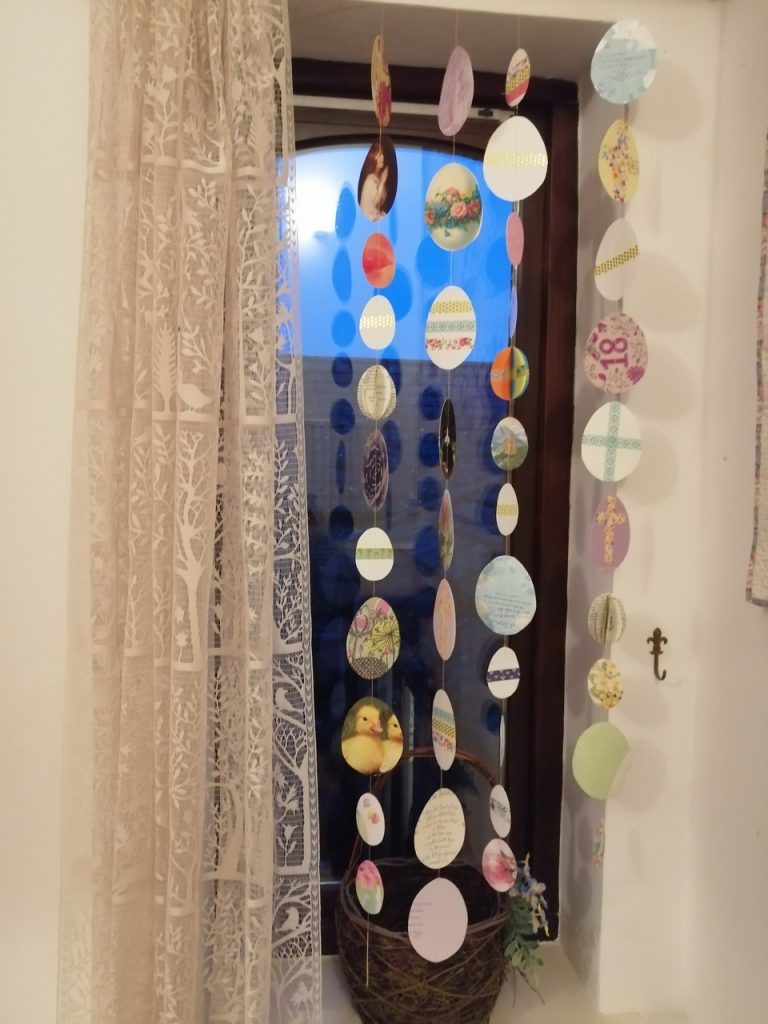 With no place to go, there's no need to rush through the holidays. I've used an Easter egg template for this simple stitched mobile.
Hunt for old greeting cards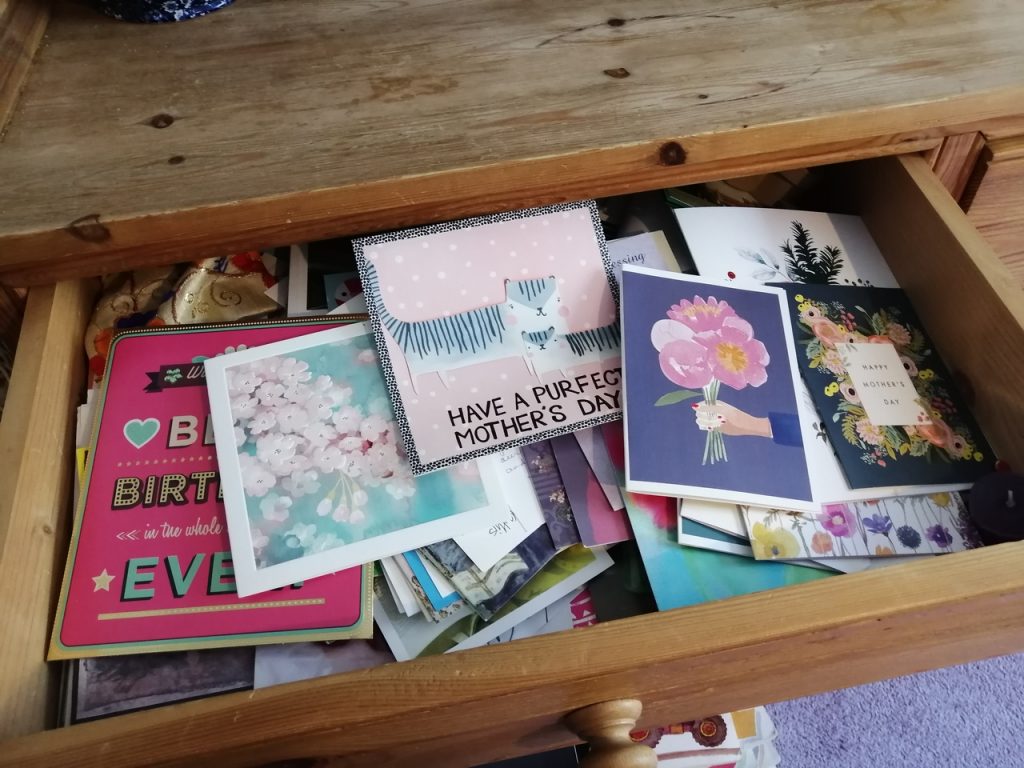 This project uses old greeting cards. If you're like me you have a whole drawer of them; too old to leave out but too sweet to throw away. This stitched mobile gives them a new lease on life. It's fun to read through them again with the kids, especially since we can't get out to see family and friends. It's a good reminder of the people who love us from far away. You can also use coloured paper, envelopes, old drawings, or pages from catalogs.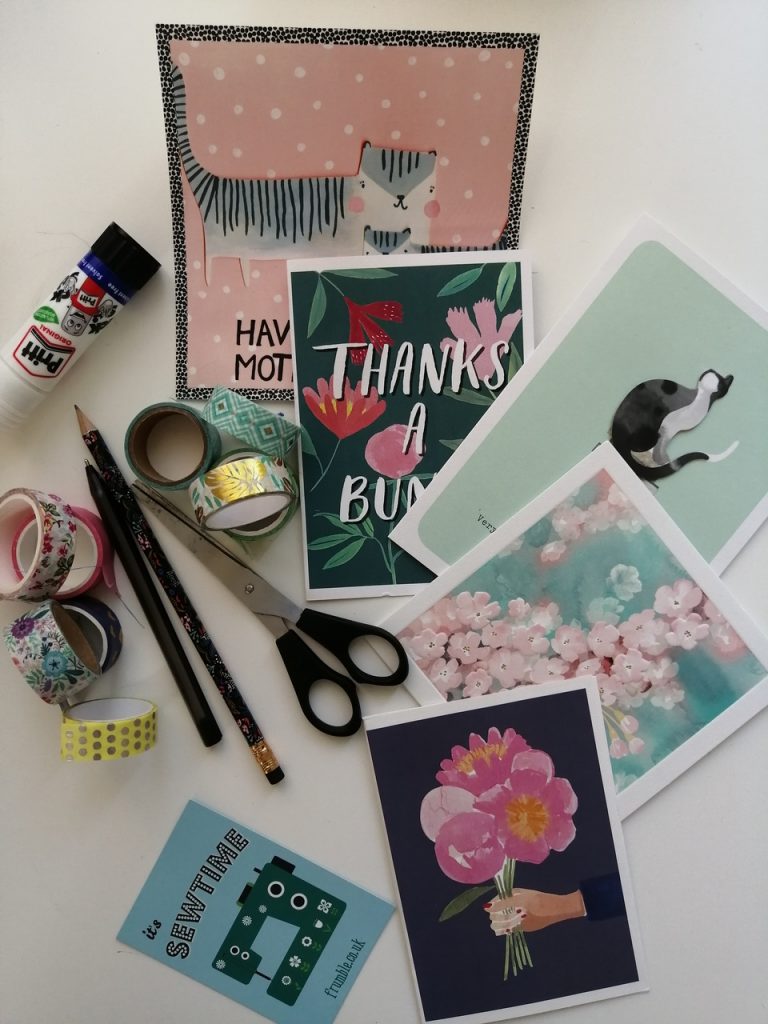 Pick a template
Next choose a template. I'm using an egg template because it's so near Easter but you could make a template from any simple shape. In an earlier post, I made a cloud and air balloon mobile for a baby shower that used the same technique. But simple shapes are best when working with small children. Circles would work nicely too. For this mobile, I used a large egg shape and a small egg shape.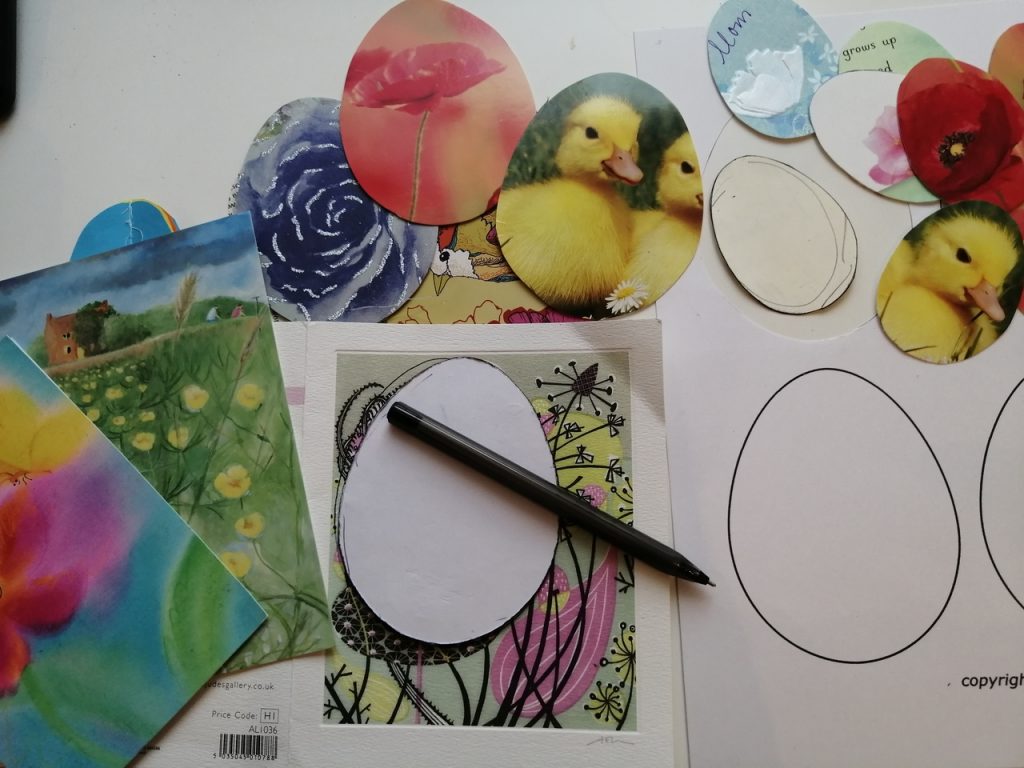 Trace and cut your shapes
Draw around your templates on your card and papers. Then cut them out. Tracing and cutting shapes is a great motor activity for children. It's good for developing eye hand coordination. You can fussy cut to get the pretty pictures. Cut out lots of shapes. They don't have to be perfect. It's the twirling movement of the shapes in the wind that makes them lovely. If you like you can decorate the back of your shapes. I used washi tape to add interest to the back. This can keep your kids happily occupied for ages.
Health and saftey
Let me begin by saying that sewing machines can be dangerous. So can playing with water or climbing a tree. Most fun things have an element of danger. Begin by talking about that. Use it as a teaching moment. A sewing machine is an amazing tool and all tools can be dangerous. Tools need to be treated with respect. Explain that the needle is sharp and instruct your children to keep their fingers away from the needle at all times.
A 5 year old who follows directions should be able to do this activity. When I did this activity with my children, my child was sitting on my lap and I was operating the foot pedal. If you have more than one child start with the older child and let the little ones watch and learn. Keep the actual sewing time short.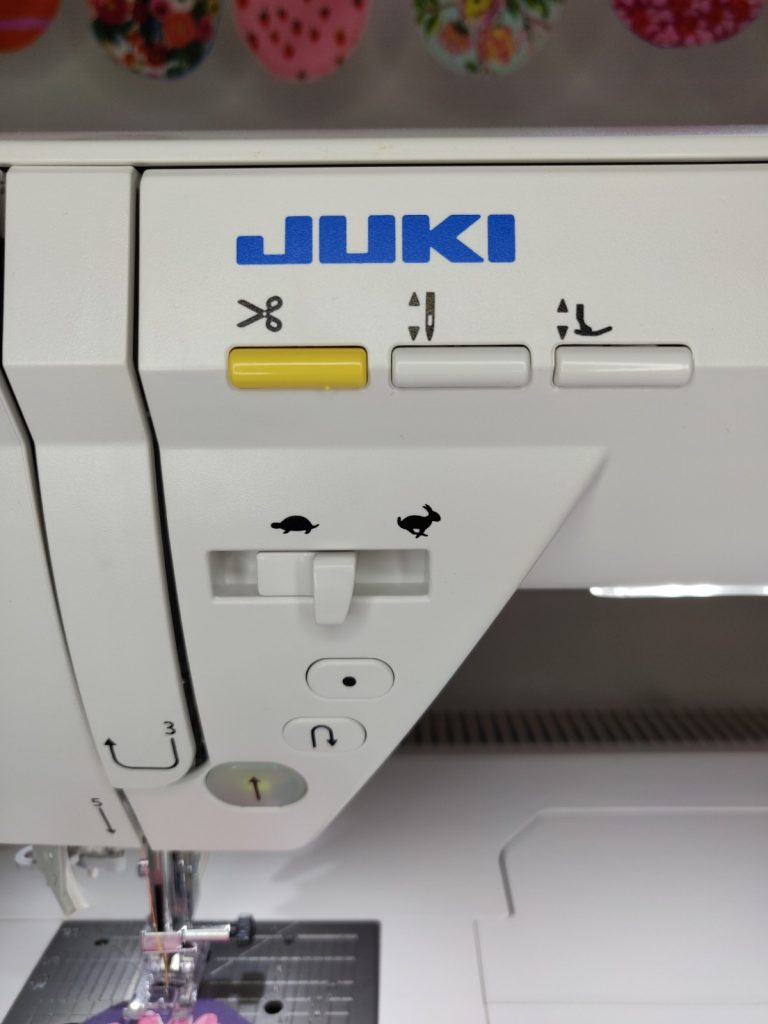 Basically, your child will just be pushing the appropriate button. As parents, you are the best judge of whether or not your child is capable of participating safely in the activity. If you have any concerns or if your children are too small, you can do the sewing part and they can watch.
Learning about the buttons
This project uses 4 buttons on the sewing machine: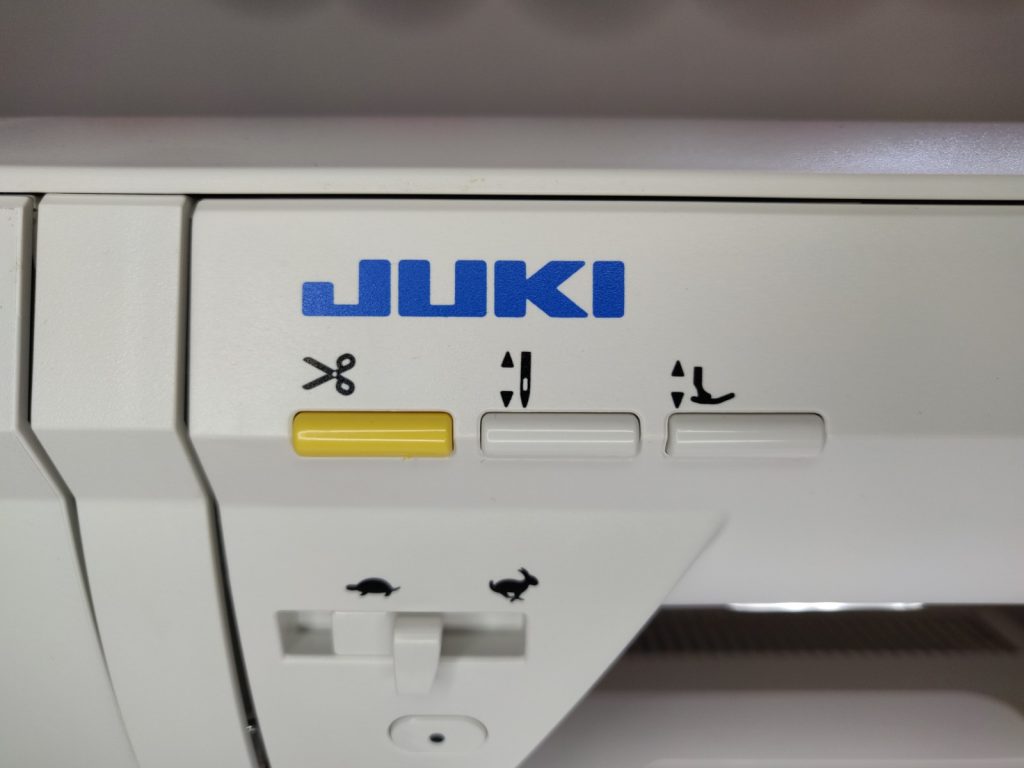 the needle up/down button
the presser foot auto lift button
the lock stitch button
the thread trimming button
Practice using the buttons on some scrap fabric first. See if your child can guess what the button will do based on the picture on the button. Once you've had a chance to try out the buttons it's sewtime!
Sewing a line of eggs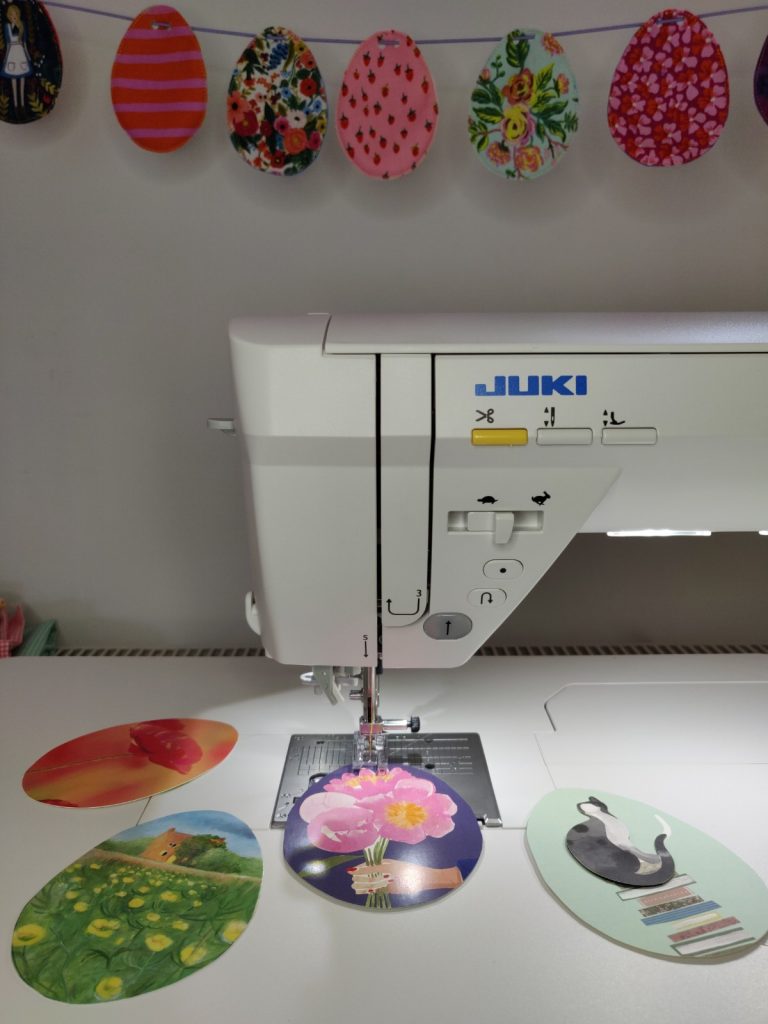 Decide what eggs you will use and put them in order. Assembling the mobile uses a simple straight stitch. Adjust the stitch length using the dial on your machine to 3. I used some pretty variegated thread.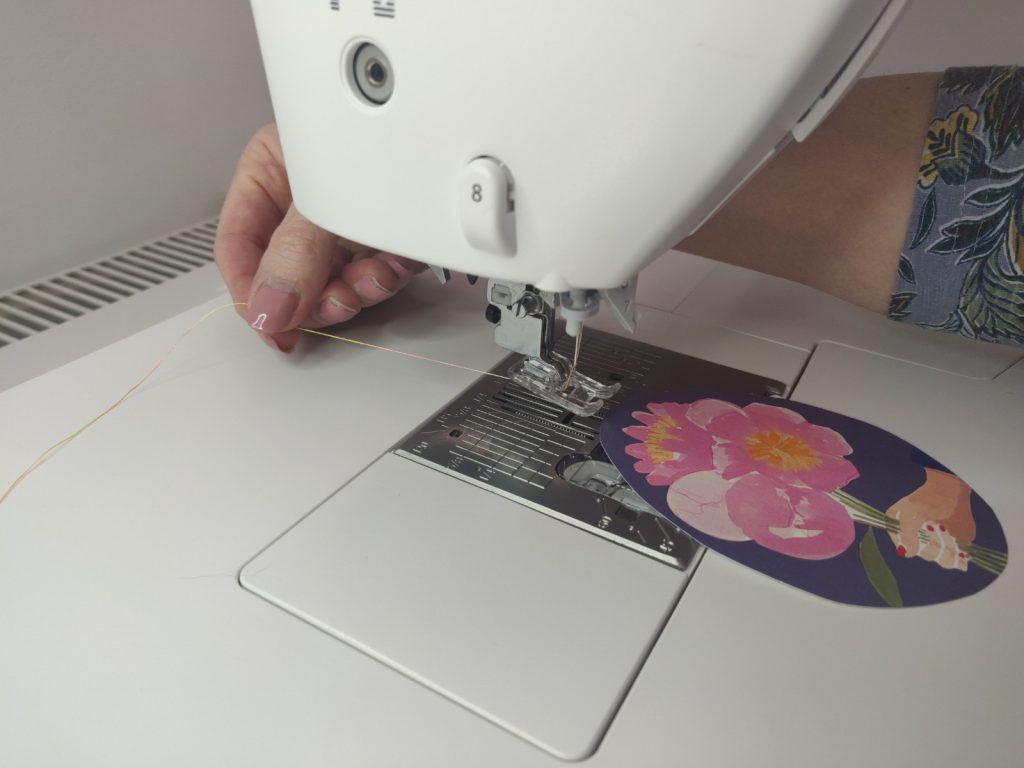 Before you start stitching, gently pull your thread through the needle to make a long tail. I gave myself 4 to 5 inches. You'll use this later to attach your string of shapes to a stick or rod.
I'm giving the directions as if you were using a Juki DX5, or DX7 or NX7. If you're using a different machine, adjust the directions for your own machine.
Use the auto lift button to lift your presser foot.
Place your shape under the needle. Make sure that the needle will come down into the top of the shape in the centre.
Push the button to lower your presser foot. Check the placement.
Push the dot button so that the sewing machine stitches in place to secure the stitch.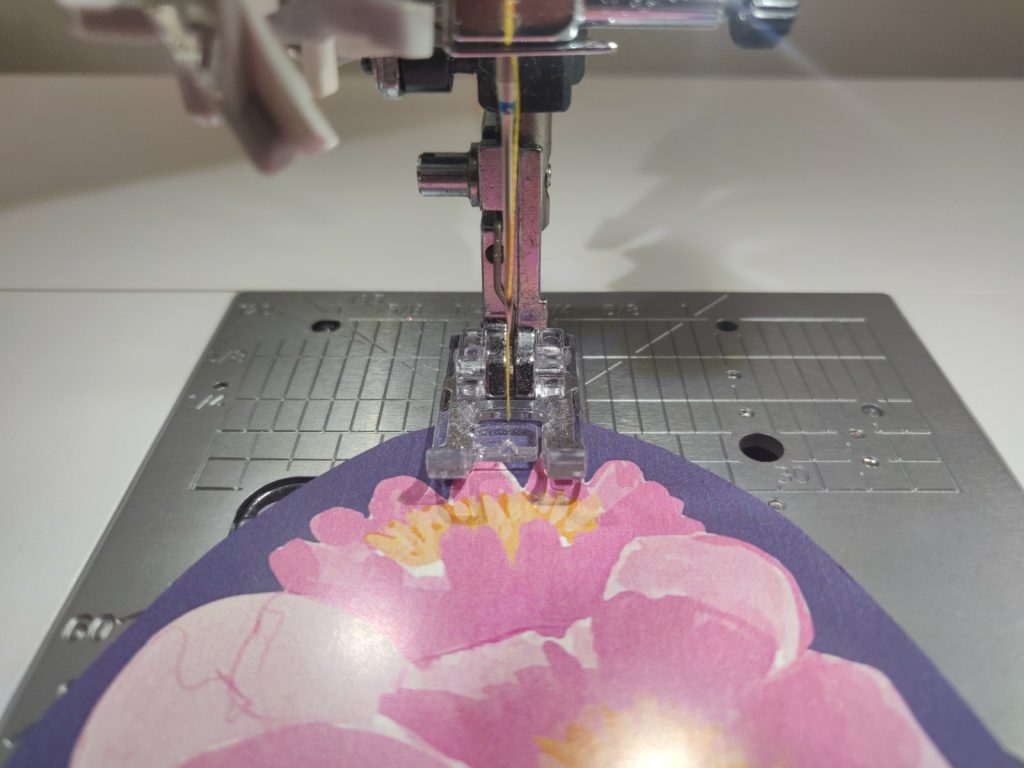 Now you're ready to begin stitching. The adult should operate the foot pedal. The industrial style box feeding system will guide the card, nice and straight under the needle. You and your child will not need to have your hands anywhere near the needle.
Stitch all the way to just before the end of the egg shape and stop.
push the button to raise the needle
push the button to raise the presser foot
the adult should carefully move the egg shape to the back of the needle plate area. You will be pulling the thread to make a bit of a gap, of about an inch between the egg shapes. This is very similar to the chain piecing technique that quilters use.
choose a new egg shape and position it under the needle and
repeat the process.
at the very end of your line of eggs, push the dot button to anchor your stitches.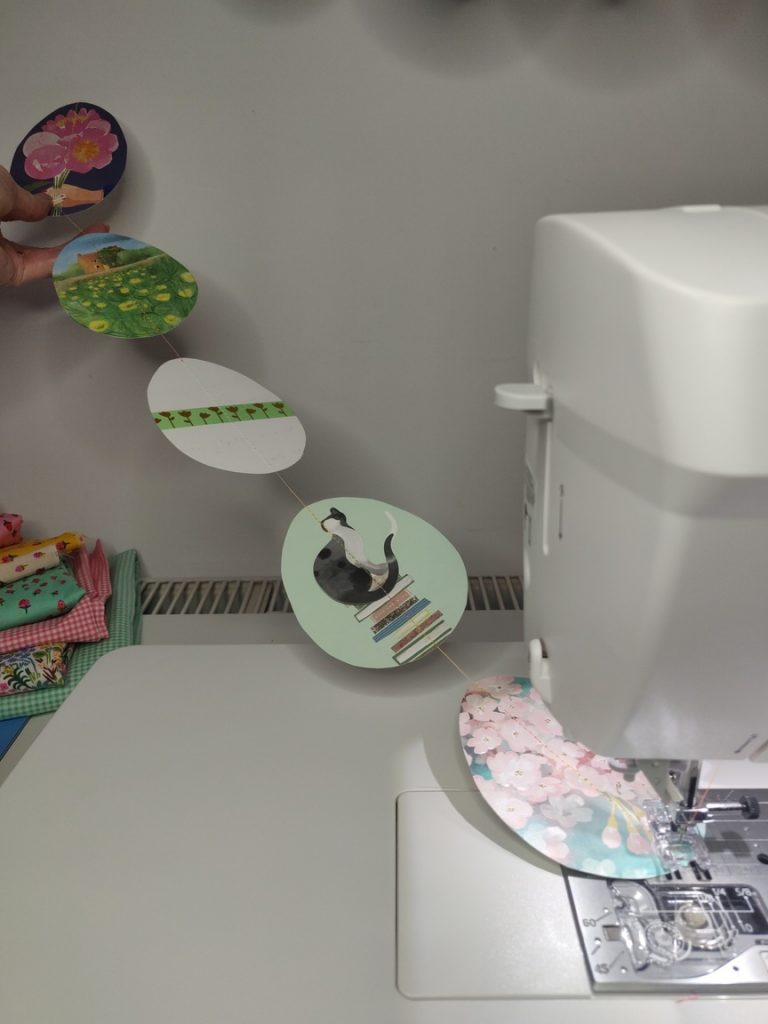 It's a repetitive process. Take it nice and slow and easy. You can stitch together as many eggs as you like. Think about where you're going to hang your mobile and how long you want to make it. When you're ready to stop, anchor your stitch by pushing the dot button that locks the stitch. Finally push the thread cutter button. You have finished your first line of eggs! If you like, you can make more. Or another child can have a go.
Assembling the mobile
Once you've stitched together a few lines of eggs, you can tie, tape or attach them them to a stick or rod. I made a loop in the top and slid it onto a piece of wood. Then I found just the right place to hang it.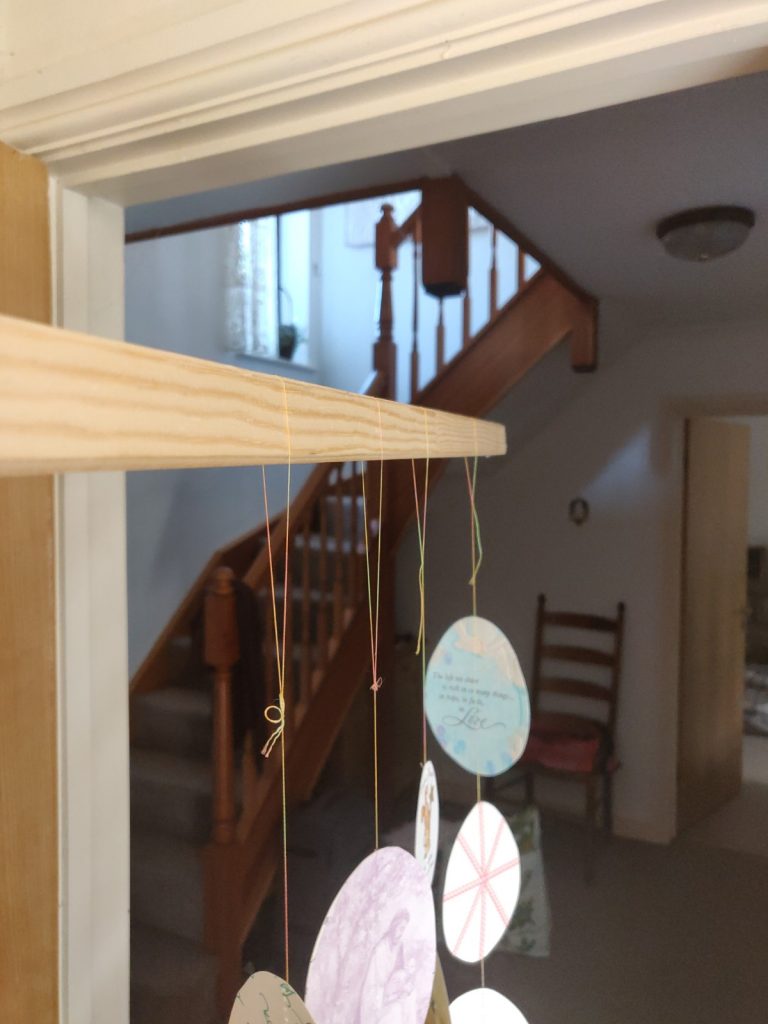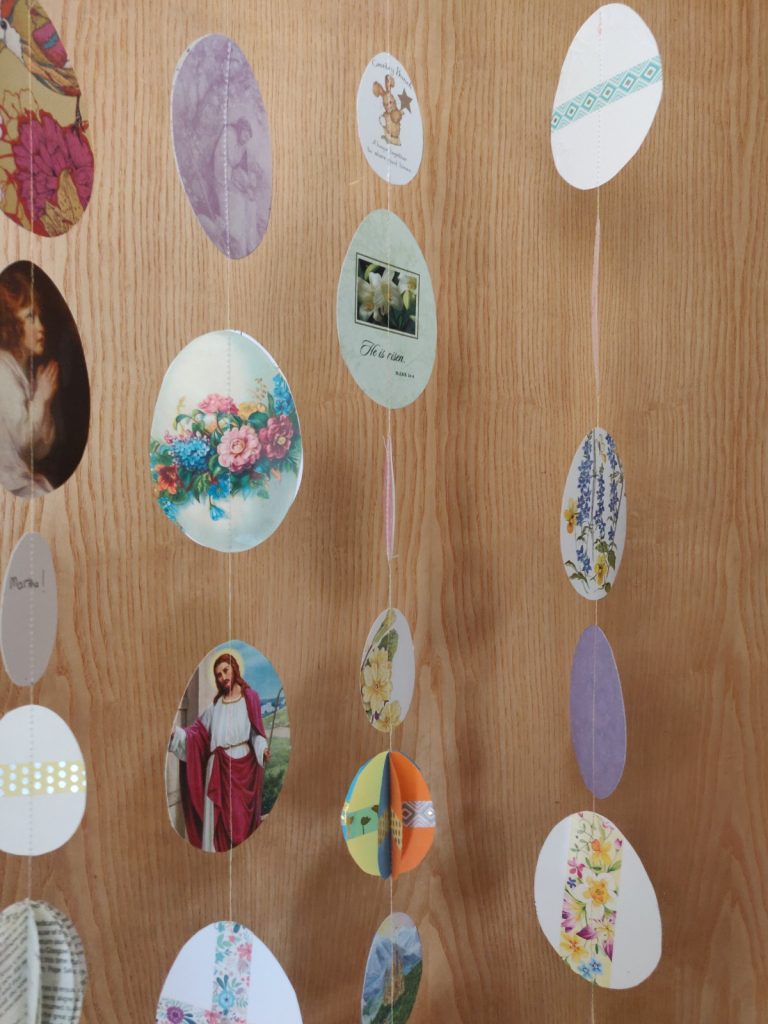 If you want someting eggstra special sew multiple egg shapes together like this printed text egg and fan them out to get a 3D look.
There you have it, a fun parent child activity that lets your child get a chance for some supervised play with your sewing machine. I hope that the homemade mobile twirling in the window will make you smile each time you walk past.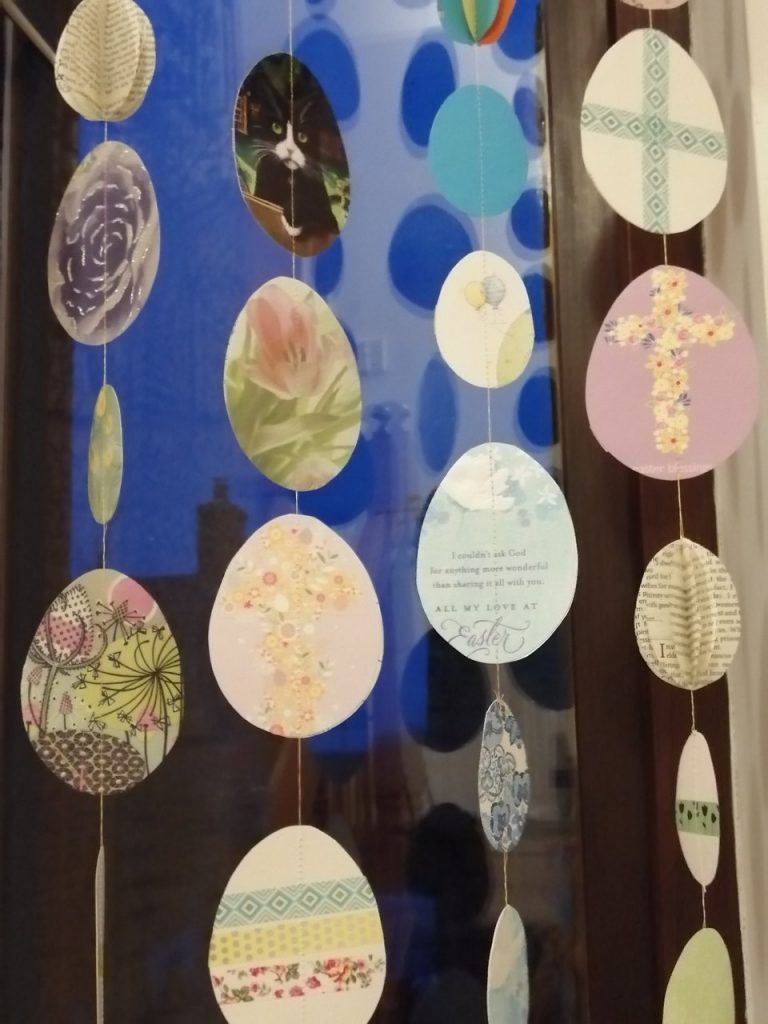 Before I married and moved to the UK, I was a primary school teacher. Later when our children were small we had a few happy and chaotic years when we taught our children at home. Now everybody is doing it! Parents are natural teachers. Sometimes it's only when you have to do it, that you find out you can.