British Mother's Day is coming soon! Make Retro Dress Garland fit for a Queen. I originally made these garlands to celebrate the Queen's Jubilee, but they make a lovely Mother's Day decoration too. And shouldn't our mum's be Queen for a Day?!
Here are the Mother's Day garlands. It's the same idea just tailored for families. I googled retro paper dolls and chose outfits that fit the children's ages in particular families. It's such a fun way to personalise the garland.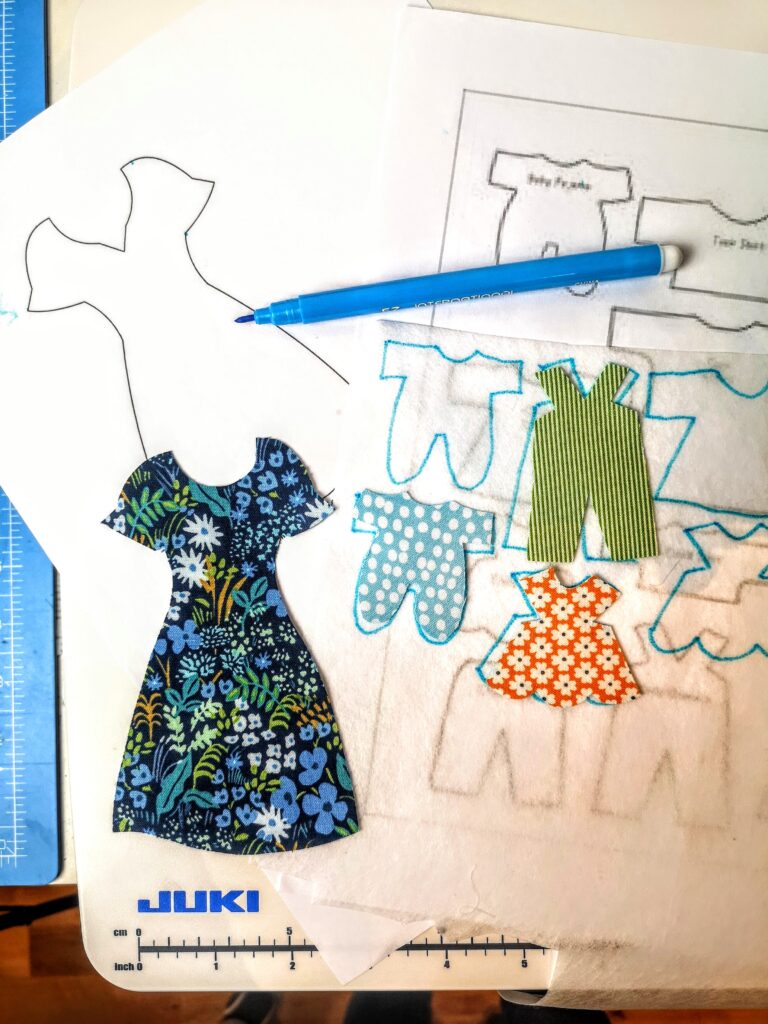 I printed out my favourite outfits. Then traced them onto a mid weight Vilene iron-on interfacing. Then ironed this onto the fabrics. And finally cut them out. The Vilene interfacing gives the fabric just enough weight to hang right.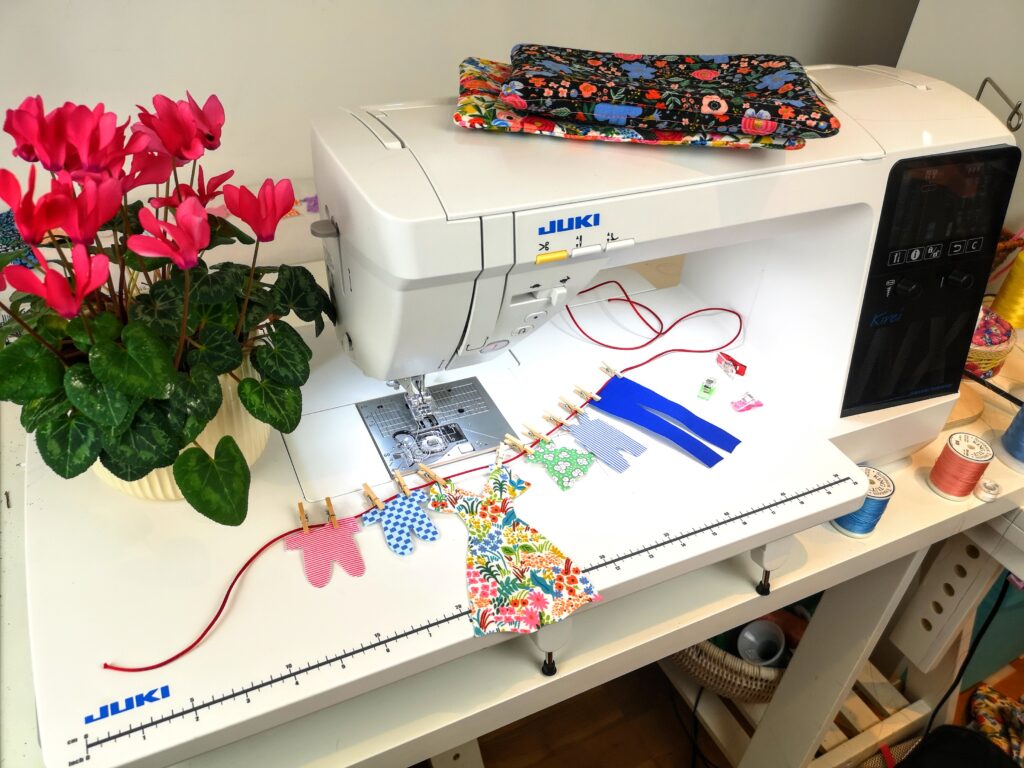 The little clothes pins are available from Amazon. I used really tiny 2.5cm clothespins. I simply used whatever cord, string, or twine that I had to hand.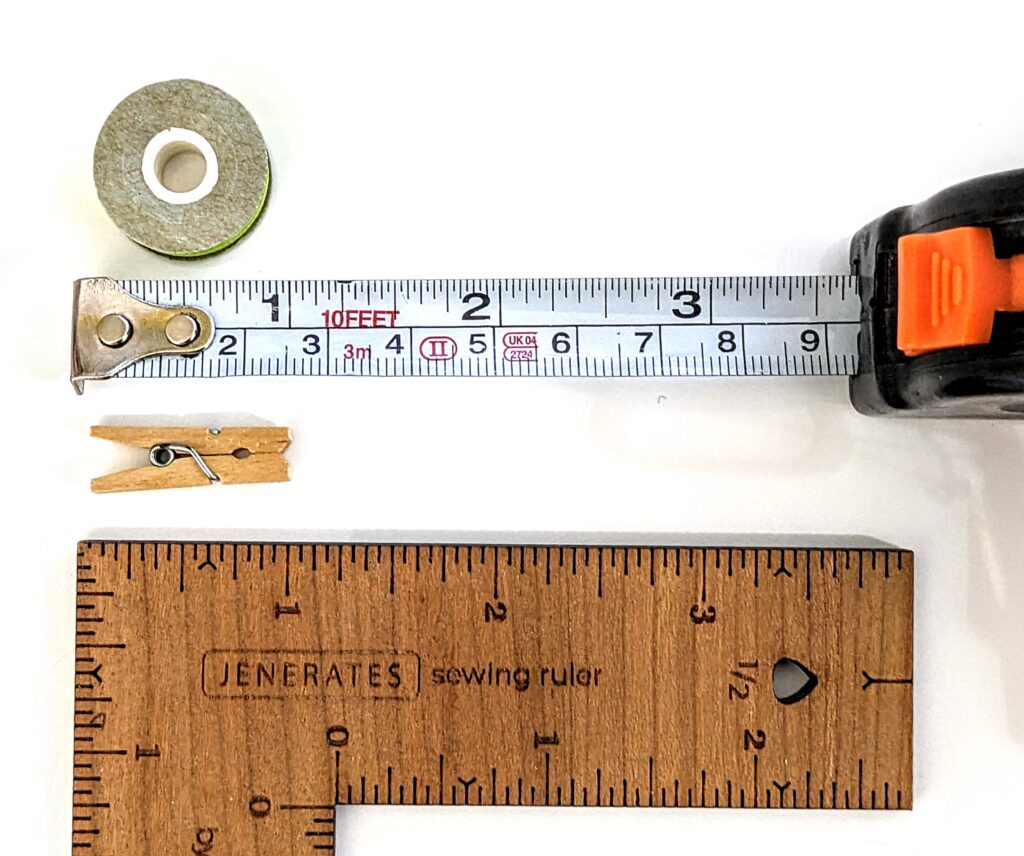 I've put together several versions. Some with pretty vintage style dresses. And finally a family clothesline that could be made to fit your very own family. It's an easy and versatile project. It's not every day that you get to make dresses fit for a queen from your fabric stash. There are lots of details below. Enjoy.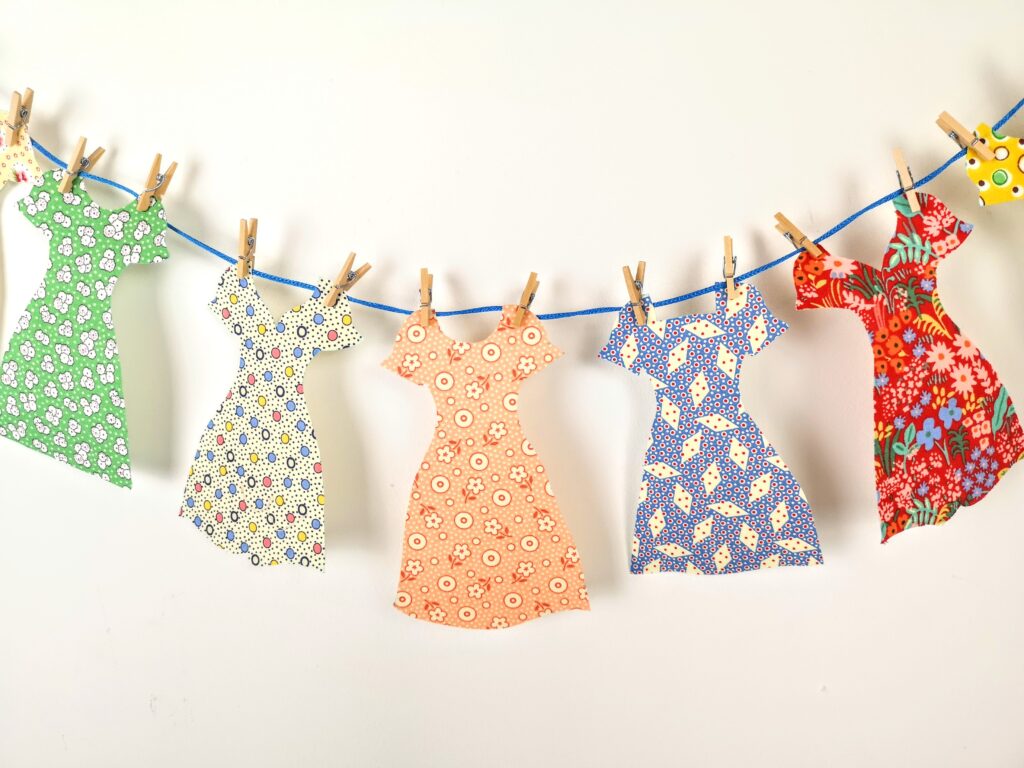 What you'll need:
favourite fabric scraps – I used retro fabrics that I've been collecting for a Dresden Plate quilt as I was trying to recreate a style from the early years of the Queen's reign. Then I added some Rifle Paper Company fabrics because I couldn't resist.
medium weight fusible iron on Vlieseline (Vilene)
teeny tiny clothes pins – I got mine from Amazon.
some string or cord to use as a clothesline
a template for the dresses
The Template
The first challenge was finding a suitable dress template. I was looking for a vintage style, but nothing too fussy.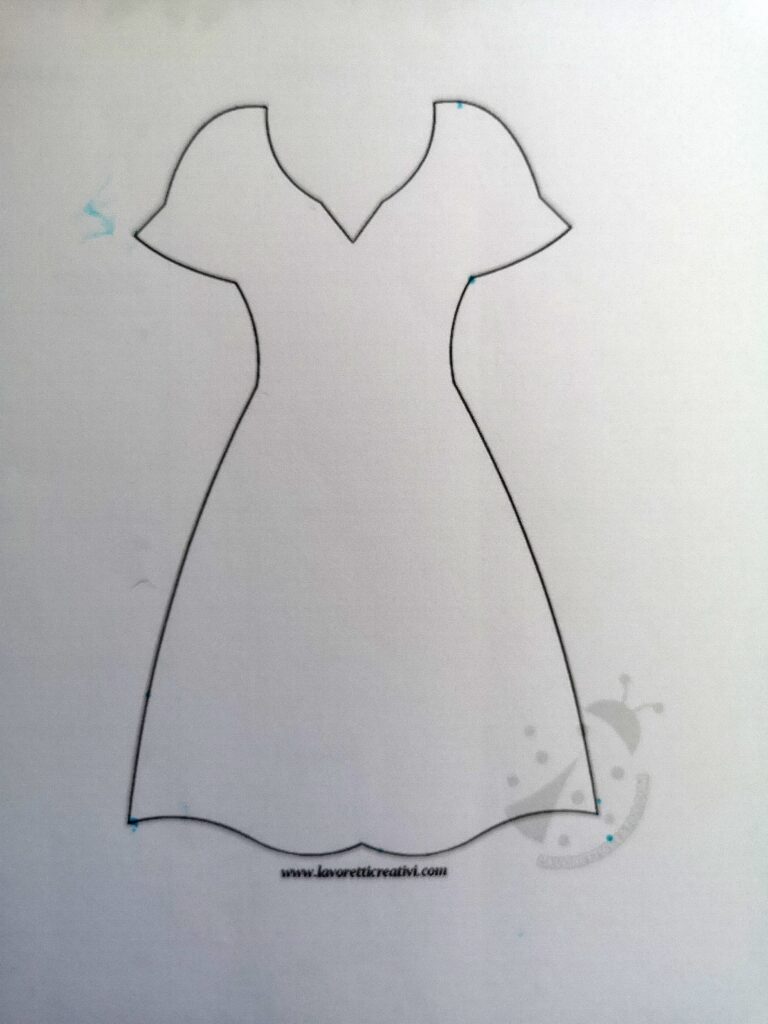 I found this simple dress outline on Pinterest. It was perfect. To get some variations I simply played around with the neckline, hemline, and the length. This allowed me to use the same pattern and get a nice variety of dresses.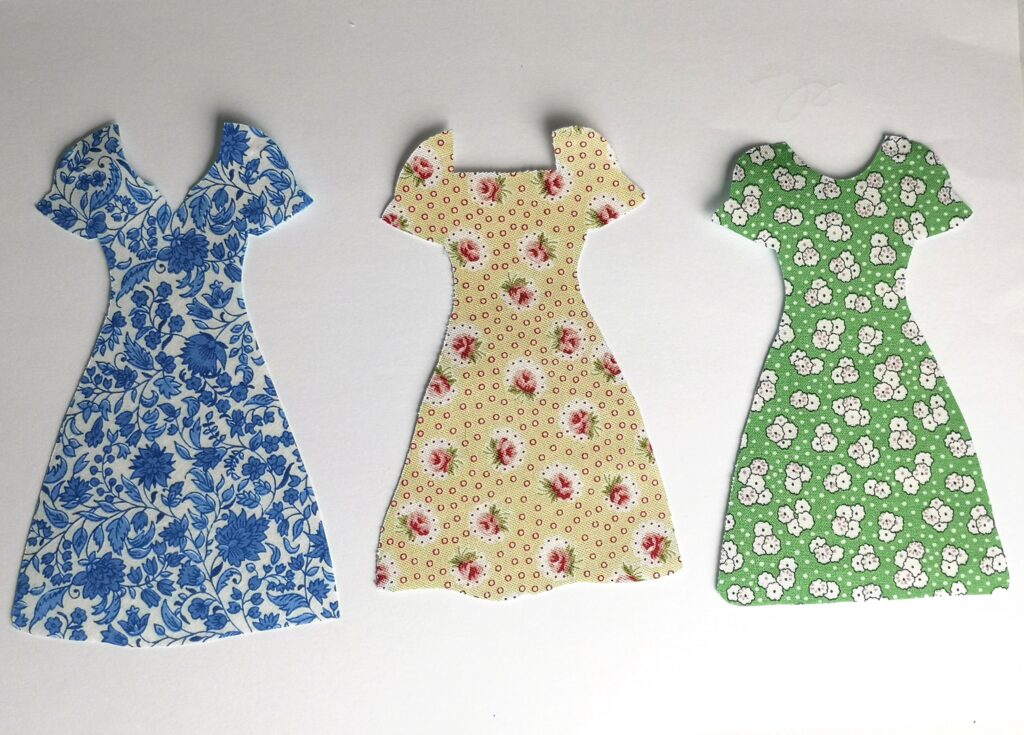 The Interfacing
Start with the interfacing. I'll talk you through tracing cutting and ironing. I'm using a medium weight fusible Vlieseline. I purchased mine from Amazon. Lay the Vlieseline directly over the template, shiny side down. The Vlieseline is see-through like tracing paper. Simply trace the template on the matt non-shiny side. Then cut out the shape just a bit OUTSIDE the traced line.
Next you're going to iron the fusible interfacing to your chosen fabrics. Place the shiny (fusible side) of your vilene template onto the wrong side of your fabric. Again the see-through interfacing makes it easy fussy cut if you like. Cover with a cloth and press.
Now cut along the traced line. Cutting through both the fabric and the Vlieseline will give you a nice crisp edge. All done!
Now make some more in other fun fabrics. Soon you'll have a whole bunch.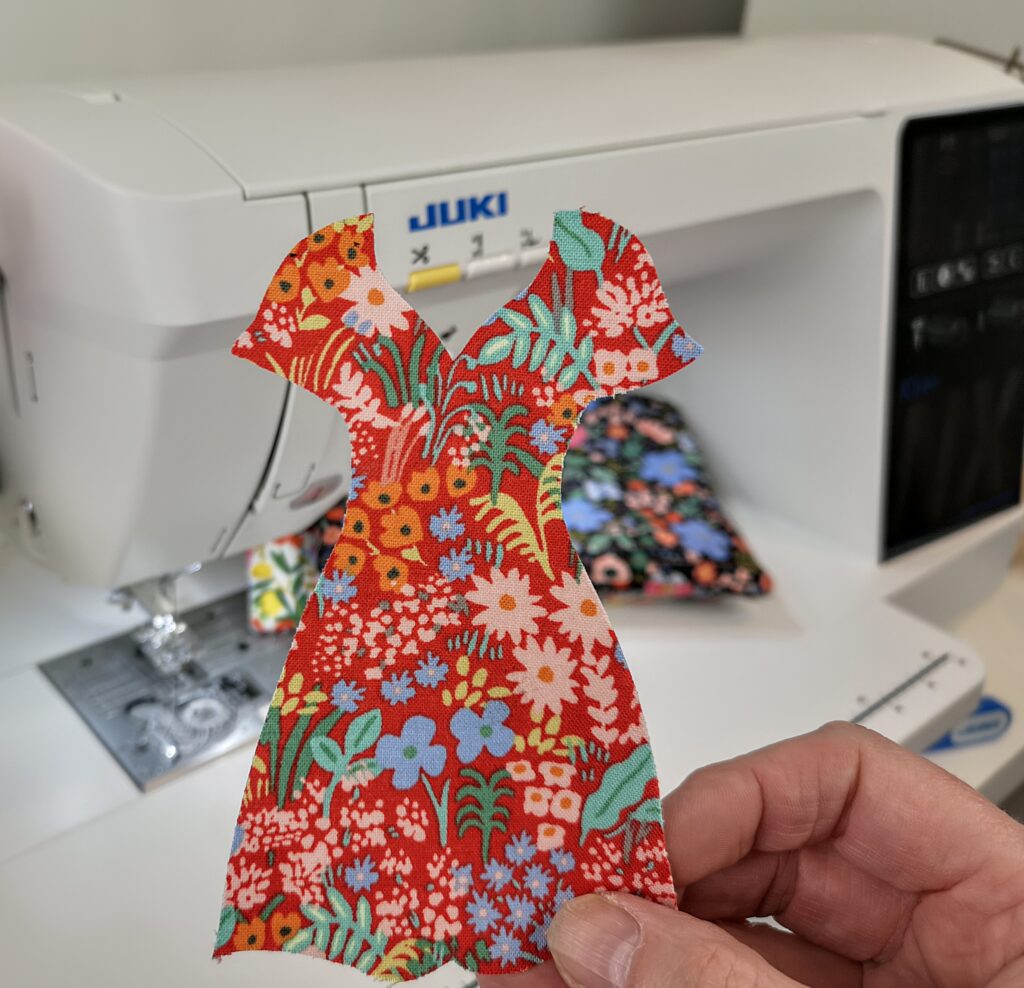 When you're finished making dresses, it's time to get the teeny tiny clothespins.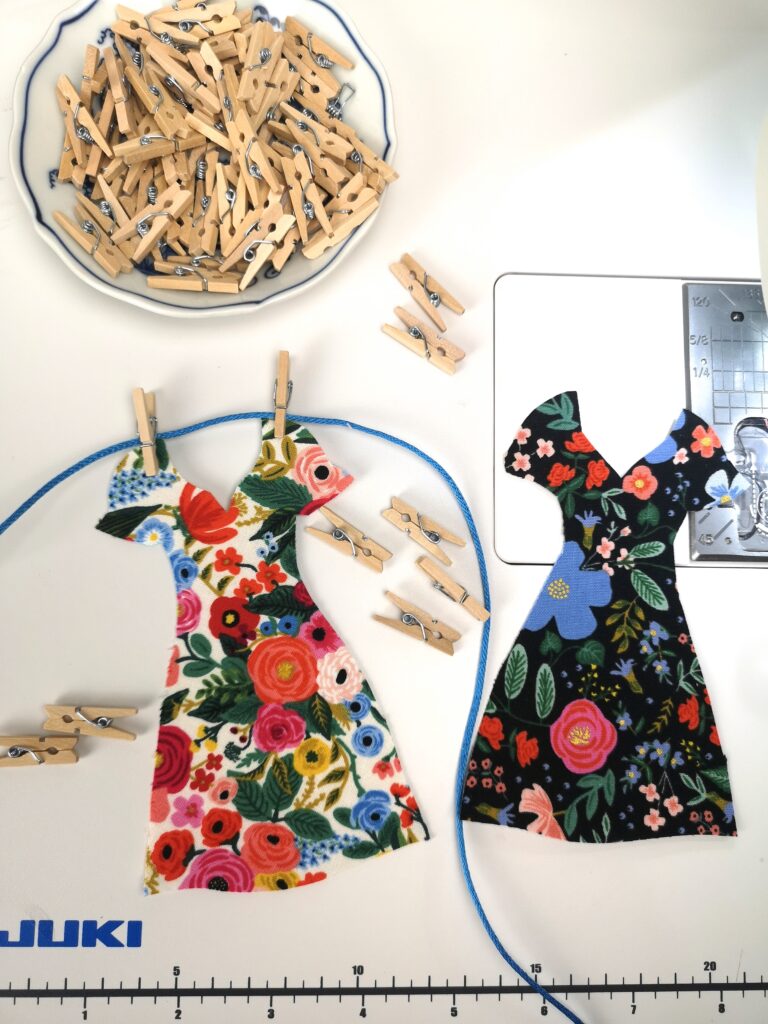 Use the tiny clothespins to attach the dresses to the cord for a clothesline. Now you can string up your clothesline someplace special.
Other variations
Doesn't that look sweet! I've been having fun playing with various colourways. This red, white and blue is a classic.
And finally some people are going for a purple theme to celebrate the Queen's Platinum Jubilee.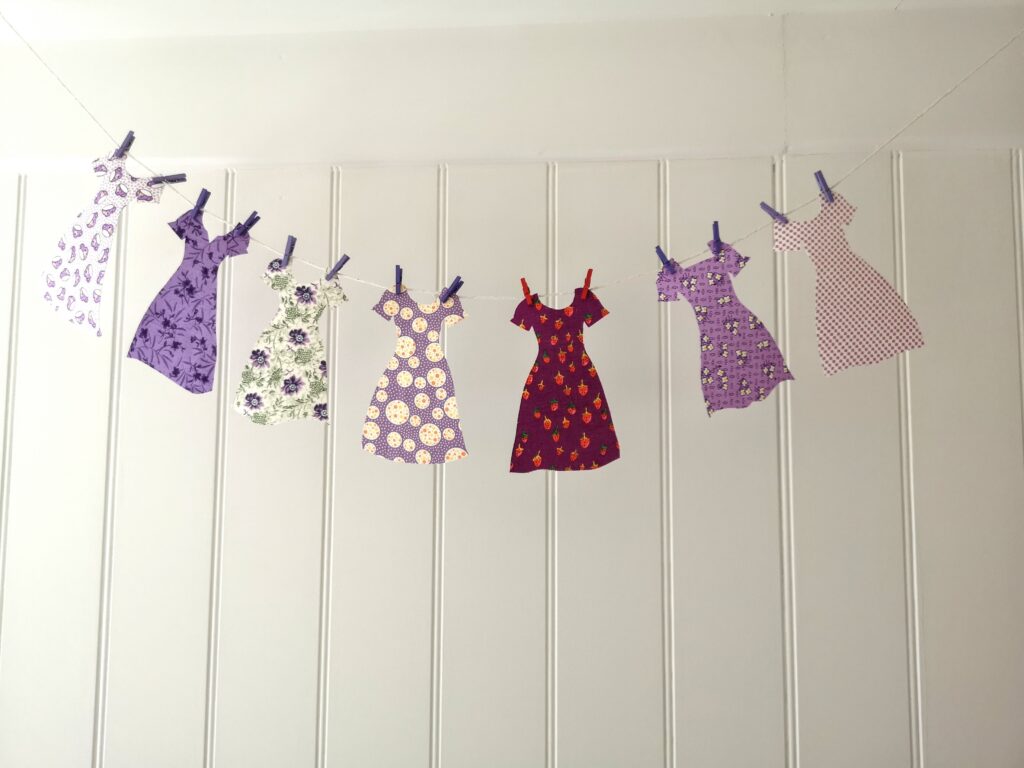 Whenever and where ever you celebrate. Happy Mother's Day! We hope you'll enjoy making these Retro Dress Garlands in all your favourite fabrics!
If you're a fan of garlands and bunting, we've got more! Follow these links to see our Baby Bunting tutorial .
Happy Mother's Day Everyone! Celebrating mums everywhere with some mums who are friends of Juki Club.