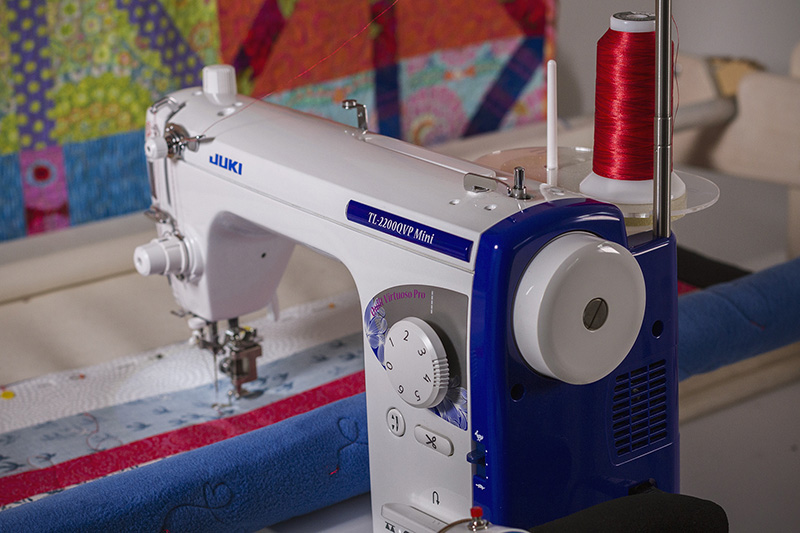 The JUKI TL 2200QVP Mini is the upgrade to the classic TL98P lockstitch sewing machine. The P stands for perfection and Perfection is hard to beat! The NEW JUKI TL 2200QVP Mini keeps all the features that we love in the TL 98P Classic and adds a few more.
There's a new additional sub tensioning unit to calm the thread as it goes through the machine. A new adjustable slide so you can keep a steady speed whether you're going 55 or 1500 stitches-per-minute. There's new LED lighting that brightly illuminates the sewing area too.
These are my 4 favourite features:
Space– long AND TALL, the tallest machine on the market – creating the height needed for machine quilting on or off a frame The height also creates great visibility allowing you to see what you're sewing
Speed – go from 55 to1500 stitches-per-minute, effortlessly. The power of this machine makes it perfect for any serious project. It is happy to work all day quilting no matter how fast there is strength to spare
Simplicity – doing one thing perfectly; the straight stitch. Being so simple, she's easy to tension. Mechanical not daunting like some do-everything machine. Easy to learn the basic maintenance
Strength – constructed of aluminium die cast limiting vibration and ensuring industrial quality sewing – a proper workhorse built to last a lifetime Classic won't be obsolete in a year's time – it already does everything I need for machine quilting
The TL-2200QVP Mini is a no-nonsense 1500 stitches-per-minute, lock-stitch sewing machine, constructed of aluminium die-casting to ensure industrial-quality sewing with the tallest arm on the market. She's only mini compared to her big sister the 2200 QVP long arm, but she shares the same proportions making her the idea quilting machine. The space, speed, simplicity and strength make the TLQVP Mini the perfect 'workhorse' for machine quilting on and off a frame. The TLQVP Mini is fantastic for fashion, and home furnishing too. The JUKI TL QVP Mini: a superb machine for any serious stitcher.