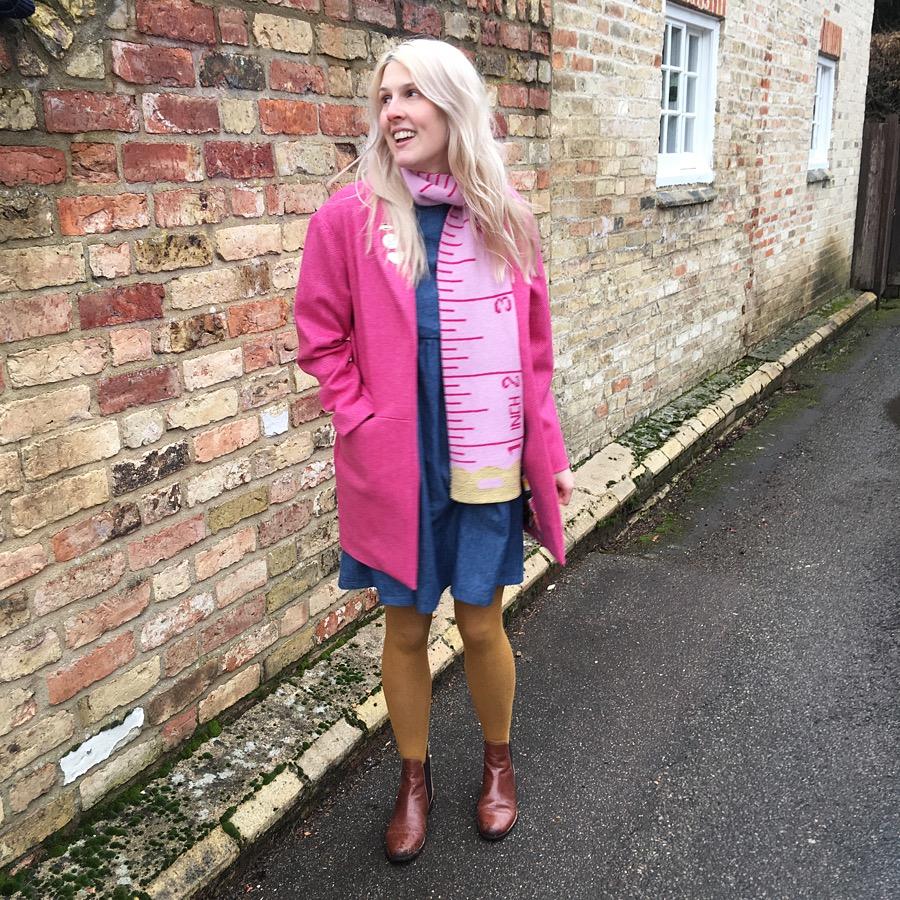 Hi there! I'm so excited to be a part of Juki Club and thought I'd start with a little introduction: My name's Joy and I live in Cambridgeshire with my boyfriend and cat. I design and sell sewing-themed accessories and stationery through my online business, Pink Coat Club. I also work part-time in my local fabric shop. I've always been an enthusiastic crafter and if I'm not sewing, I'm probably baking, knitting or decorating something with my Cricut machines.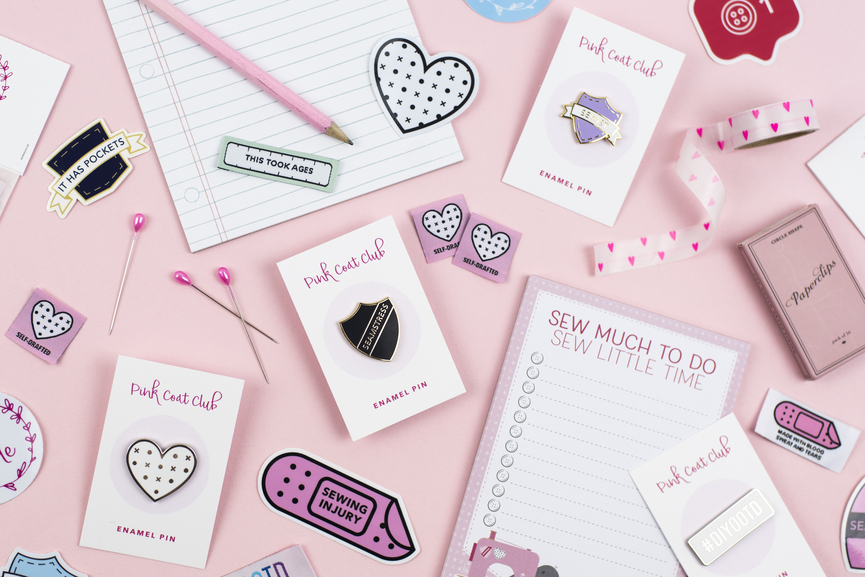 My mum bought me my first sewing machine for Christmas in 2010 as she was fed up of me posting her my clothes to fix. She's a very talented seamstress so I assumed that sewing would come naturally to me and I'd be making swishy 50s style dresses in no time. Unfortunately, I couldn't understand the vintage sewing pattern I'd bought so I gave up and my machine gathered dust for a few years. It was only in 2016, when I discovered indie dressmaking patterns and the online sewing community that my love affair with sewing truly began…
Learning to sew has changed my life in so many ways: I have a unique wardrobe that feels completely "me", it's introduced me to some of my best friends and has inspired me to start my own business. It's an absolute dream come true to work with Juki, and I can't wait to put my DX5 to the test and tackle some of those complex projects I've been avoiding. I decided to kick things off with a simple make to help me get to grips with the basic functionality of my new machine.
This project was a "buddy sew" with my friends Mel and Patsy, both of whom I met through Instagram. We all had the Nina Lee Carnaby pattern already and thought it would be a fun way to keep our sewjo going in these strange times. We made it at the same time and kept in touch via WhatsApp so we could share our difficulties, top tips and triumphs! It was lots of fun and I highly recommend it as a way to connect with other sewists while we're unable to attend meet ups and sewing days.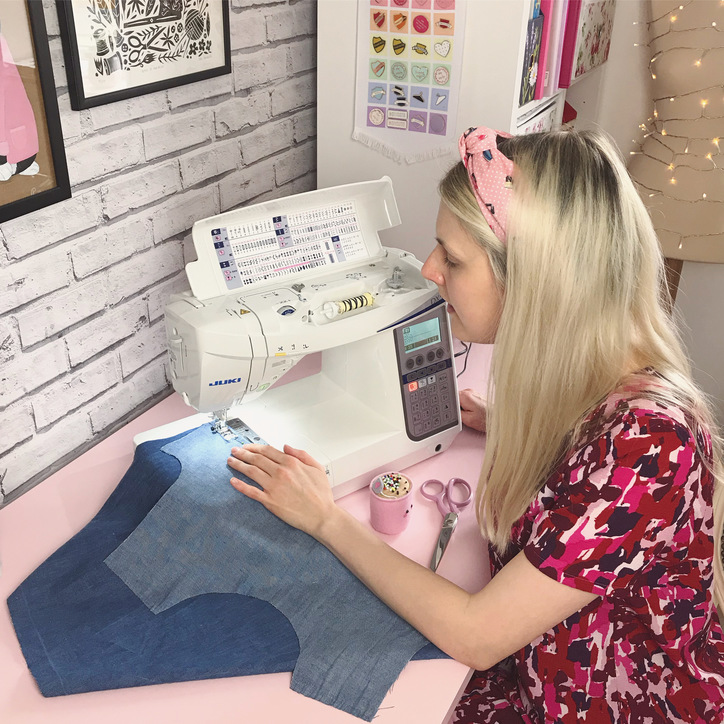 I made a couple of Carnaby dresses in January 2018 and loved the 60s shape, but the necklines gaped and they have both since been donated to a charity shop. Since attending Elisalex's Bodice Fitting Masterclass last summer, I've learned that I need to do a narrow shoulder adjustment on almost all top and dress patterns. From memory, I estimated I'd need a 1.5cm adjustment but I'd go for 2cm if I made this pattern again. There's no gaping but the shoulder seam still isn't sitting in quite the right place.
This was a real stash-busting project: The denim was inherited from my late mother in law's stash, and I originally made it into a Megan Nielsen Sudley dress. I loved the style, but the bodice didn't fit me at all. I couldn't bear to part with the fabric and chopped it off into a simple elasticated waist skirt, but the waistline was bulky and it was an awkward length.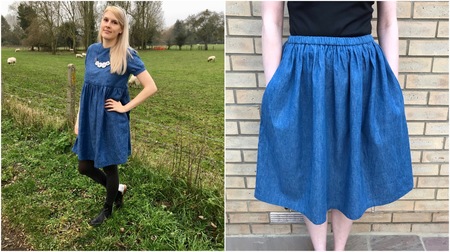 After carefully unpicking the waistband, I discovered to my delight that I had just enough fabric for the main bodice pieces of the Carnaby pattern. I raided my stash and found half a metre of denim, which was, amazingly, a perfect colour match. It's slightly heavier but I think it works well as the "skirt" section. I didn't want my neckline or pockets to be too bulky and used some Liberty tana lawn scraps for the pocket linings and facings.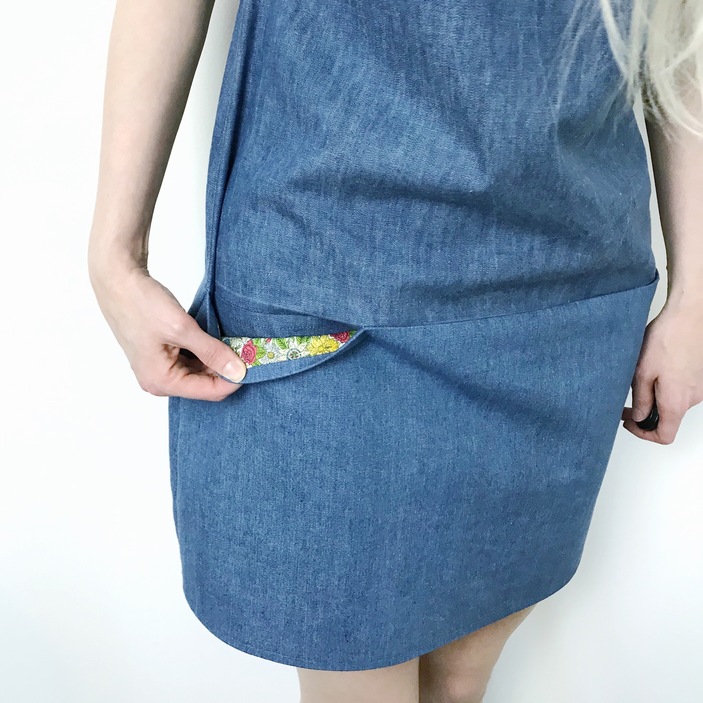 One of my favourite ways to get a really neat finish on a garment is Made By Rae's facing trick. It involves sewing interfacing on its own and the Juki DX5's straight stitch slide plate is an absolute lifesaver here. It stops the fabric from being pulled into the needle hole, which happens all too easily with lightweight interfacing. I've got some Liberty silk in my stash that I hadn't dared sew for fear of it being swallowed by my machine, so I'll definitely use the slide plate again with that. Make sure you consult your instruction manual thoroughly before changing the needle hole as it is not compatible with all stitches and must be changed back before your machine is turned off.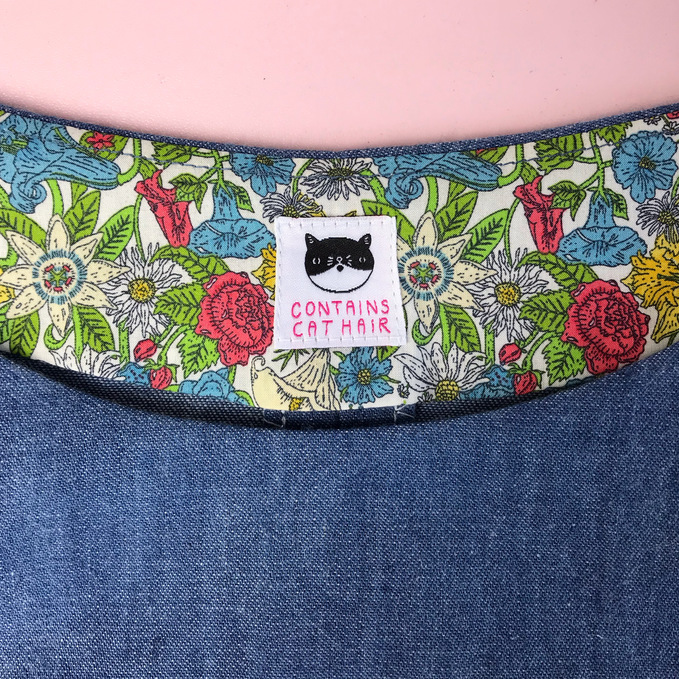 This dress came together really quickly, and was a great project to learn the ropes on my DX5. I used a straight stitch with a few different seam allowances, a decorative stitch on my sleeve hems and the overcasting stitch and foot. I'm currently a little too short on space for an overlocker, but the overcasting stitch provides an excellent substitute. There's so many beautiful decorative stitches – it took me a while to decide which one to use on my sleeves!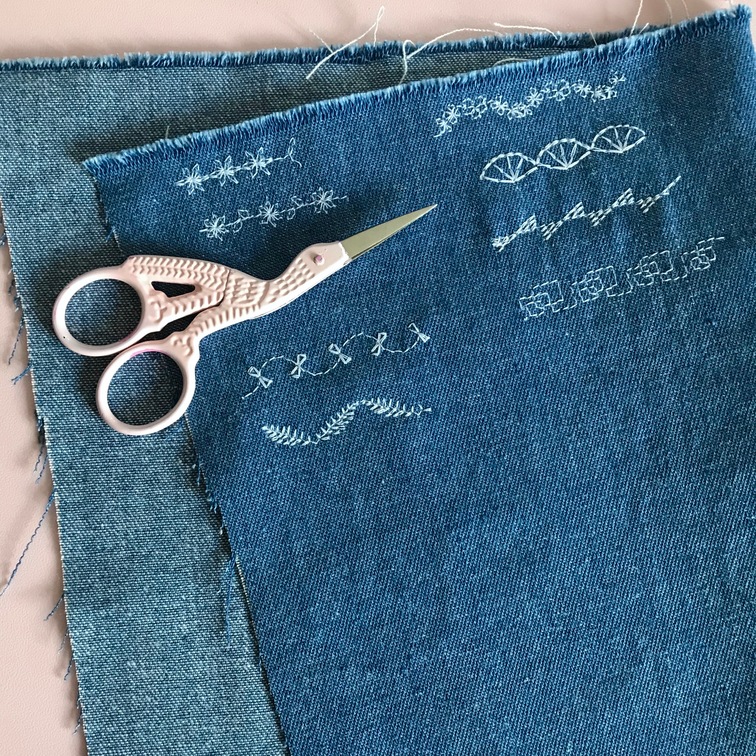 As well as adding a beautiful finishing touch to a plain garment, it's a handy trick if you don't have a matching thread for your project!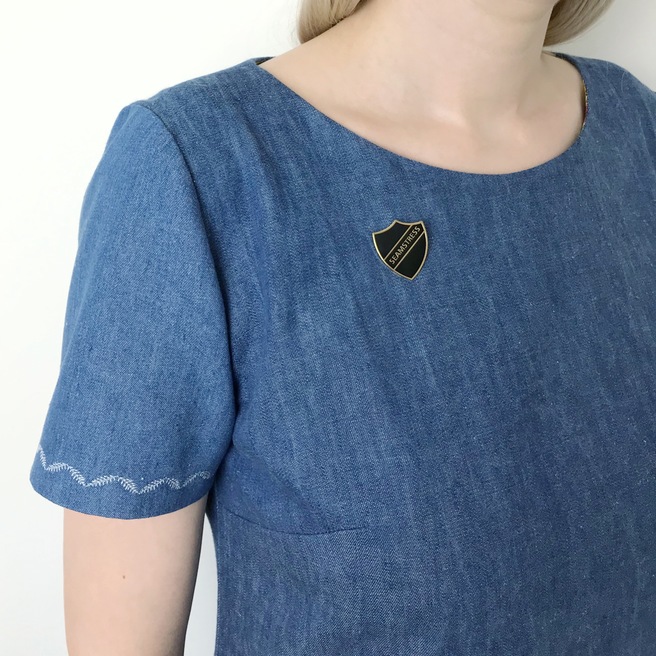 Sometimes the simplest projects are the best, aren't they? I know this is going to be a real wardrobe staple for me as I was in desperate need of some more "plains" to wear with all my patterned garments! The extra little details like the Liberty-lined pockets and decorative stitching on the sleeves have turned this simple dress into something really special.
Thanks so much for reading. I can't wait to share more of my adventures with my Juki DX5 with you! In the meantime, please feel free to check out my blog and follow me on Instagram.