Janet Poole shares how lockdown changed her life and sewing habits and how she learned to appreciate the small things and savour small moments.
Sew locked down but not out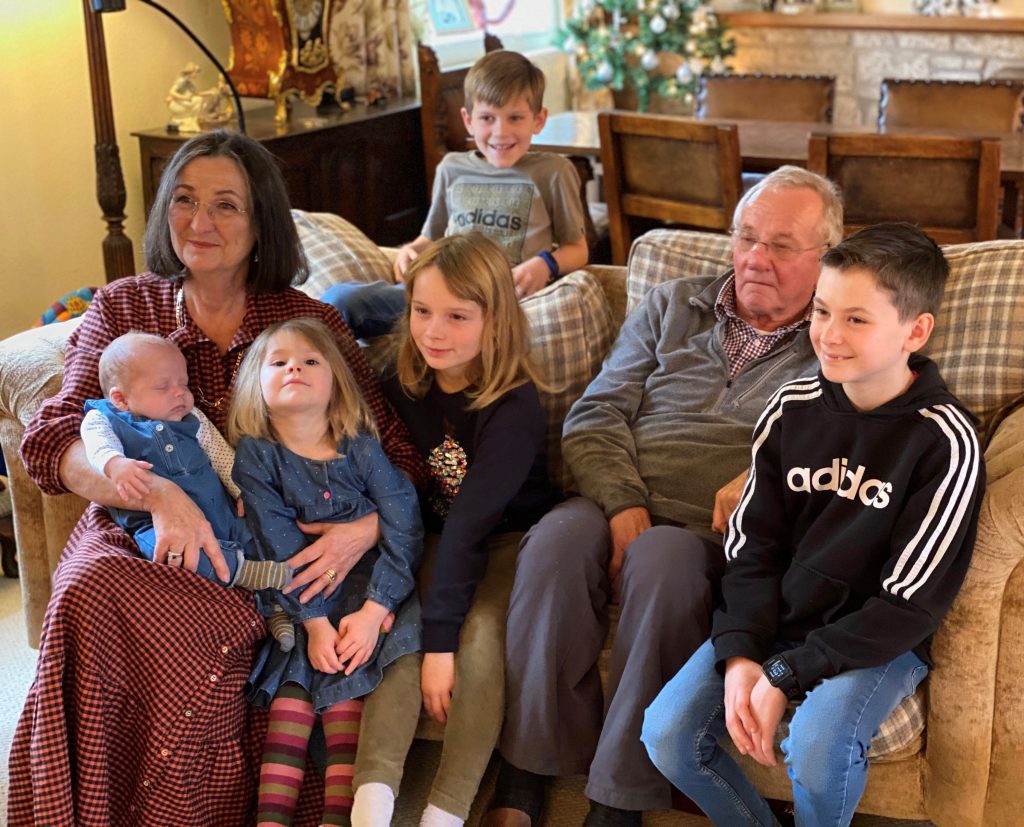 I am a grandmother to five great children, but only two of them live close to me. So much so that I would typically see them three or four times a week, they both went to nursery, and my daughter, their mother, worked from her home office to keep the show on the road.
Quarantine challenges
When the Covid 19 lockdown hit, all that changed. Our daughter and 2 children moved in with us, because work wasn't possible with two very small children running around. During the pandemic, work for a successful Health and Safety Consultant became very much busier as construction sites (her speciality) struggled with new regulations and restrictions. When the nursery closed down, I became childminder and Anna set up her office in our Sun Room.
Our own three children had gone their individual ways over 20 years ago, I had plenty of time to follow my own pursuits and businesses and eventually retired to spend many happy hours painting outdoors and more recently in my small sewing room.  When I was chosen to appear on Season 5 of The Great British Sewing Bee I moved out of my box room, sold the bed in the guest room and moved my sewing machine and piles of preparatory Sewing Bee projects into my new and much larger Sewing Room.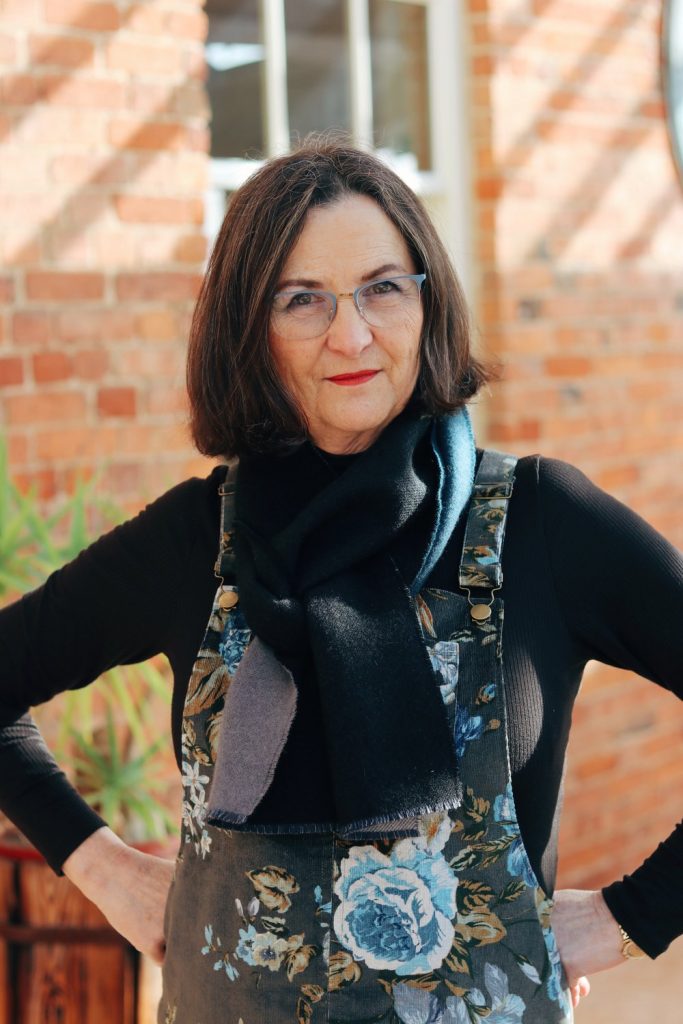 Our new Covid regime meant the only time I could get into my sewing room was when the older child went to stay with her father 300 miles away, and the baby had a nap. I had to sew in snatched moments.
Many of my friends had the opposite problem, in that they had nothing much to do, so they took to long walks, reading books and doing the garden. I, on the other hand, had my hands full of energetic and enquiring minds and fingers who required all my attention until bed time. The snatched moments were few and far between.
New ways to work
I had to develop a new modus operandi. Instead of languishing in my bed with a cup of tea and Instagram, I would get up and go next door into my sewing room, where I could get maybe 30 minutes of peace before chaos reigned. I am fortunate to be able to close the door and leave my machines set up and ready to go.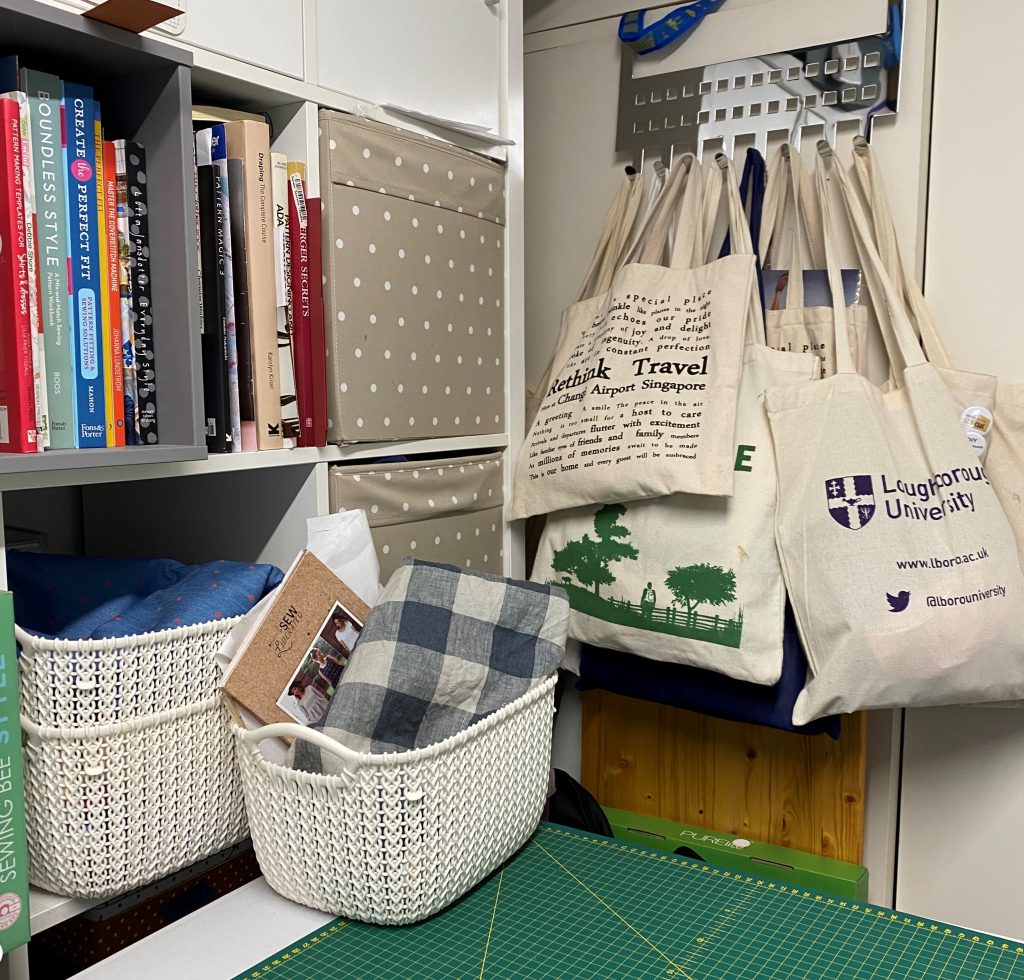 Divide and conquer
My projects were sorted into plastic storage baskets so all the bits were ready to hand, and 'wannadoo' projects gathered into fabric bags to remind me that there will be life (and time) after lockdown.
I organised my printed out pattern collection into alphabetical order so they are easier to sort through. Sewing threads were sorted in colour order into plastic bins made for the job
I made lists and bought small notions from Amazon as and when I needed them. (The Amazon Prime account which I had previously considered an expensive luxury, now it has turned into a frequently used useful extra.)
My Iron is now set on an Alexa switch (very useful when I go downstairs and remember I hadn't turned it off)
Crazy quilt for crazy times
Early on, when we had no idea how long the lock down would last, I decided to make a Crazy Patchwork Quilt for these crazy times. I ordered a Crazy Patchwork block for my much loved Accuquilt and vowed to make 3 x 6" blocks each morning before the day started. I figured 3 weeks would see enough squares done. The 4'6' a good usable finished size. The children love to wrap up in them and it is big enough to manage the quilting on my sewing machine.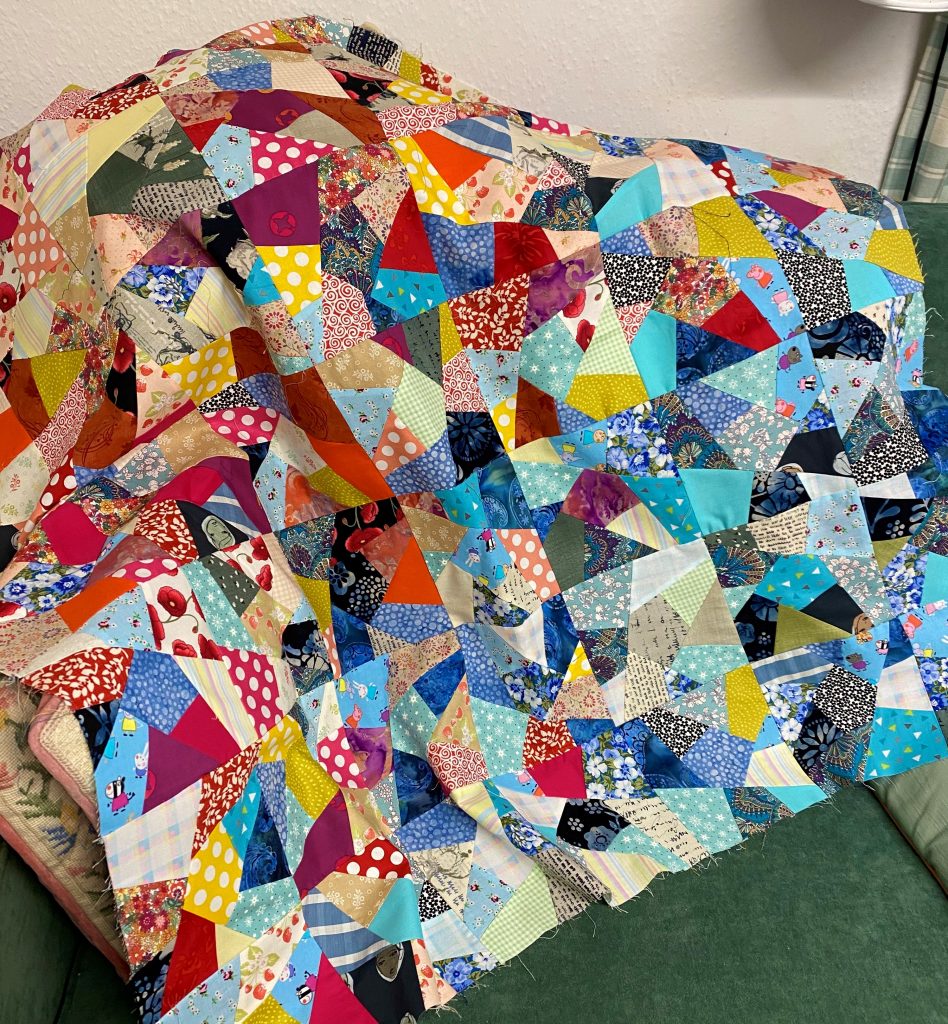 I achieved my goal and made 49 squares which I have pieced onto 3'6" square and by the time I have put a couple of borders and binding on it will make my desired size. As usual what started as a relatively straightforward task has transmuted into complex finishing plans and fancy borders. Needless to say I haven't yet made the quilt sandwich or done the quilting – those are both jobs that require longer spells of time and mind space, and the flimsy topper has taken up residence in one of my 'gonnado' bags.
Time saving features on the Juki DX7
It transpires that my Juki DX7 sewing machine has a number of features that are hugely convenient when you haven't much time or concentration power.
This is a list of some of the functions that maximise my precious sewing time:
The speed with which the machine fires up from Off. My previous machine, a computerised Bernina had a significant boot up time. Seconds matter in limited time.
I now really appreciate the ¼" stitch setting, at first I thought "why – when I can easily swap to the ¼" foot" but a press of a button allows me to choose either a 7mm or ¼" distance from the edge of the regular foot. I use it a lot in dressmaking, although I prefer the ¼" foot for piecing accuracy.
The screwdriver to change the needle lives in a small storage compartment right in the front of the machine (along with my most frequently used feet) so I don't have to hunt for it.
The most used stitches are easily to hand on a selection panel, whilst the others sit visibly on a panel above the machine.
If I have fiddled with stitch settings (which I always make a note of in my notebook as I sew) it is quick to reset by pressing the same stitch setting button again. Favourite setting modifications can be easily stored in the Memory function.
I prefer the top loading bobbin to a front loader so I can see when the bobbin thread is running out.
The heel kick on my foot pedal can be set to perform a variety of functions, I prefer to have it set to needle up.
The default end position for the needle is down, which is great for pivoting and general sewing
The reverse stitch function is self powered, it goes backwards slowly without pressing the foot pedal, so doesn't require concentration to finish off seams.
The hover feature is great, it is pretty instant and almost silent (unlike my Bernina) and very useful if sewing something with lots of corners, but I turn it off for general sewing as I found I got hiccups in my seam lines as the weight of the fabric can pull against the needle when you stop to adjust.
I like that you can set the height of the foot above the fabric by a press of a button so have had little need to use the walking foot
All of these features are no doubt available on many other brands of machine, but I have come to appreciate them as time savers. If you haven't got to know the minutiae of what your machine can do, it is worth spending a bit of time exploring to save precious moments when you need them.
Lockdown makes and moving on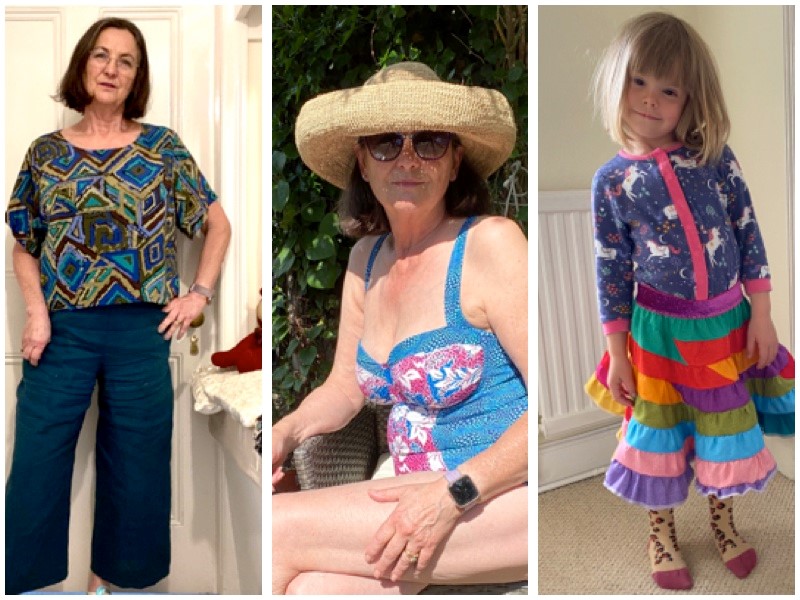 I have managed to complete a few projects, nothing close to my usual prolific output, and mostly either relatively simple things, or more complex garments that could be broken down into manageable chunks.
I now appreciate more than ever that sewing is my escape from the clamour of daily life. I'm grateful that I can retreat to the quiet of my room for 15 minutes and still do something useful, and that tiny differences make significant contributions to saving time. All these things will carry forward to our new normal life as it returns.
Janet Poole is one of our great British Sewing Bee Series 5 contestants. She lives in North Yorkshire with her husband. Janet's been sewing since she was 16, but took a break of 20 years, while her three children were growing up. It was, ironically, the Great British Sewing Bee Series that inspired Janet to start sewing again. Janet is an advocate for SLOW Fashion. Now she mostly sews things for herself and her grandchildren. You can follow her Instagram @jannisews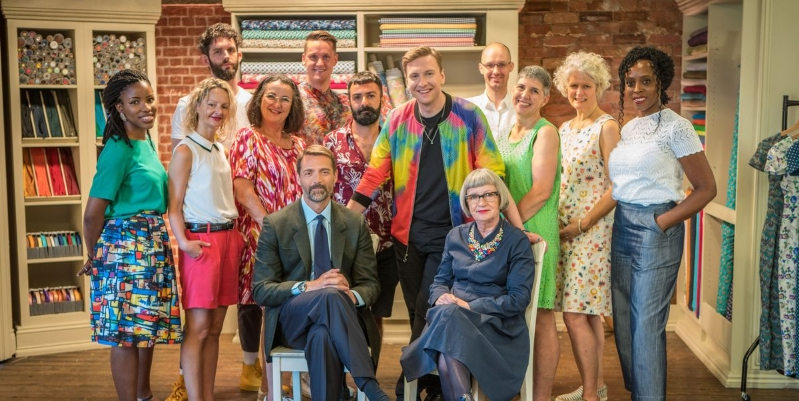 Did you know that there's a book about the Series 5 Sewing Bee? This series has proved to be one of the most popular series of the Bee and the contestants continue to inspire us. The Great British Sewing Bee Series 5 book celebrating sustainable sewing is currently available from Amazon and other sellers.