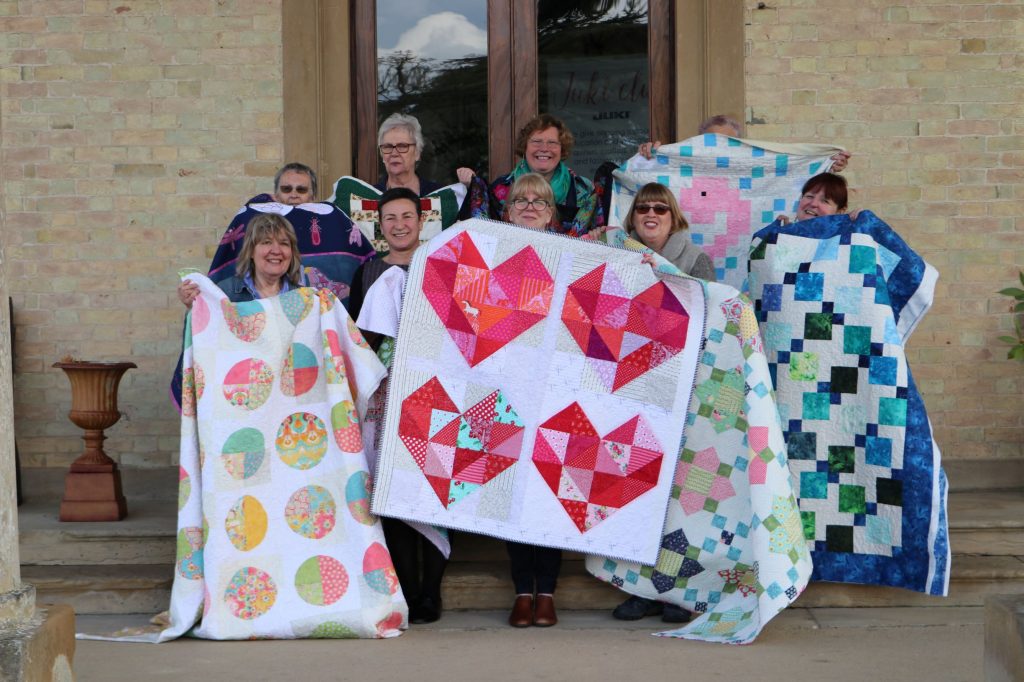 At Juki Club, we're all about building creative community. Social media allows us to connect with people all over the world. It's fabulous and I love it, but there's something wonderful about face to face. That's why our Juki Club LIVE Events are so important.
Part of our role within JUKI Club is to offer learning days to different shops round the UK. We call them Shop Parties. These days allow us to display JUKI machines and invite people to come and use them to make fun free seasonal projects. It's a great opportunity for first time buyers or for people unfamiliar with the Juki brand to try out our machines in a fun and relaxed way.
Shop Parties
Fabric Corner in Lincoln has a thriving sewing community. We've been joining the fun with our Juki Club Shop Parties. We work together to arrange the day.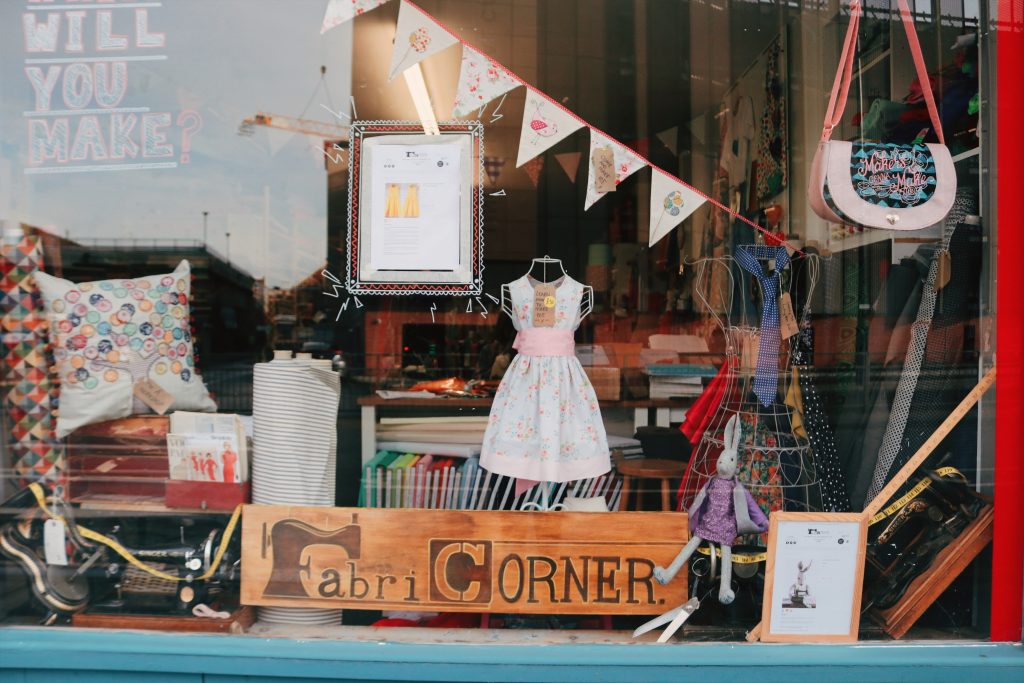 Juki Club provides sewing, quilting and overlocker machines, and we bring a variety of make & take projects. People enjoy playing with the different machines. It's interesting to see how the machines sew and to try the different features. It's a great way to meet new people and share our love of sewing.

At this last party, I actually stood back a bit and took photos to share the experience. I can get lost in the business of the day, so it was refreshing to step back and watch the the personal interactions. Taking the photos allowed me to capture lots of the special moments throughout the day.
…is such a happy place. The bell was busy announcing people coming through the door to buy fabric, have a chat and head for the workshop. Everyone had smiling faces and as they walked to the back room where the sewing machines are set up. People were eager to make scarves on the overlocker, doodle on the quilting frame and enjoy the fun features on the top-of-the-line sewing machines.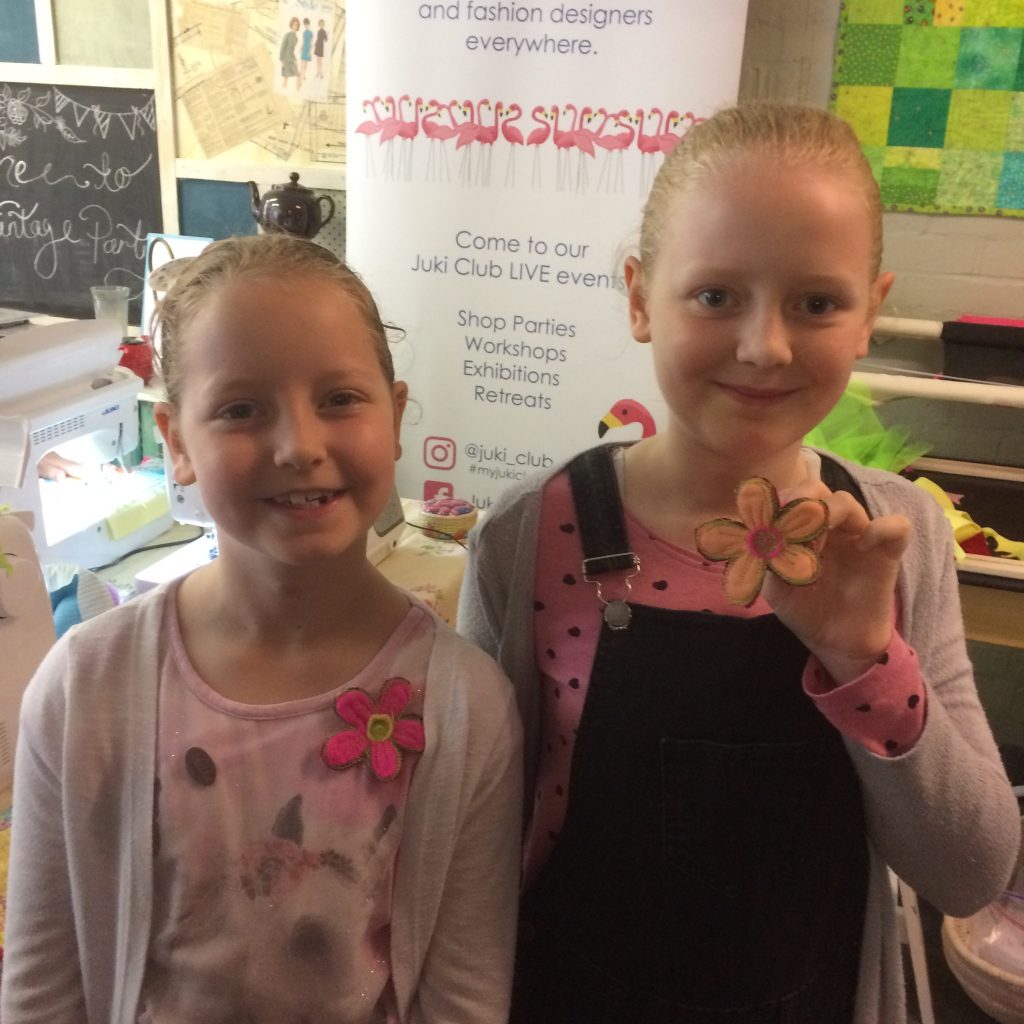 Having the space to have demonstrations running alongside project work is really important. It is nice to have people ready to instruct but also have space for people to take their own time to try out the machines for themselves.
In Lincoln Couling Sewing Machines now carry a range of our Juki machines! The Shop Parties give you a chance to try out the machines before buying.
Our next Shop Party is coming up this weekend. We're celebrating May Flowers!
Saturday 4 May between 11:00 and 4:00 at Fabric Corner in Lincoln.
May the 4th be with you!
Retreats
Juki Club Retreats are a bit like an extended party! We offer a few days in a truly gorgeous setting, to escape from the daily grind and devote ourselves entirely to quilting. We come with our own projects to accomplish and new techniques to learn. But the friendships that grow from time spent together are my favourite part. It is so inspiring, sitting together around a table and hearing everyone talk shop about our quilts. We all learn the hows and whys, fabric and threads, what went wrong and how we changed it. Every quilt has a story and the stories stitch us together.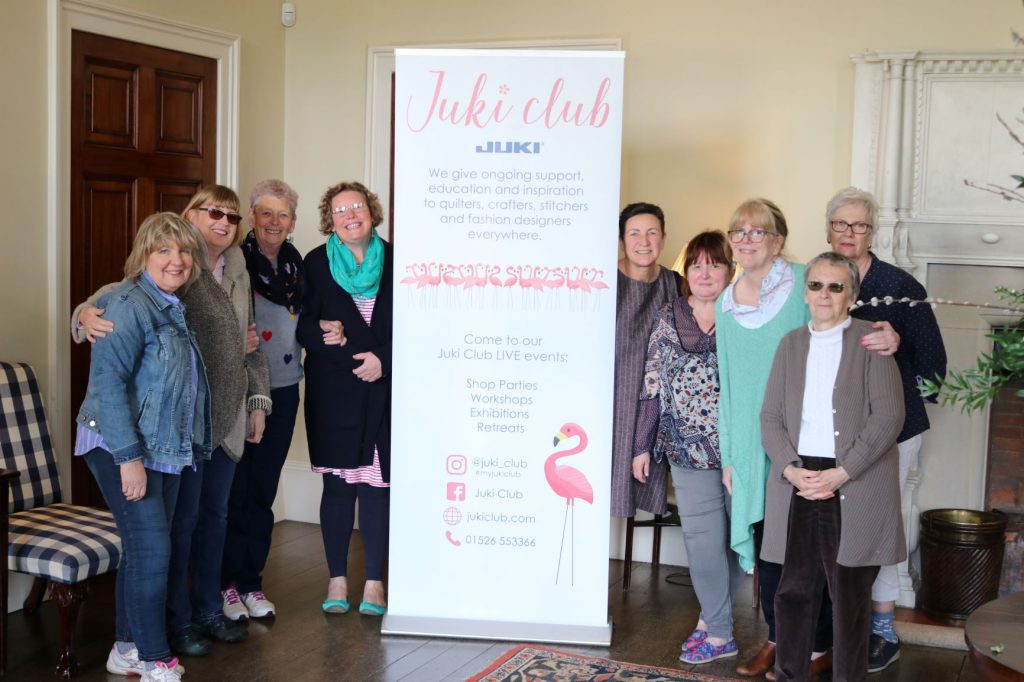 Participating in a Retreat is a great way to learn new quilting techniques, make new friends and get inspired by other people using the same tools. Stubton Hall is my new FAVOURITE Retreat venue with elegant rooms and Jane Austen views. But as ever, it's the people that make it fabulous.
Our Next JUKI Club Retreat is Monday 18 November through Thursday 21 November 2019. Call or email Martha to book your spot or find out more.