I've been stitching cushion covers for my son Pete's Uni flat. After months of lockdown at home, it's been fun for him to get back to his friends in the city. As we moved him into the new digs, in Leeds city centre, I noticed a tiny room, a snug, that was mostly filled with a black sofa and a big screen TV. It looked like it needed some cushions. So I've been creating cushion covers.
Top floor Student flat
As I pulled up to the flat, I noticed a Fabric Shop right next door! Just HAD to visit. One of the first purchases was this easy-to-clean tablecloth. Then we went to pick up some house plants from the nearby market.
Pick three colours
I chose a tropical leaf theme to go with the tablecloth, played out in teal and acid green against a black background. Pete and his flatmates are all musicians. I happened to have a leftover slice of guitar fabric in just the right colours. So I threw that in for good measure.
Cushion construction
It's been a while since I've made cushions, so I decided to make one complete cushion first in order to figure out my method. I had 52 X 52 cm (20 inch) cushion pads from Dunelm and decided to make envelope cushion covers with piping. For the first cushion I used the guitar fabric. I pieced a square larger than the 52 cm square, backed it in fleece and straight line quilted it on the Juki NX7. The straight lines were intended to mimic guitar strings. I quilted tiny lines on the guitar fabric and life sized guitar string lines against the black, in neon, teal and silver metallic.
Finally, I cut the cushion top to be 52 cm square so that by the time I sewed it together it would be slightly smaller than the inside cushion. This makes the finished cushion nice and full.
Then I added piping directly to the cushion top. I used a one-step piping application tutorial by Peg Baker that's simple, saves time and looks great. She even uses a Juki in the YouTube demo! I cut the backing panels 41 X 52 cm (16 X 20 inches) then folded the inside edge over twice and stitched it down, for a neat finish. As a final touch I added a little message to the back of the cushion, stitched on cork with one of the the Juki NX7 alphabets. Lastly, I stitched the front and back panels together, taking care to cover up the piping stitching.
Sewing secrets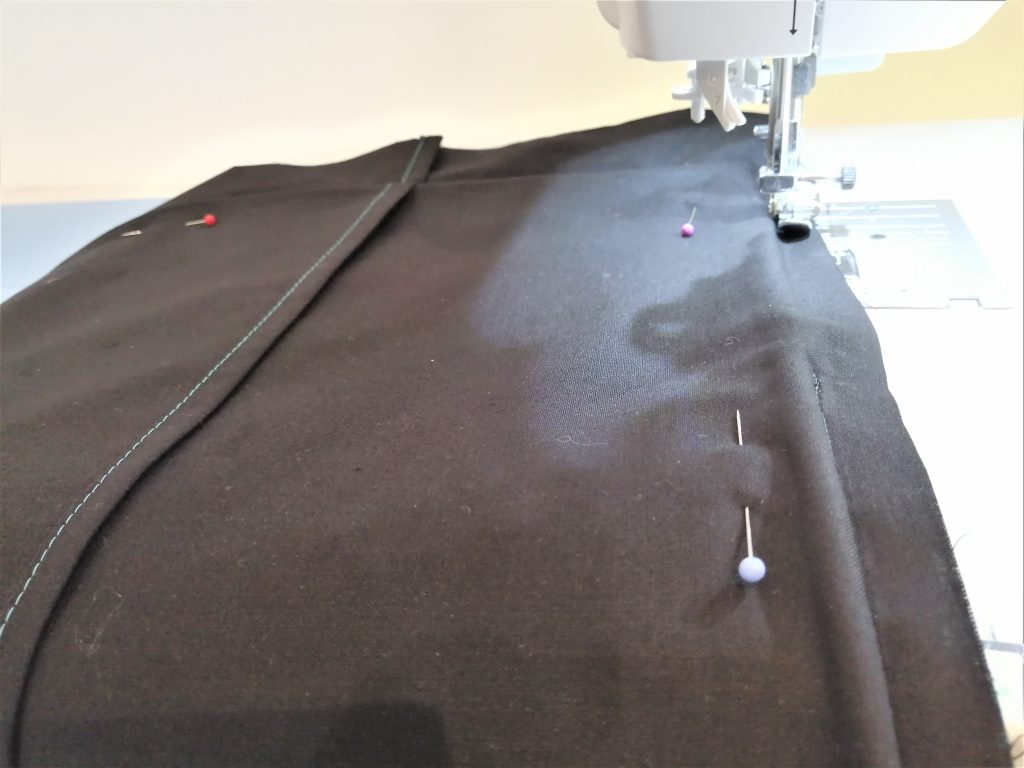 Having used this first cushion to figure out my method, I was ready to begin the final four. I planned to raw edge applique tropical leaves and then free motion quilt to add structure and texture. I rummaged through my stash to find all the fabric, choosing colours that complimented the tablecloth.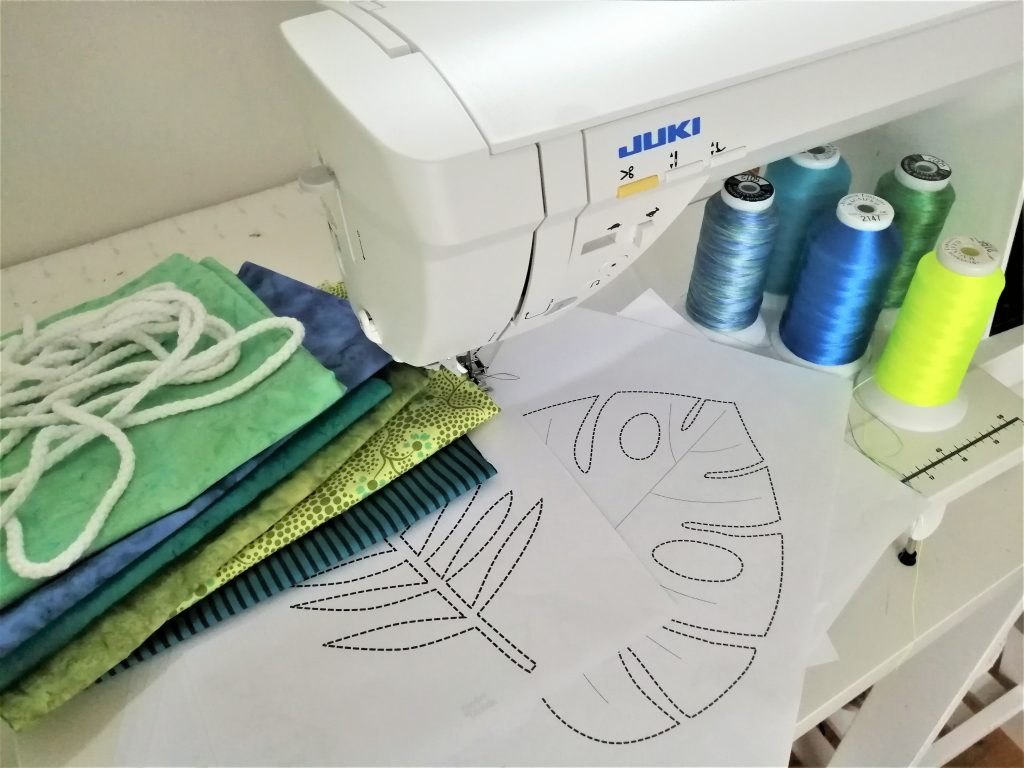 Raw edge applique
I wanted to raw edge applique tropical leaf shapes to some of the pillows. First I googled free tropical leaf templates to get some paper patterns that I could adapt for the cushions. I played with the sizing and then traced the leaf shapes onto a light-weight fusible Vlieseline. Then I roughly cut the vilene a few centimeters OUTSIDE the drawn line. I ironed the vlieseline shapes to the back of the batik fabrics, and then cut out the leaf shapes along the drawn line.
Using vlieseline gives the appliqued shape added structure. It gives a nice neat edge when I'm cutting out the shape and it helps keep the edges from fraying. Batiks work great for raw edge applique because their high thread count also helps to keep the edges from fraying.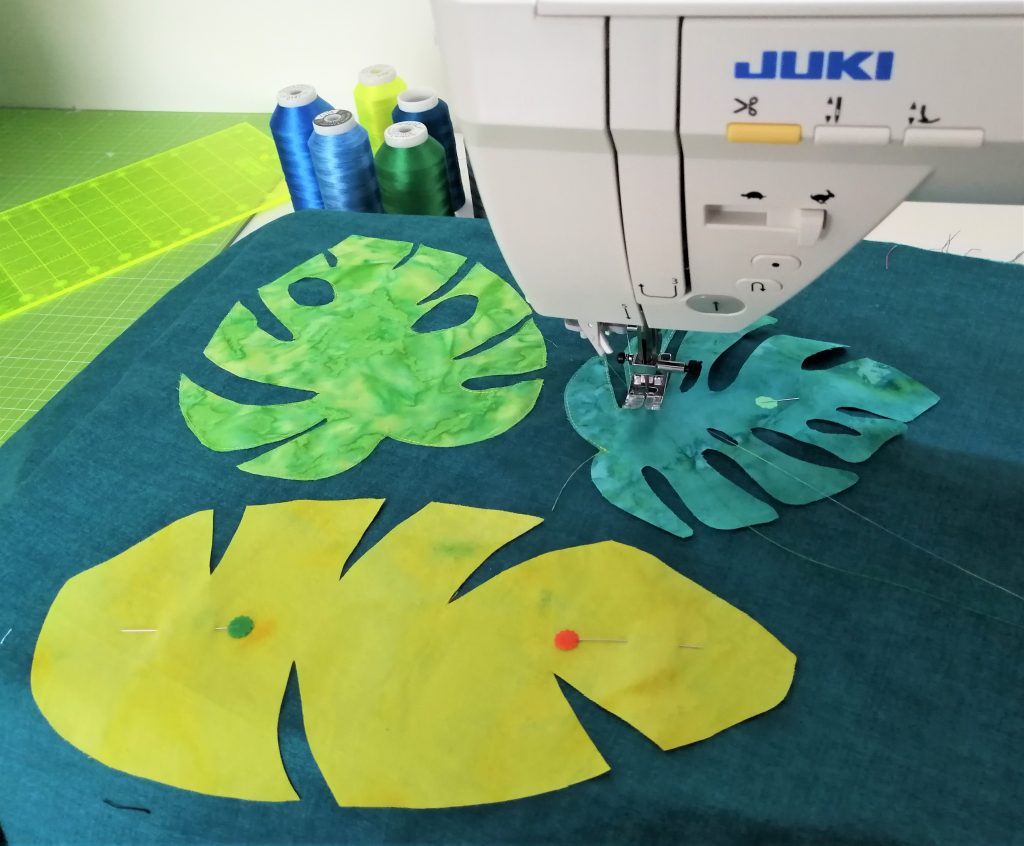 The pivot/float function on the Juki NX7 is ideal for raw edge applique. I can set the machine so that the needle stays down and the presser foot raises slightly each time I stop stitching. This leaves my hands free to guide the fabric around curves and to pivot around corners. After appliquing the leaves onto the background fabric, I went back and added some stitching detail. This variegated Fantastico thread was so fun to stitch with!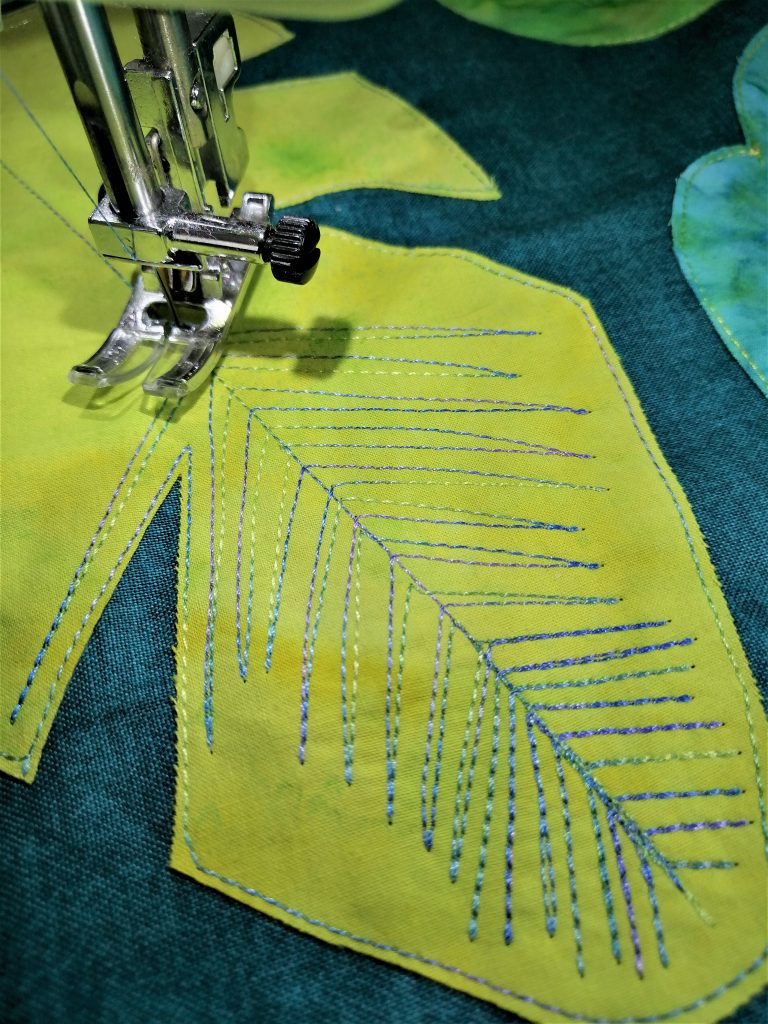 Free motion quilting
Once I finished piecing and appliqueing, I was ready to move on to the quilting. To save time, I stitched the cushion cover tops all together like a quilt. Then I loaded it on a quilting frame with fleece. This way I was able to free motion quilt all the cushions at the same time.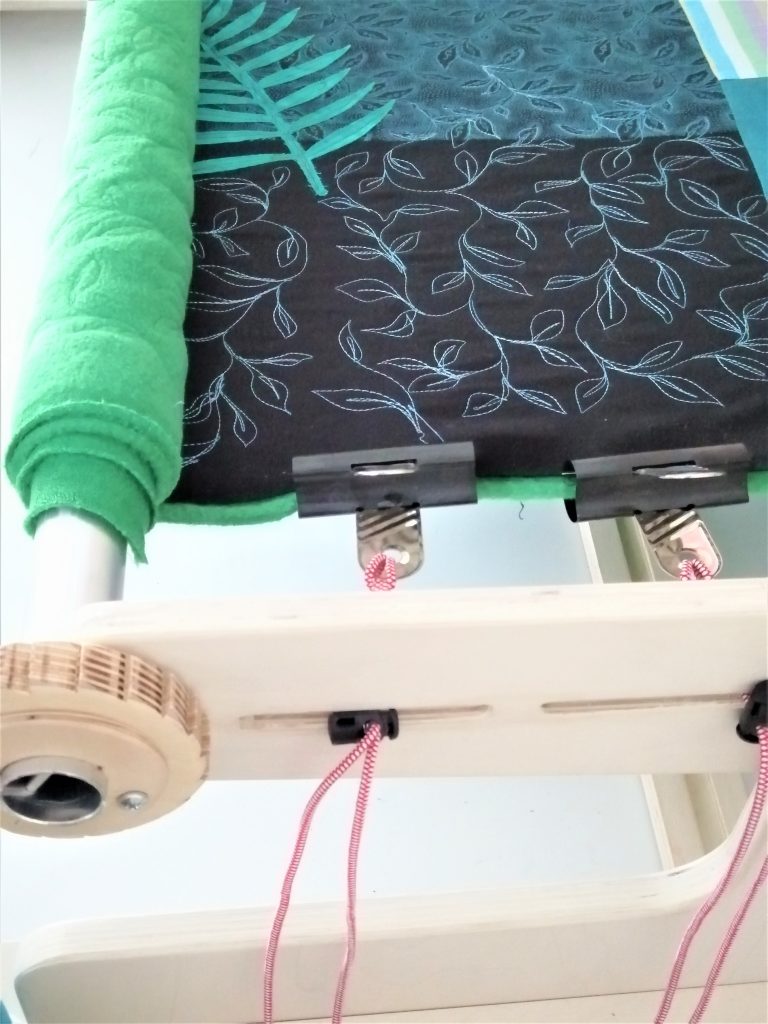 Batch quilting
The Juki TL QVP Mini straight stitch is my favourite quilting machine. The space, speed, strength and simplicity of this machine make it ideal for quilting on or off a frame. Before starting I doodled leaf designs on paper to get back into the swing of things. Then I played with different threads and designs. I wanted each cushion to be different. My attitude to this project was playful. Pete's flatmates would enjoy whatever I did. So I just relaxed and enjoyed the process. All the quilting is hand guided free motion quilting.
When the quilting was finished I unloaded the piece from the frame and cut it up into individual cushions. I'd pieced the cushion tops larger than I needed so there was plenty of room to play with when I cut the cushions to size.
Final assembly
The last stages were to add the piping to each cushion using the Peg Baker one-step method. The Juki zipper foot worked a treat for this part and I was able to position the needle all the way to the left.
Then finally, to stitch the cushion tops to the backing panels. This was a bit tricky as I needed to be sure that the piping stitching was completely covered by the backing fabric. I just kept checking and stitching over until it looked right.
The great thing about batch sewing is that you get the chance to improve with every cushion.
Five cushions finished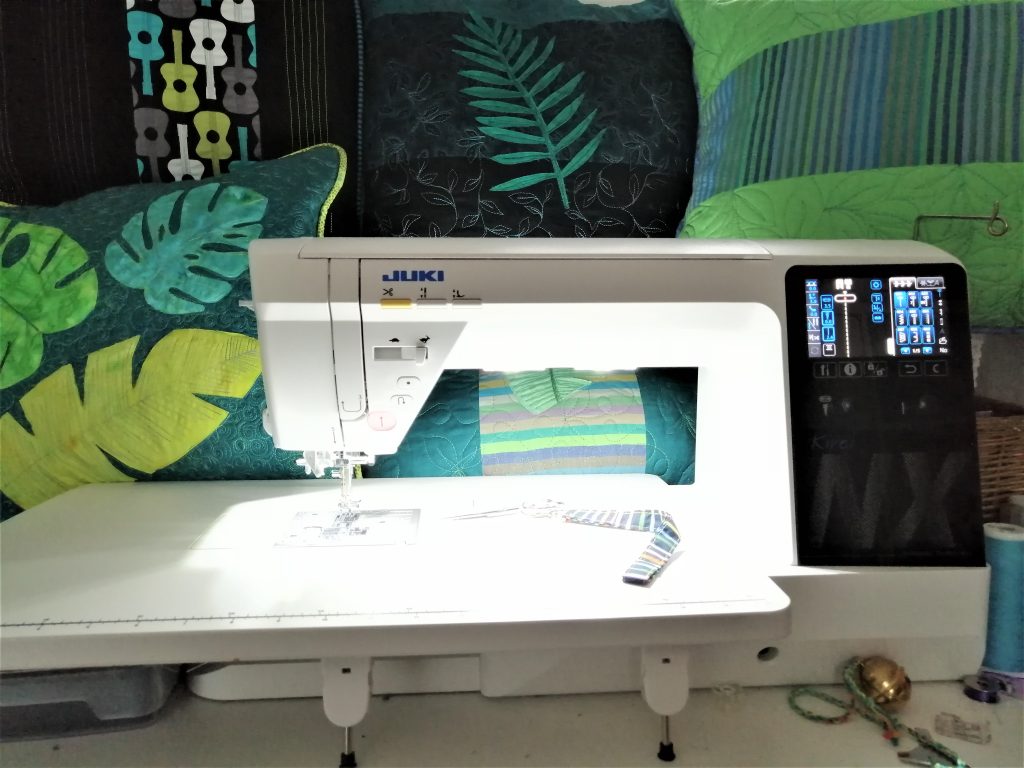 This Juki NX7 machine was such a pleasure to work with. It handled all the layers beautifully. There were no problems using all different sorts of specialty threads, even metallics! And it was so fun to use the alphabet stitches to write messages on the ever-so-versatile cork fabric.
Here they are, five cushion covers. They're all different but they hang together nicely. I'm ever so tempted to keep them. But they'll look lovely against the black sofa in the snug in Pete's student flat. After working on this project, I'm convinced that creating cushion covers is a fun and easy way to spice up student spaces.
Martha's married and lives in the UK. She has 6 grown up children and one adorable granddaughter. When not making cushion covers, she uses Juki machines to teach free-motion quilting techniques. Martha works with Juki Europe to expand and nurture the creative sewing community that is Juki Club.